These little vegan sausage buns remind me of the Hong Kong style sausage or hot dog buns I used to eat as a kid. But maybe we all have memories of something similar. Someone recently told me they taste like a vegan Kolache! Either way, these pillowy soft rolls are way easier to make with only five ingredients and healthier too!
Click here for the printable recipe.
Video Tutorial for Vegan Sausage Buns
How these Vegan Sausage Buns came to be…
Last weekend, while my boyfriend and I were watching football, I suddenly had a craving for these. I think it's because a commercial mentioned hotdogs. I have a problem with being easily influenced by mentions of food! The nice thing is that I can often make whatever I'm craving. Or is this a bad thing? Maybe a bit of both!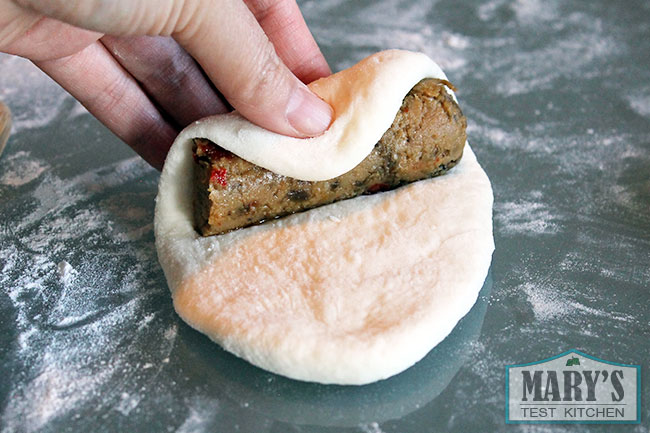 How to Make Vegan Sausage Buns
These little snack-worthy morsels of juicy goodness start with a couple of cut up vegan sausages and basic bread dough. I used Field Roast Italian Sausages as they are what happened to be in my fridge at the time. The Field Roast kind are pretty ideal for this as they are a bit on the oily side. The excess oil adds some flavour to the bread and will leak out some during baking so it helps form a tasty, crispy bottom.
If you like though, you can always use homemade seitan or other sort of vegan protein-rich filling. Try this Simple Savory Seitan or Chinese Five Spice Seitan for an different twist.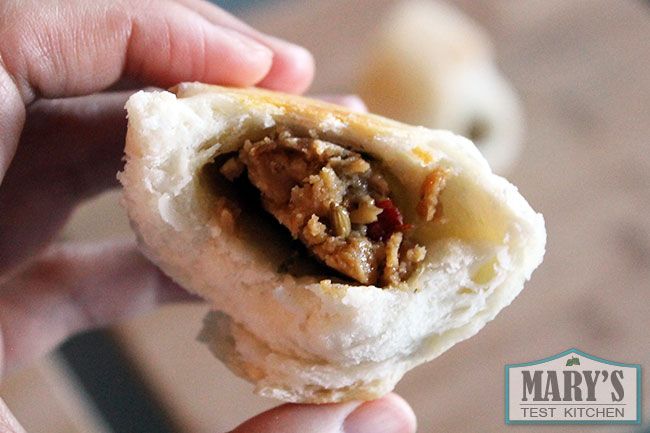 This recipe makes eight small buns, but you can easily make them into four to six larger buns. If you make larger buns, you may need to bake them for a couple minutes longer.
Printable Recipe for Vegan Sausage Buns
Yield: 8 buns
Easy Vegan Sausage Buns
Easy, fool-proof and delicious soft fluffy sausage buns made vegan.
Ingredients
3+ cups white flour (use about a half cup less if using whole wheat)
1 cup warm water (about 105°F or 40°C)
2 1/4 teaspoons yeast (traditional or instant)
1/2 to 1 teaspoon sea salt
2 to 4 vegan sausages, cut into eight pieces total.
Instructions
Whisk together the warm water, yeast, and a half cup of flour. Let rest for 5 minutes for the yeast to bloom.
Add two cups of flour and the salt. Stir to combine until the mixture comes together into a dough.
With clean hands, gather the dough into a ball and knead it for a few minutes until the dough is fairly smooth.
Place the dough into a bowl and cover it with a lid or a clean, damp kitchen towel. Set this in a warm location free from drafts and let rise for a 30 to 60 minutes or until the dough has doubled in size.
Dust the dough lightly with flour and punch it down. Knead lightly to knock out any large gas bubbles. Divide the dough into eight pieces (or as many pieces as desired). Knead each piece lightly and form into balls.
Flatten the balls with your palm and either roll it out with a rolling pin or gently stretching them into oblong shapes. Place a piece of vegan sausage on across the short side of one of the pieces of dough, then roll it up tightly. Place the rolled up bun with the end down onto a baking sheet lined with parchment paper. Repeat with the rest of the dough.
Preheat your oven to 400°F or 204°C. Optionally, spray the tops of the buns with water just before baking. Then bake in your preheated oven, on the middle rack, for 15 to 18 minutes or until the tops are golden. Remove and cool before serving.
Notes
Suggested by FB fan, Susan Gilbertson-Mallia: Divide the dough into 16 to make more buns! You'll need a couple more sausages but you'll get a more balanced bun to sausage ratio.
If you want to make them even more like Hong Kong style hot dog buns, use Field Roast Frankfurters. I have tried so many other kinds of vegan hot dogs but theirs is the most convincing, IMO. Also, add 1-2 tablespoons of sugar (any kind) to the water and yeast mixture and brush the tops of the risen buns with a 50/50 mix of melted vegan butter and golden syrup before baking.
Nutrition Information:
Yield:
8
Serving Size:
1
Amount Per Serving:
Calories:

166
Total Fat:

10g
Saturated Fat:

3g
Trans Fat:

0g
Unsaturated Fat:

5g
Cholesterol:

21mg
Sodium:

548mg
Carbohydrates:

13g
Fiber:

1g
Sugar:

0g
Protein:

6g
Nutritional Information automatically calculated by a plugin and may not be correct.