This Vegan Sesame Chicken is everything! Sweet and sticky sesame sauce lightly coats crispy batter and delicious vegan chicken on the inside. Be careful who you share it with; they're going to request this Chinese restaurant-style dinner again and again! Luckily, it's easy to make, especially if you already have some Chickeny Chickless Seitan on hand. If not, no worries because you can sub in any vegan protein you like.
Pin this recipe or Skip to the Printable Recipe.
Why you'll love this Vegan Sesame Chicken
You will love this fully plant-based take on Chinese restaurant-style Sesame Chicken. Everything about the taste and texture it is super similar to the original dish but we eliminate the need for eggs in the batter. And of course, instead of using chicken we are using my Chickeny Chickless Seitan. This Vegan Sesame Chicken recipe is:
deep-fried for an authentic flavour
crispy even with the sweet and sticky sesame sauce
meaty and satisfying
easy to make gluten-free if desired
How to make Chinese Sesame Chicken Vegan
As mentioned about, the regular ingredients for Chinese Sesame Chicken are mostly vegan.
The exception is egg in the batter, chicken broth as the main liquid in the sauce, and, of course, the chicken meat. To make it vegan, I simply used the following alternatives:
If you are gluten-free or don't have the time to make seitan from scratch, you can always use:
extra firm or pressed tofu,
tempeh (steam or boiled first to remove bitterness), or
store-bought chicken alternatives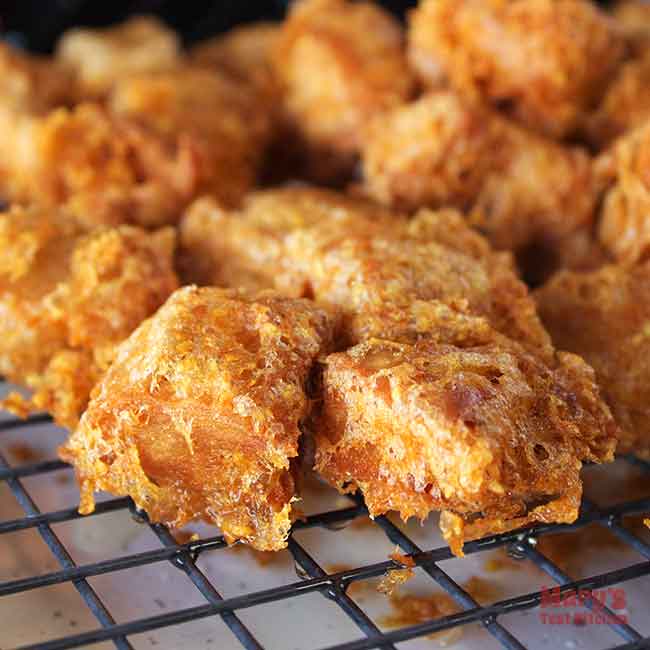 Make EASIER Vegan Sesame Chicken
If you're pressed for time or just don't want to deep-fry at home, you can always make this dish with store-bought breaded vegan chicken products. Simply prepare them in your oven or air fryer according to the package instructions, then pick up the recipe starting from the sauce. It while not exactly rival your favourite take-out but it will still be delicious!
More Vegan Asian "Chicken" Recipes
If you're in the mood for more Asian "Chicken" Recipes, check out:
Printable Recipe for Vegan Sesame Chicken
Yield: 4 servings
Vegan Sesame Chicken
This is Chinese Sesame Chicken made vegan! Chickeny Chickless Seitan is battered and deep-fried to crispy perfection. Then, coated in an authentic sweet and sticky sesame sauce. When you want to satisfy that Chinese take-out craving but still be plant-based, this is the recipe for you!
Ingredients
The Protein
16oz Chickeny Chickless Seitan or see Notes for substitutions (454g)
Batter
1 cup cold water
1/4 cup ground flax seed
2 tablespoons cornstarch
2 tablespoons all-purpose flour
1 tsp baking powder
1/4 teaspoon salt
Stir-Fry Aromatics
1 tablespoon cooking oil
1 teaspoon minced garlic
1 teaspoon grated ginger
1/2 cup sliced white onion (60g)
Sauce Mix
1/2 cup vegan chicken-style broth
1/4 cup sugar
1 tablespoon Shaoxing wine
1 tablespoon soy sauce
1 tablespoon dark soy sauce
1 tablespoon sesame oil
1 teaspoon rice vinegar
Thickener
2 tablespoons water
1 tablespoon cornstarch
Instructions
In a large mixing bowl, combine the batter ingredients. Stir very well, then let stand for 5 minutes to thicken.
While you wait, tear or cut Chickeny Chickless Seitan into small bite-sized pieces, about 1" cubed. Also, separately mix the Sauce Mix ingredients in a measuring cup and set aside for later.
When the batter is thick, add the seitan pieces and mix well with clean hands.
Choose a wok or pan with high sides and fill with a few inches of oil. Ensure there will be enough room for the oil to bubble up some during frying. Use medium high heat and wait until the oil is between 350 and 375¯F. This is very hot but not yet to the point of smoking.
Add the seitan; a piece at a time. Do not crowd the wok or skillet; work in batches if needed. The seitan should become nicely browned in 1 to 2 minutes. Adjust the heat as required.
Drain the fried seitan on a wire rack. Turn off the heat.
Carefully transfer the used oil into a heat-proof container for later use. Leave about 1 tablespoon of oil in your wok.
The wok should still be hot enough so add your minced garlic, grated ginger, and white onion. Stir-fry for 30 seconds or until fragrant.
Add the sauce mixture and turn up the heat; watch the sauce come to a boil. Turn off the heat, quickly give your cornstarch slurry a stir, then stir it into the sauce. It should thicken quickly.
Add the fried seitan and fold to coat. Garnish with toasted sesame seeds and chopped green onion if desired. Serve immediately with rice and vegetables.
Notes
Protein Alternatives
Extra firm or pressed tofu, tempeh, and store-bought vegan chicken can be used instead of Chickeny Chickless Seitan
Gluten-free Options
In addition to substituting a gluten-free protein, also replace regular soy sauce and dark sauce with a gluten-free tamari or soy sauce alternative.


Nutrition Information:
Serving Size:
1/4 of whole recipe
Amount Per Serving:
Calories:

436
Total Fat:

17g
Saturated Fat:

2g
Trans Fat:

0g
Unsaturated Fat:

14g
Cholesterol:

18mg
Sodium:

811mg
Carbohydrates:

35g
Fiber:

3g
Sugar:

15g
Protein:

37g
Nutritional Information automatically calculated by a plugin and may not be correct.