Fully Vegan Chicken and Broccoli dinner, complete with steamed rice, can be yours in about 30 minutes! This plant-based take on the classic Chinese restaurant Chicken and Broccoli stir fry will satisfy that take out craving but with the healthfulness, freshness and cozy convenience of home-cooking! Gluten-free option available. Pin this recipe or Skip to the Printable Recipe
Why you'll love this Vegan Chicken and Broccoli
You're going to love the authentic flavour of this fully plant-based Chinese Chicken and Broccoli recipe for so many reasons; including:
the glossy Chinese brown sauce with authentic flavours,
meaty, juicy marinated high-protein plant-based chicken,
perfectly cooked broccoli,
dinner in 30 minutes,
low-effort stir fry recipe, and
steamed rice included for a complete dinner
How to make Chinese Chicken and Broccoli Vegan
Thanks to the simplicity of the original Chinese Chicken and Broccoli dish, it's easy to make vegan. The only non-vegan ingredients are chicken, oyster sauce, and the typical chicken broth for the base of the sauce. So, you can easily substitute this ingredients with:
Chickeny Chickless Seitan as your main protein (or your choice),
Chinese Mushroom Stir-Fry Sauce (also sold as Vegetarian Oyster Sauce) in place of oyster sauce,
and Vegan Chicken Broth in place of regular chicken broth.
If you're not too familiar with these ingredients, please read on for more details.
Vegan Chicken Alternatives
I highly recommend using my very best and most versatile chicken-style seitan for this recipe, well, because it's my best and most versatile! It's savory flavour and shreddable texture make it perfect for Chicken and Broccoli. However, if you landed here without having prepped it in advance or perhaps you are looking for a gluten-free option, you can still make your Chinese take-out dinner at home tonight. You can use:
store-bought vegan chicken (Tofurky and Lightlife both have unbreaded options),
tofu (pressed or super firm is best for a stir-fry),
tempeh, or
beans!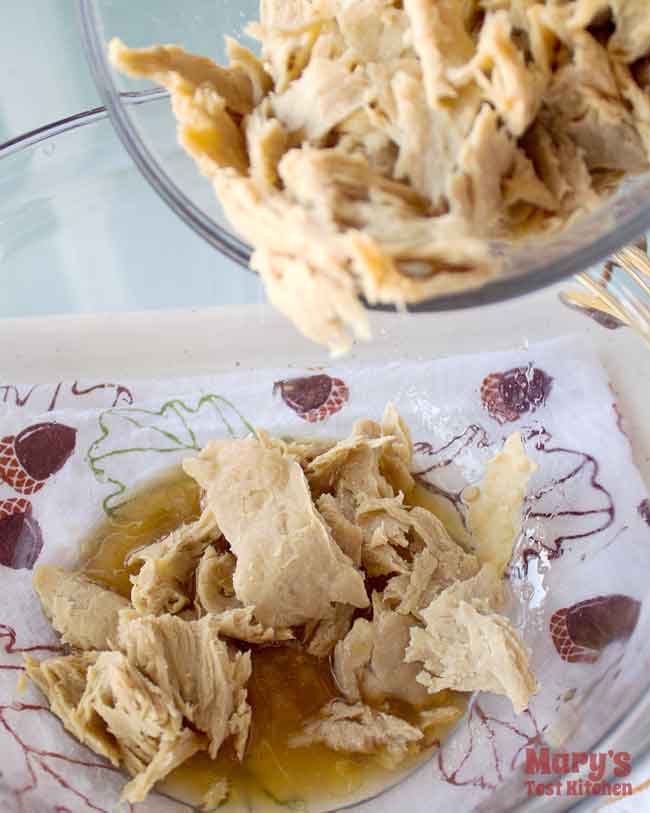 The store-bought vegan chicken options will be the best for making a dish that looks and feels more similar to the original. However, I love to use tofu and tempeh for a protein-rich and satisfying meal too. As a bonus, they are gluten-free so anyone with gluten sensitivities can enjoy them too. You will just want to add extra seasoning since they are bland to begin with. Finally, cooked canned beans are great in a pinch or if you simply love beans! It won't be as close to the original dish that we're replacing, but it's healthy and beans taste great as they are.
Chinese Mushroom Stir Fry Sauce or Vegetarian Oyster Sauce
Thick dark brown Oyster sauce is an important flavouring ingredient in Chinese Chicken and Broccoli and you won't get an authentic flavour without it, EXCEPT if you use the sauces that Chinese vegetarians have specially made to replace it: vegetarian oyster sauce. Typically made with a mushroom extract, vegetarian oyster sauce is also sold as "Mushroom Stir Fry Sauce." This can be confusing since you may find it in the same aisle as Mushroom Soy Sauce. Don't be confused; it's not the same thing!
My go-to Vegetarian Oyster Sauce is whatever happens to be at the store! Recently I bought Wan Ja Shan Vegetarian Mushroom Oyster Sauce 1200ml for $7 CAD.
However, if you are cooking gluten-free, you will need to be careful about which brand to buy. Online, I have found Kikkoman Vegetarian Oyster Sauce which is labelled gluten-free and is advertised as vegan-friendly.
Soy Sauce
On a related note, recipe uses regular soy sauce. Since it's not the main flavouring ingredient, it's not too important what kind of soy sauce you use; just so long as you like it! If you are gluten-free, you will want to stick to soy sauce that is labelled gluten-free.
Vegan Chicken Broth
You can check out this post for my favourite vegan chicken broths. These days, it's becoming easier than ever to find chicken-style broths that are entirely plant-based. In the video for this recipe, I share a recent find from President's Choice.
More Vegan Chinese Restaurant Recipes
If you're in the mood for more plant-based Chinese food recipes, try:
Printable Recipe for Vegan Chicken and Broccoli with Rice
Yield: 2 servings
Vegan Chicken and Broccoli with Rice
The classic Chinese restaurant Chicken and Broccoli is easily made vegan using homemade Chickeny Chickless Seitan (or other substitutions) and Chinese Mushroom Stir-Fry Sauce in place of oyster sauce. The result is just as lovely as take out but with the cozy convenience and freshness of home-cooking!
Once you've added this recipe to your regular rotation, you'll be able to prep everything in under 15 minutes and stir-fry in about 5 minutes!
Ingredients
For Steamed Rice
1 cup uncooked Jasmine Rice
1 1/4 cup cold water (plus more for rinsing)
Marinated Vegan Chicken
8oz Chickeny Chickless Seitan (225g), about 2 cups roughly shredded
1 tablespoon water
1 tsp sesame oil
1 tsp Chinese Mushroom Stir-Fry Sauce (vegan oyster sauce)
1 tsp cornstarch
Stir Fry Vegetables
2 cups broccoli florets (150g)
1 clove garlic
1/4 tsp grated ginger
Sauce
3/4 cup vegan chicken-style broth
2 tsp soy sauce
2 tsp Shaoxing wine
1 teaspoon sugar
1 tsp Chinese Mushroom Stir-Fry Sauce (vegan oyster sauce)
1/2 tsp sesame oil
pinch of white pepper
Thickening Slurry
1 tbsp cornstarch
1 tbsp water
Instructions
Cook the Rice
In a pot, rinse the uncooked Jasmine Rice a few times; until the water runs clear. Drain very well, then add 1 1/4 cup cold water. Make sure the rice is laying in an even layer, then measure with your finger to see that the depth of the water is just twice the depth of the rice. If there is excess water, skim it out.
Heat the pot on high heat until the water just starts to bubble. Before it begins to boil, turn the heat to low, cover it and let cook for 15 to 20 minutes.
Prep Vegan Chicken, Sauce and Vegetables
Meanwhile, in a mixing bowl, whisk 1 Tbsp water, 1 tsp Chinese Mushroom Stir-Fry Sauce, and sesame oil together. Tear the Chickeny Chickless Seitan into rough, small bite-sized pieces and add to the mixing bowl. Fold to combine until the liquid is absorbed. Let sit for a few minutes.

Meanwhile, chop your broccoli into small bite-sized pieces, mince garlic and grate ginger. Place on a plate by the stove.

Also, combine the sauce ingredients in a measuring cup. Separately combine the slurry ingredients. Have everything ready near the stove. Best to start stir-frying when your rice is nearly or already done.
Stir-Fry Time
Just before starting to stir-fry, sprinkle cornstarch over the marinated shreds and mix well. In a wok or large pan, heat about 2 tbsp of cooking oil over high heat until it just starts to smoke. Then immediately add the shreds. Saute about a minute until the bottom gets some golden colour, then use a spatula to flip. Let cook until that side turns golden too.

Then use the spatula to push the shreds up one side of the wok (so it doesn't get much direct heat). Turn the heat down to medium.

Add a little more oil if needed then immediately add ginger and garlic. Saute 15 seconds or until fragrant but not browning yet.

Add the broccoli and stir fry 15 seconds. Add the sauce mix, turn the heat back to high, and let it come to a simmer. When the broccoli has turned bright green and is fork-tender (about 2 minutes), turn off the heat and fold everything together.

Give the thickening slurry a stir, then slowly stir it into the sauce. The sauce will thicken quickly and you may not need to use all of the slurry; just use your judgement. If it thickens too much, add a little more vegan chicken-style broth to thin it.

Serve with the freshly steamed rice and enjoy!
Notes
Chickeny Chickless Seitan is highly recommended for the main protein, however, you can use any store-bought unbreaded chicken alternative that you like. You can also use pressed or super firm tofu or tempeh as an alternative (just add extra soy sauce/mushroom stir-fry sauce to taste). Or use beans! They taste great in this recipe.