Look no further for realistic, shreddable plant-based chicken that has the perfect taste and texture to replace skinless, boneless chicken in your old favourite recipes! This seitan chicken is high-protein and satisfying in all sorts of dishes, including:
Pin this for later. Or click here to skip to the Printable Recipe.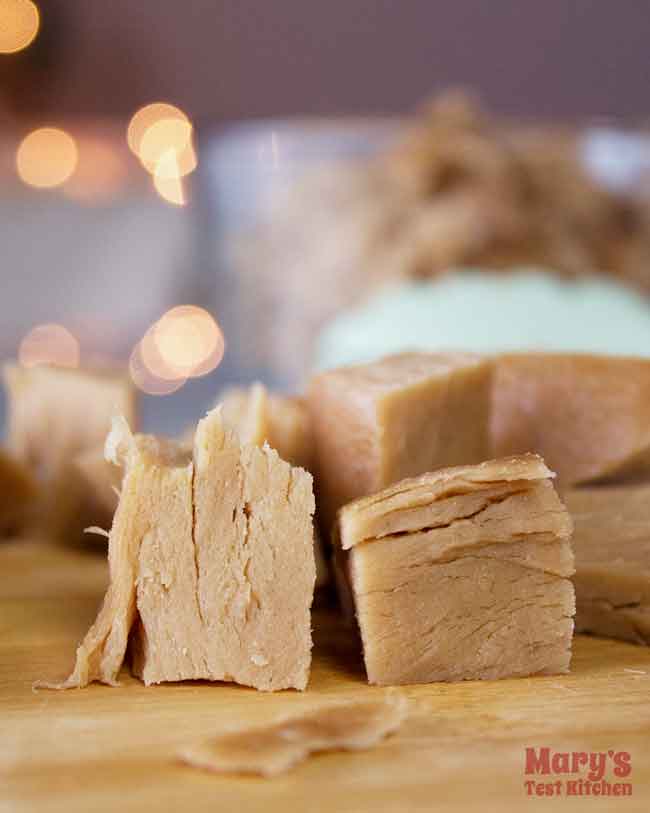 Why you'll love this Shreddable Vegan Chicken
Chickeny Chickless Seitan is easy to make, mostly hands-off, and has a toothsome meaty texture. The ingredients and techniques used help to avoid common complaints about making seitan. That is, we take away the wheaty, doughy flavour that some seitan recipes seem to ignore and prevent it from becoming gummy or rubbery.
In this post, I'll give you the details on how to make the most versatile vegan chicken alternative, the special ingredients that take shreddable seitan to the next level and troubleshooting tips to help you navigate issues, especially if you're not too familiar with making seitan.
How to Make Chickeny Chickless Seitan
Making this shreddable seitan chicken is simple but it does take some time. Here are the basic steps:
Liquify the wet ingredients in a blender and use a mesh sieve to strain out any lumps.
Combine with vital wheat gluten (AKA pure gluten flour) to form a dough
Knead until smooth and taffy-like (about 40 minutes knead time in a stand mixer, resting every 10 minutes)
Wrap and Steam (in a pressure cooker for best results)
let cool overnight, then cube, tear or shred as desired!
Video Tutorial
Step by Step Guide
Before you begin, make sure you are measuring all the ingredients accurately. I highly recommend using a kitchen scale to make sure your measurements are exact as the liquid to dry ratio is important for the process. Keep reading to get more in-depth on how to make this most realistic vegan chicken.
1. Liquify
Combine all the ingredients EXCEPT for the vital wheat gluten and refined coconut oil. Blend at maximum speed until its completely liquified. Then while the blender is running at low speed, add the refined coconut oil (melted). Finally to prevent any lumps that would otherwise mess with your seitan's texture, run the liquid through a mesh sieve.
2. Form seitan dough
Weigh out your vital wheat gluten in a mixing bowl, then add the wet ingredients. Stir manually or use your stand mixer's paddle attachment to form a soft wet dough.
3. Knead
Switch to a dough hook, then ramp up the speed slowly. Let the machine knead at as high a speed as it can without rocking or hopping around your counter. For me, that's speed 4 to 6 which means about 40 minutes of knead time. However, most at-home stand mixers are not going to be able to be run that long so every 10 minutes, I stop for a 15 minutes rest period. This allows the machine to cool down. Plus, the gluten strands relax and become even easier to knead.
However, this means the kneading process, including all the resting time, adds up to 1 hour and 25 minutes. Luckily, it's pretty much all hands off so you can relax and put your feet up. Just set a timer every time you switch from kneading to resting and vice versa.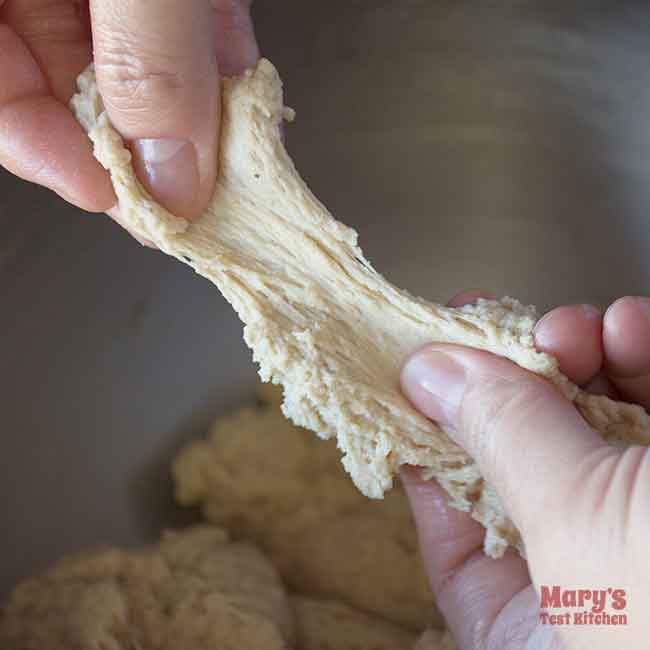 On the other hand, some other that use this process (such as the original Chickwheat recipe by my friend at AvocadosandAles.com) utilize a food processor and seem to get the same result in under 10 minutes! If you have a sturdy, high quality food processor, you may want to try using that instead. Divide the dough into two portions (or more depending on the size of your machine) and pulse the dough until it becomes soft, smooth and taffy-like.
When the seitan dough is fully kneaded it will be soft, stretchable and taffy-like. You can test it by taking a 1-inch piece and stretching it. It should stretch to at least 4 inches without tearing.
Manually Kneading
You might be thinking you can do this by hand and maybe you can. Especially if you share the workload with another person; you can take turns. Team work makes the dream work!
But as for me and my chronic pain; we are not going to try. If you do, let me know in the comments how long it took you! Because you probably deserve a round of applause.
4. Wrap and Steam
Divide the dough into two pieces. First, you will knead each piece by hand very well so the texture will become tighter and shinier. In just a minute or two, it will become quite tight and difficult. At this point, you'll wrestle it into a log shape, rolling it up, and secure it by stretching one end over the entire roll.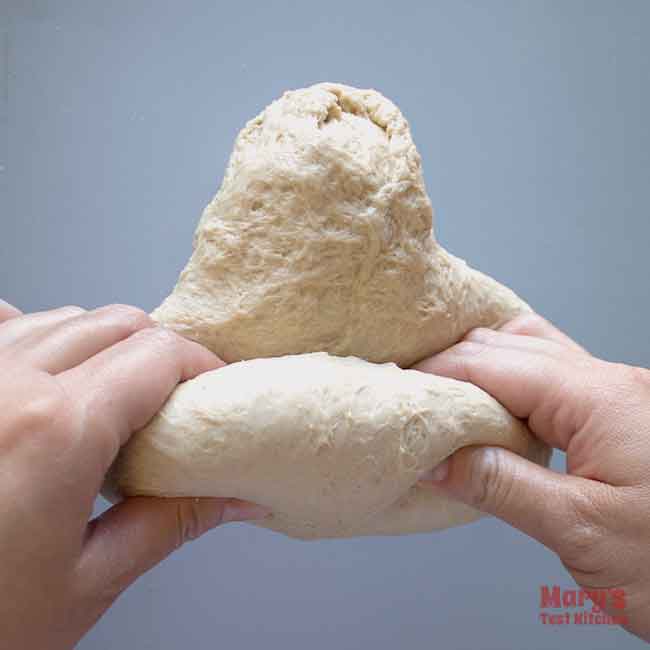 To make it extra secure and prevent expansion during cooking, wrap it tightly in some parchment paper, and then some aluminum foil. Then you can repeat with the other piece of dough.
You can try cooking your seitan without the parchment and foil wrapping too. When your seitan is kneaded well enough, just shaping the dough as specified should be enough to hold it together when you pressure steam it. However, it's hard to know without having tried it before. So, I recommend wrapping one log and leaving the other one naked. Then you can see the difference for future batches and save on some material.

Prepare your programmable pressure cooker (like Instant Pot or Cosori) with 4 cups of hot, just-boiled water and the steamer insert. Place your seitan logs in there and cover with the lid.
switch the steam valve from open to closed,
switch to Manual Mode,
adjust the cook time to 1 hour and 30 minutes,
adjust the pressure to high (maximum), then
press start
Just set it and forget it!
5. Cool and Process
When the time is up, you can use the rapid release or let the pressure release naturally. Either way, when it's safe to do so, remove your cooked Chickeny Chickless Seitan with tongs or heat-resistant gloves.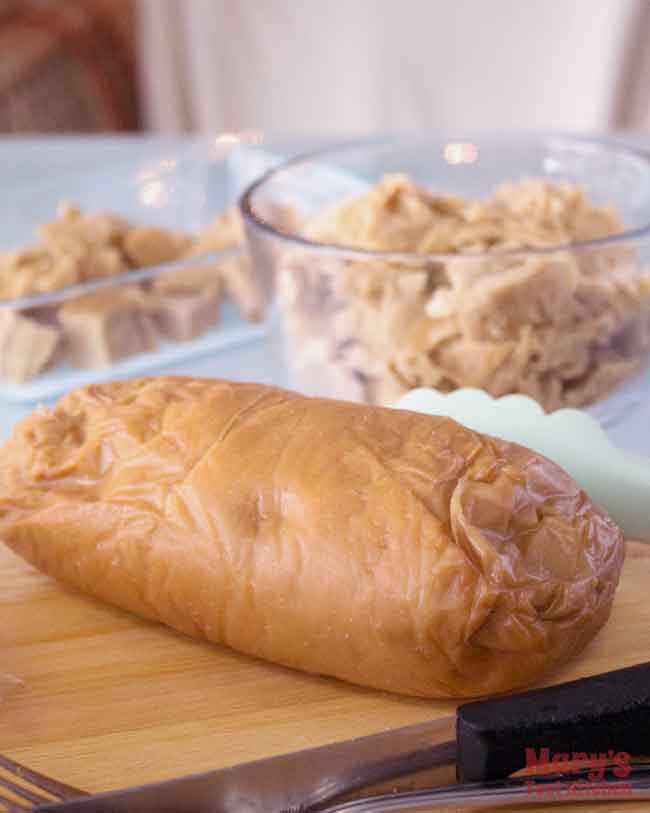 Typically, I put the cooked seitan in a container to cool in the fridge overnight. Letting the seitan cool completely before processing it further helps to retain the moisture and keep it juicy for whatever dish you have in mind.

When it's cooled, you can chop it up, tear it into chunky pieces with your hands, or shred it as finely as you like with a couple of forks.
Shredded Chickless Seitan is fantastic to use in Vegan Chicken Salad, tacos, and on pizza.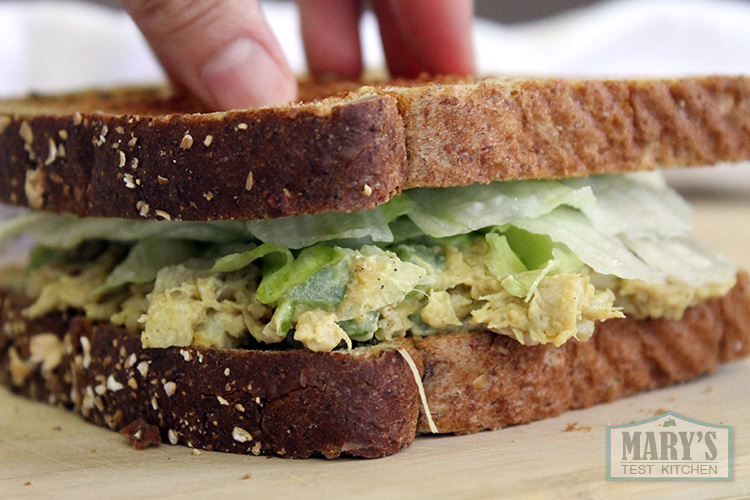 Hand-torn, it's perfect for stir-fry dishes like Vegan Chicken and Broccoli or battered and fried, like in my Vegan Sesame Chicken.When cubed, this vegan chicken is super satisfying in stews and soups like my Vegan Coconut Curry Chicken and Vegan Chicken Pot Pie.
Special Ingredients to make this the BEST
While shreddable, chicken-y textured seitan has been on the scene for years, this recipe was formulated from the ground up to be super succulent and delicious right out of the steamer. There are a few special ingredients that help.
Oyster Mushroom Powder
Oyster mushrooms have a really lovely savory, kind-of chickenish flavour that becomes concentrated and even better when they're dried. I add it to this recipe because:
it makes seitan more delicious with a full-bodied meaty flavour,
the fiber improves the texture and helps to prevent the seitan from becoming rubbery
However, it's not common to find dried oyster mushroom powder in stores so you may have to make it yourself. Which, I know, sounds like a hassle. To be honest, I thought about leaving this out of the recipe because it does add an extra step if you're not already in the habit of making mushroom powder. But it really makes such a difference that I never leave it out when I'm making seitan these days so I find it's really worth the time. Plus, it makes a wonderful addition to sauces, soups, roasted vegetables, pasta and more! Click here for my in-depth post on how to make your own Oyster Mushroom Powder.
The basic process for making oyster mushroom powder is:
dehydrate clean, fresh oyster mushrooms until completely dry and crisp (using a dehydrator OR in the oven), then
grind into a powder (using a spice grinder, clean coffee grinder or similar)
And that's it! This recipe uses 3 tablespoons or 12 grams of oyster mushroom powder which is equivalent to 1/4 lb of fresh mushrooms. Think about how concentrated that flavour is! So when I make a batch, I will load my dehydrator up with a full pound of mushrooms. Then about 3 hours later, I'll have lots to use in all my cooking. It also makes a lovely gift for friends who like to cook too!
White Vinegar
Seitan is made from wheat protein and can often have a strong wheat-y or dough-y flavour even when it's fully cooked. Add a good amount of white vinegar to cut through that wheatiness. And, in conjunction with the mushroom powder and other flavouring ingredients, it creates a delicious savory flavour.
If you don't have white vinegar on hand, rice wine vinegar works almost as well. However, avoid apple cider vinegar. It's too fruity for this recipe.
Vegan Chicken-style Broth Cubes or Bouillon Paste
It almost feels like cheating, but vegan chicken broth concentrates are a convenient way to incorporate the super savory flavour of long-simmered vegetables and herbs that are combined to taste similar to traditional chicken broth. I like to use either McCormick's All Vegetable Chicken-style Broth Cubes or Better Than Bouillon Vegetarian No-Chicken Soup Base.
MSG (Monosodium Glutamate)
Sold commonly under the brand names Accent and Aji-No-Moto in the spice aisle where salt is sold, MSG has long endured a poor reputation. You might be surprised this was based on a single unscientific letter written to the New England Journal of Medicine in 1968. From then, racist attitudes propelled the mistaken belief in "Chinese restaurant syndrome" into popular culture.
In this recipe, a teaspoon of MSG is used to boost the flavours of the other ingredients as well as add a slight flavour of its own. If you left it out of the recipe, your seitan will still taste good but the MSG really completes the flavour profile.
Refined Coconut Oil
The solid-at-room temperature coconut oil in this recipe adds fat to the seitan without being greasy. While some vegan recipe creators avoid fat, I find it is essential for making seitan satisfying. Use refined coconut oil to avoid adding a coconut flavour to your vegan chicken.
Troubleshooting Tips for Making Seitan
If you've ever tried a random seitan recipe, then decided it's absolutely terrible and you wonder how anyone can enjoy it, you're not alone! Seitan can sometimes be gummy, oddly chewy, spongy (brains!), or otherwise awful when not prepared well. As well, it can taste unpleasantly of wheat; reminiscent of raw bread dough. Read on for the common problems and fixes for making wheat meat!
Gummy or weirdly chewy seitan
When seitan isn't cooked completely through, it will have a gross gummy texture. It will often taste like uncooked bread dough too. Especially when you have a large loaf of seitan to cook, it may come out nicely cooked on the outside but still raw in the middle even after an hour of cook time!
So this recipe uses a few techniques to make sure your seitan cooks all the way through.
Dividing the seitan dough into two logs rather than one giant hunk allows the batch to cook faster
Pressure Cooking reduces the time needed, plus as a bonus, cooking under pressure results in a firmer bite
The long cook time (1 hr 30 minutes) ensures that your seitan is thoroughly cooked whether you choose to quick release the pressure or let it naturally release.
Actually, I tested cooking times from 45 minutes to 2 hours and found 1 hr 30 minutes to be the happy medium. To be honest, 1 hr 15 minutes was enough for most of my batches but cooking for a little extra time does not hurt the seitan in any way. Plus cook times can vary from location to location so this ensures you won't be caught with semi-cooked seitan after all this effort.
Raw Dough Taste
Even when cooked all the way though, seitan can sometimes have an unpleasant wheaty flavour. Eliminating this flavour requires strategically adding other ingredients. In this recipe:
Adding vinegar counteracts the wheaty flavour. In my previous seitan recipes, I often included a little bit of vinegar. However, in this recipe I tested more ratios and found that adding ¼ cup of white vinegar worked best in conjunction; and
Using plenty of savory ingredients including vegan chicken-style broth cubes, dried oyster mushroom powder and MSG mask the base flavour of vital wheat gluten without making it too salty.
Rubbery or Spongy Textures
You may have heard or read that over-kneading seitan can make it rubbery, squeaky and tough to bite through. This can be true especially when there is not enough starch or fiber in the formula. However, there is a bit of a bell curve going on. Kneading seitan dough, then letting it relax and then kneading even more (to the taffy stage), gives it a lovely texture that is firm (when cooked in a certain way) and not rubbery at all.
Spongy seitan often results from simmering seitan and letting the simmer get too active. So to eliminate that possibility, this recipe steams the seitan under pressure. Plus, the seitan is kneaded and wrapped well so that it doesn't get to expand and go spongy.
If you steam this seitan without a pressure cooker, it will be quite alright; great even. However, the result is a bit springier (not spongy though). I find the texture of Chickeny Chickless Seitan much more toothsome and satisfying when cooked under pressure.
Making substitutions? Keep these tips in mind.
For the best result, please prepare this recipe as strictly to the original ingredients and directions as possible.
For example, if you use tofu instead of beans, there is less fiber content. The kneading process actually goes quicker BUT the texture of the final seitan is a bit more "squeaky". I would not say it's unpleasant but it's just not exactly as nice as it could be.
If you forgo the dried oyster mushroom powder, you can make up the dry ingredients in extra vital wheat gluten or nutritional yeast (12g). However, the fiber content goes down and the texture is affected. Plus the mushroom powder gives the seitan an irreplaceable depth of flavour.
White vinegar can be replaced with rice vinegar. However, rice vinegar is a bit more mild tasting and you may taste more of the wheat-y flavour of gluten come through. On a related note, I don't recommend using the tangy darling of the culinary/health food world: apple cider vinegar. It's too fruity for this recipe.
I hope that answers all your unspoken questions! But if you have more, please feel free to leave them in the comments and I will try to answer you as best I can. Enjoy!
Printable Recipe for Chickeny Chickless Seitan
Yield: 2 lbs
Chickeny Chickless Seitan | Shreddable Vegan Chicken
A perfect vegan stand-in for chicken to veganize your favourite chicken recipes. Use this shreddable seitan anywhere you want so toothsome high protein texture and savory flavour like in vegan chicken tacos, vegan chicken sandwiches, and vegan chicken soup!
Please measure by weight for best results.
Prep/Waiting Time
1 hour
45 minutes
Cook Time
1 hour
30 minutes
Total Time
3 hours
15 minutes
Ingredients
415ml cold water (1 3/4 cup)
170g cooked white beans (1 cup)
60ml white vinegar (1/4 cup)
3 cubes vegan chicken-style bouillon cubes (or 1 tablespoon)
3 tablespoons dried oyster mushroom powder (12g)
1 tablespoon sugar or Erythritol sweetener
1 teaspoon salt
1 teaspoon msg
60ml refined coconut oil, melted (1/4 cup)
360g vital wheat gluten (12.7oz; 3 cups)
Instructions
Blend first 8 ingredients until liquified. With blender running on low, slowly pour in melted coconut oil. Strain to remove any lumps.
Mix with vital wheat gluten by hand or in mixer.
Knead & Rest: With dough hook, slowy ramp up speed to 6 (or as high as you can go without your mixer hopping about on your counter). Knead for 10 minutes then stop, cover dough and rest for 15 minutes so your machine can cool and the gluten can relax. Repeat 4 times (skip the final rest period).
Set 4 cups of water to boil and also get your programmable pressure cooker out.
Divide into two portions, knead each until shiny and quite stiff. Roll into a log, wrap the end over to secure. To secure further, wrap tightly in parchment paper, then aluminum foil.
Pour 4 cups boiling water into the pot and add the steamer attachment. Place your wrapped seitan inside. Cover and close steam vent. Press Manual Mode, set cook time to 1 hr 30 minutes and pressure to high (maximum). Press start and pat yourself on the back.
Afterwards, use quick release or natural release. When safe, remove the seitan from the pot and let cool. Refridgerate overnight. Then you can unwrap and process as you like: cube, hand tear or shred with forks as desired.
Nutrition Information:
Yield:
10
Serving Size:
3 ounces (85g)
Amount Per Serving:
Calories:

270
Total Fat:

10g
Saturated Fat:

6g
Trans Fat:

0g
Unsaturated Fat:

3g
Sodium:

291mg
Carbohydrates:

11g
Fiber:

1g
Sugar:

1g
Protein:

35g