This vegan enchilada recipe is simple, easy, delicious and packed with protein from brown rice and beans. This healthy oil-free enchilada recipe is fairly quick to make but I can't say it would be considered "authentic." That's because I've only had food court Mexican food and I don't know if Taco Bell counts 😉 But since I got this request from a viewer…and I had these ingredients on hand, I thought I'd share my version of baked enchiladas. Much healthier than the original but still satisfying and super tasty. Click here for the printable recipe.
Video Tutorial for Vegan Enchiladas
This recipe starts with toasting a bit of flour which takes 2 to 3 minutes. It's easy to get carried away and burn the flour so stir it often and adjust the heat if necessary. The video didn't pick up the colour difference very well so I've included a comparison below. The toasted flour is on the left and the untoasted flour is on the right.
The rest of the recipe is very easy; everything for the red enchilada sauce gets added to the pot, heated until bubbling then simmered for just 10 to 15 minutes. Saute the vegetables, and add rice, beans, green chiles, and double strength vegetable broth. This infuses everything with umami flavour from the broth but won't leave the filling too wet.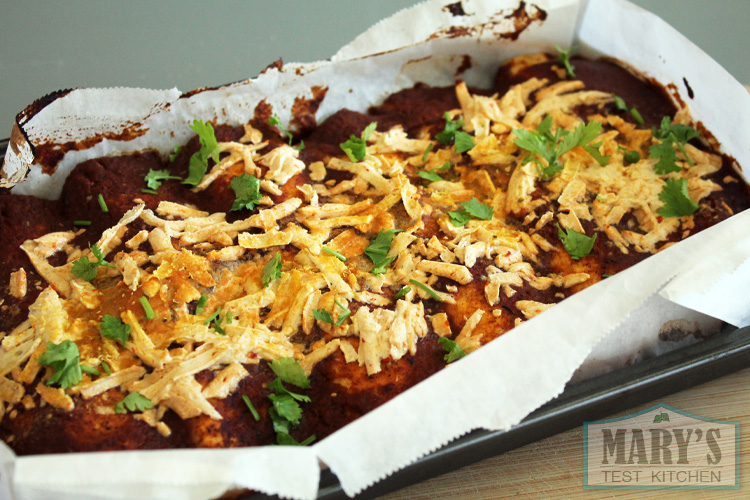 Then, we roll up the filling in tortillas and bake them with the red sauce over top (and vegan cheese shreds if you like) for 20 minutes at 350°F. Because they are packed with heart-healthy fiber and plant-based protein, these enchiladas are super filling. I love to have cashew cream cheese on the side to balance out the spice and sprinkle cilantro generously…just on my portion though as the SO hates cilantro. More for me!
This recipe is really easy to make but tastes like it was much more work. This is one recipe that my SO has asked for repeatedly! I hope you try it too!

Printable Recipe for Vegan Rice and Bean Enchiladas
Vegan Rice and Bean Enchiladas
2015-08-22 23:14:02
Serves 4
These rice and bean enchiladas are quick to make and packed with flavour. Though not what one might call authentic, a few shortcuts get this healthy oil-free dinner to the table quickly on weeknights.
RED SAUCE
1 1/2 cups vegetable stock, divided
5.5 fl oz tomato paste
3 tablespoons chili powder*
1/2 teaspoon cumin
1/2 teaspoon dried oregano
1 tablespoon flour
FILLING
1 cup cooked brown Rice
1 cup cooked beans
1/2 cup chopped red bell pepper (capsicum)
1/2 cup double strength vegetable broth
1 cup chopped onion (about one small onion)
can of green chiles
1 teaspoon minced garlic
1/4 teaspoon cumin
1 teaspoon chili powder
Instructions
Preheat oven to 350F or 175C
Heat a sauce pan over medium heat. When hot, add flour. Cook for 2 - 3 minutes while stirring. You want to toast the flour but not burn it so reduce the heat if necessary.
Add the spices and cook for another minute, stirring regularly.
Add the tomato paste and vegetable broth. Whisk until no lumps remain.
If you're using cold vegetable broth, allow the mixture to come to a simmer, then reduce the heat to low, cover the pot and cook for 10 - 15 minutes.
If you're using hot broth, the mixture will
When the mixture comes to a boil, reduce the heat to low and let simmer for ten to fifteen minutes.
In the meantime, puree the beans together with 1/2 cup of double strength vegetable broth and set aside.
In a pan, saute onion for a few minutes over medium high heat until quite soft. You can choose to saute with a teaspoon of cooking oil or water saute.
Add the garlic and spices. Cook, while stirring regularly for one minute.
Add bean puree and green chiles. Turn the heat to high and cook, allowing the excess moisture to evaporate.
When the mixture is fairly dry. Add the rice and fold in. Cook for one minute more to heat through while continuing to stir.
Remove from heat.
Prepare a baking pan with parchment paper for easy clean up afterwards.
Cover the bottom with a thin layer of Red Sauce.
Place about a third cup of filling into the middle of each tortilla and roll up. Place the filled tortillas in the baking pan, then cover with the remaining red sauce.
Top with your choice of vegan cheese shreds, store-bought or homemade, or Foxy moxy cheese sauce.
Bake at 350°F (175°C) for 20 minutes.
Garnish with chopped scallions and cilantro if desired.
Notes
The red sauce is quite spicy with 3 tablespoons of chili powder. Feel free to halve this amount for a more moderate amount of spice.
Mary's Test Kitchen https://www.marystestkitchen.com/