This vegan curry beef recipe (a better name might be curry beefless crumbles) was made as the filling for veganized Chinese curry beef buns (ga lei ngo yuk bao). This plant-based version is very similar in taste and texture to the non-vegan one and I find that it makes a great tasty topping for rice or noodles too! Click here for the printable recipe.
Video tutorial for Curry Beef Crumbles
Start by re-hydrating some dried shiitake mushrooms and chop them up after they are plump. They add a rich, unique flavour to the crumbles but if you're like one of my friends who hates shiitakes, use another mushroom that you do like.
Set that aside, and dissolve a teaspoon of marmite in a cup of hot water. Marmite is a vegan-friendly yeast extract that will give this dish the beefy taste. If you can't get it, you can also use vegemite or miso paste. Then add texturized vegetable protein also known as TVP. In case you're wondering, it's made from defatted soy flour that has been cooked under pressure and dried. You can get usually get these in bulk at grocery or health fsood stores or online. The type I have is from Bob's Red Mill and it's super cheap. However, if you're soy-free for any reason, you can substitute 1 1/2 cups of cooked lentils and skip the water; just stir in the Marmite.
Set that aside and mix together a bit of cold water, cornstarch, soy sauce or tamari, and hoisin sauce. This is the brand of hoisin sauce that I use and it happens to be vegan-friendly. There are some brands with non-vegan ingredients so just make sure to check before you buy. If you're soy-free, instead of hoisin sauce which usually has soybeans in it, use ketchup. The flavour will be different but has the sweet and salty effect that we're looking for in this dish.
Heat up a pan over medium high heat and when it's hot, add a couple teaspoons of coconut oil. I used unrefined coconut oil as I like this dish with that coconuty flavour. Then add the onions, garlic and mushrooms. You can toss every so often or play it safe and just stir it – so everything gets cooked evenly.
If you're wondering, you can use other oils or skip it and use the water saute method BUT curry beef buns are supposed to have a bit of a fatty mouth-feel and coconut oil seems to do the best for that job. And a little saturated fat won't kill you. Probably.
After the onions are soft, add the madras curry powder, red chili flakes, salt and pepper along with the soaked tvp. Stir everything together and let that cook for another two minutes so the flavours can mingle and do their thing. Give the cornstarch mixture a little stir and pour it in too. It will cook quickly and form a sticky sauce. Turn off the heat and there you go.
Hearty, high protein vegan curry beefless crumbles ready for the main event. You can use these to make stuffed buns or have it over rice along with some veggies and you have a nice little meal there.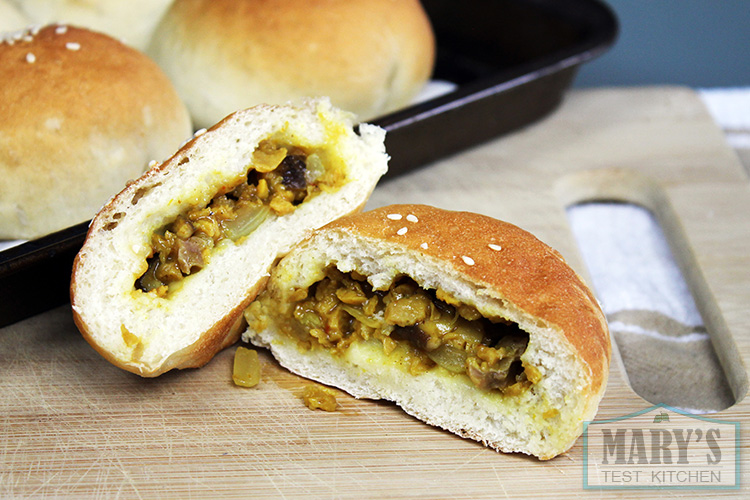 What you would do with these vegan beefy crumbles? Also, please let me know if there are other bun fillings you would like me to try veganizing!
Printable recipe for Curry Beefless Buns
Yield: about 1 1/2 cups
Vegan Curry Beef Crumbles Recipe
This vegan curry "beef" recipe was made as the filling for veganized Chinese curry beef buns (ga lei ngo yuk bao). This plant-based version is very similar in taste and texture to the non-vegan one and I find that it makes a great tasty topping for rice or noodles too! See the notes for soy-free and gluten-free options.
Ingredients
Part 1
1 cup hot water
1 teaspoon marmite (or dark miso paste)
3/4 cup TVP (texturized vegetable protein)
Part 2
1/3 cup cold or room temperature water
1 tablespoon cornstarch
1/2 tablespoon hoisin sauce
2 teaspoons soy sauce (or tamari/liquid aminos)
Part 3
1-2 teaspoons coconut oil (or your choice of cooking oil)
1 cup chopped onion
2 cloves garlic, minced
3-4 shiitake mushrooms, rehydrated from dried
1 1/2 tablespoons madras curry powder
1/4 teaspoon red chili flakes (optional)
1/4 - 1/2 teaspoon sea salt or to taste
pinch of black pepper or to taste
Instructions
Dissolve the marmite in 1 cup hot water. Add the TVP and stir to combine and set aside to rest. Separately, combine water, soy sauce, hoisin sauce, and cornstarch. Stir until the cornstarch is dissolved and set aside.
Heat oil in a pan over medium high heat. When hot, add the onions, garlic, and mushroom. Cook while stirring for about 3-4 minutes.
Stir in the TVP mixture, curry powder, salt, chili flakes, and black pepper. Cook while stirring for about 2 minutes. If the mixture is very dry, add a tablespoon or two of water to prevent the spices from sticking and burning.
Stir the cornstarch mixture once more before adding it to the pan. Mix well. The liquid will quickly thicken. When it does, turn off the heat and continue mixing for a minute. Taste and adjust for salt and pepper.
Serve with rice, noodles, or make some Curry "Beef" Buns.
Notes
For soy-free: use about 1 1/2 cups lentils instead of TVP and skip the water. Instead of soy sauce and hoisin, go for liquid aminos/tamari and ketchup
For gluten-free: use choose tamari for soy sauce and choose either gluten-free hoisin sauce or ketchup in place of the hoisin sauce.
Nutrition Information:
Yield:
2
Serving Size:
1
Amount Per Serving:
Calories:

272
Total Fat:

6g
Saturated Fat:

4g
Trans Fat:

0g
Unsaturated Fat:

1g
Cholesterol:

0mg
Sodium:

1013mg
Carbohydrates:

36g
Fiber:

12g
Sugar:

13g
Protein:

23g
Nutritional Information automatically calculated by a plugin and may not be correct.