How to make Vegan Crab Rangoon to satisfy your craving for crispy fried wonton stuffed with creamy cheesy filling! First, make the super easy filling in seconds. Then, try your hand at gluten-free cassava wonton wrappers, make traditional DIY wheat dumpling wrappers, or use store-bought wonton wrappers. It's up to you!
Pin this for later or Skip to the printable recipe.
Video Tutorial for Vegan Crab Rangoon
Veganizing Crab Rangoon
The original ingredients for American Chinese restaurant style Crab Rangoon are all plant-based except for the filling: cream cheese and imitation crab meat. You might be surprised that a food named crab rangoon doesn't usually contain crab at all. Instead, restaurants typically use polluck, a type of fish, that is flavoured to taste like crab.
We can take this a bit further and simply use super firm tofu and grate it for a crab-like texture. Super firm tofu is sometimes called super pressed tofu and has a dense smooth texture that is easy to grate. It's different than pressing an extra firm block of tofu at home so be sure to select the right kind at the store. Soyganic has a smoked tofu that also has this texture. You can use that if you cannot find the plain type or if you just want that extra bump in flavour.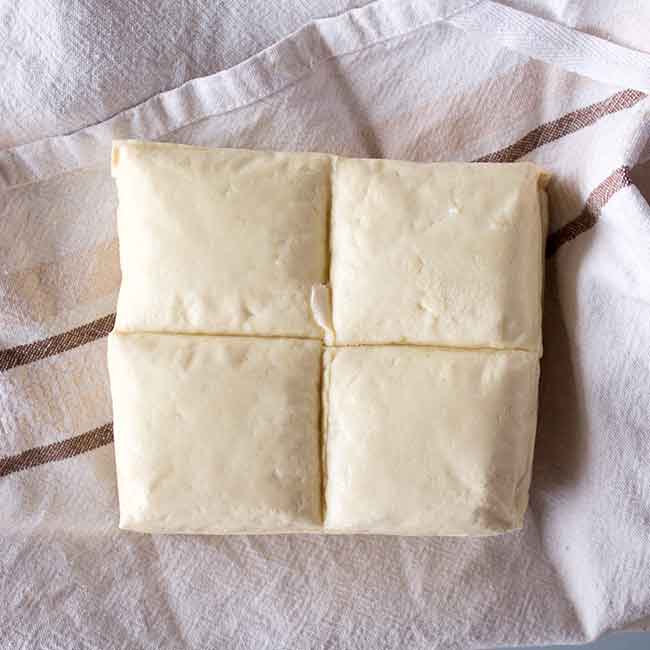 In place of cream cheese, you might simply use vegan cream cheese which is becoming more widely available. However, because how vegan cream cheeses are formulated and the high frying temperatures we'll need to crisp up the wonton skins, it can completely melt and seem to disappear giving us hollow dumplings instead of crispy wontons filled with a creamy center.
So, I use vegan mozzarella shreds which tend to hold up better. Then, you can mix in some vegan cream cheese to bind the cheese shreds and tofu.
Finally, I add a little vegan chicken-style broth paste to the mixture, giving it just the perfect amount of salty and savory flavour.
This vegan cheese mixture can chill in the fridge while you make your homemade wonton wrappers. Or, if you are using store-bought wrappers, just make sure to chill the filling for at least 10 to 15 minutes. You can also make it up to three days ahead.
Gluten-Free Cassava Flour Wonton Wrappers
If you must avoid gluten or wheat, these cassava flour wonton wrappers really save the day! Even if you don't have any allergies or intolerances, you might just make these wheat-free wonton wrappers because they taste delicious! They come out a little thicker than store-bought wrappers but I feel that's part of the charm. And, when fried, these cassava flour wonton wrappers are nice and crispy on the outside but also have a little satisfying chew giving the hint of a mochi texture. They are so tasty and satisfying!
As I navigate recent adult on-set allergies, cassava has been a godsend. The flour is made from peeled and dried cassava root (also known as yuca or manioc) and is quite useful as a wheat flour alternative. To make these wheat-free wonton wrappers, I simply substituted the regular wheat flour from my usual recipe for cassava flavour and a bit of tapioca flour (which is also made from cassava!).
To make these cassava dumpling skins, mix 95g cassava flour with 20g tapioca flour with 1/8 teaspoon of salt. And, to help the wontons brown nicely during frying, add a teaspoon of icing sugar as well. For US volume measurements, please see the printable recipe below. However, I highly recommend measuring by metric weight for best results.
Then, slowly and carefully add 130ml of hot boiling water. Stir and a lumpy rough dough will form. Keep stirring and eventually it will all come together.
The dough will be quite hot so it might be wise to cover the dough and just let it cool a while before kneading. However, like the Chinese home cooks before me, I get in there right away to knead the dough. It only requires a minute or so of working to distribute the moisture throughout and become a smooth and tacky but workable dough.
Then you can divide up the dough and form any kind of dumpling wrapper you want; from thick to thin, square or round. For these vegan crab rangoon, make square wrappers, about 1 mm thick. They are delicate so you can use parchment paper to help you handle them and tapioca flour to prevent sticking.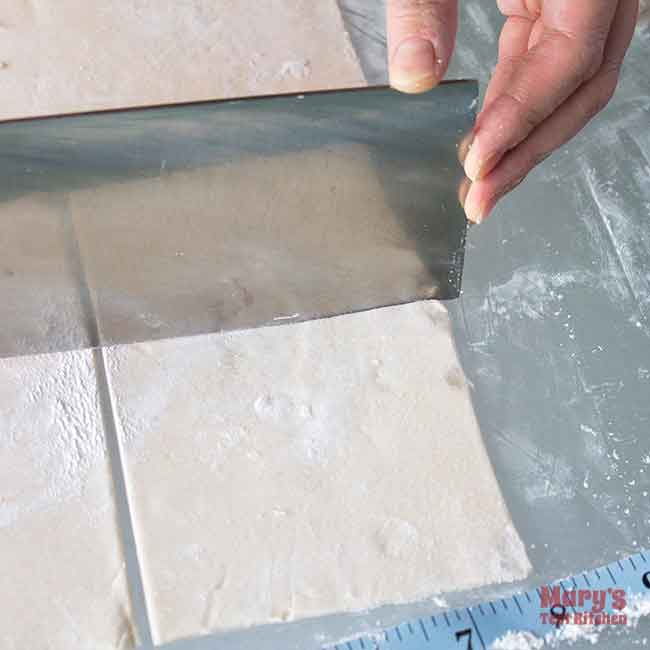 Wrapping up Vegan Crab Rangoon
There are a couple tricks to making sure your vegan crab rangoon come out nicely. First, don't use too much filling. And second, make sure there are no air pockets.
Use only a level tablespoon of filling, set in the middle of a square wonton wrapper.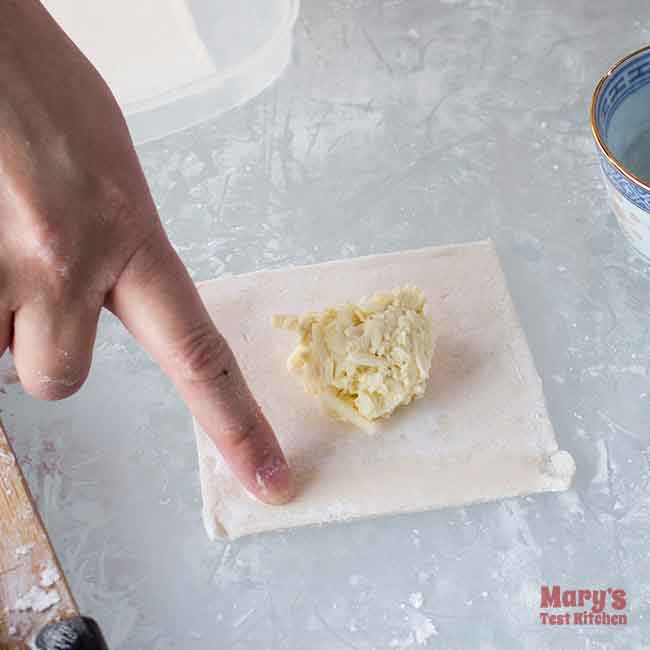 To help the wrapper seal, lightly moisten a finger with water and trace the edges of the wrapper.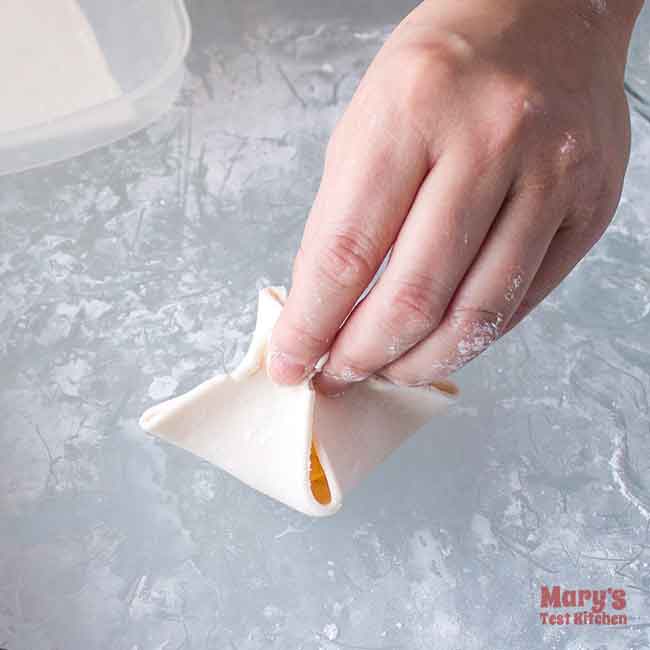 Lift all four corners and pinch them together.
Then, starting at the base of one newly made corner, lightly press to seal. Starting at the base and working along the filling helps to eliminate any air pockets. This is important since any air pockets would expand during cooking and eventually cause your crab rangoon to burst and leak vegan cheese into your hot frying oil.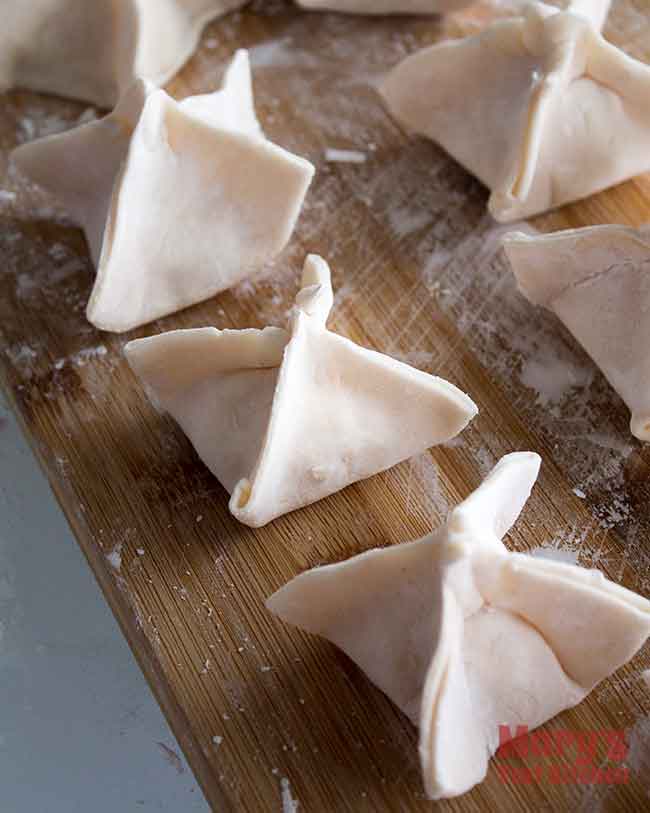 Continue with the four corners and then repeat with the rest. Finally, brush off any excess tapioca flour from your dumplings.
Frying Vegan Crab Rangoon
To fry these vegan crab rangoon on the stove top, select a large pot that as lots of room. You'll want to fill it with 3 to 4 inches of cooking oil; enough to submerge the wontons. Bring the temperature up to 350 – 375°F, and then add the uncooked vegan cheese wontons one at a time. You may need to work in two or three batches depending on your pot's size. That's because there needs to be plenty of room between each wonton so the pot is never crowded and the temperature does not drop very much.
Fry these little vegan crab puffs for one minute per side and you'll see them puff up. But they won't brown very much yet. That's okay!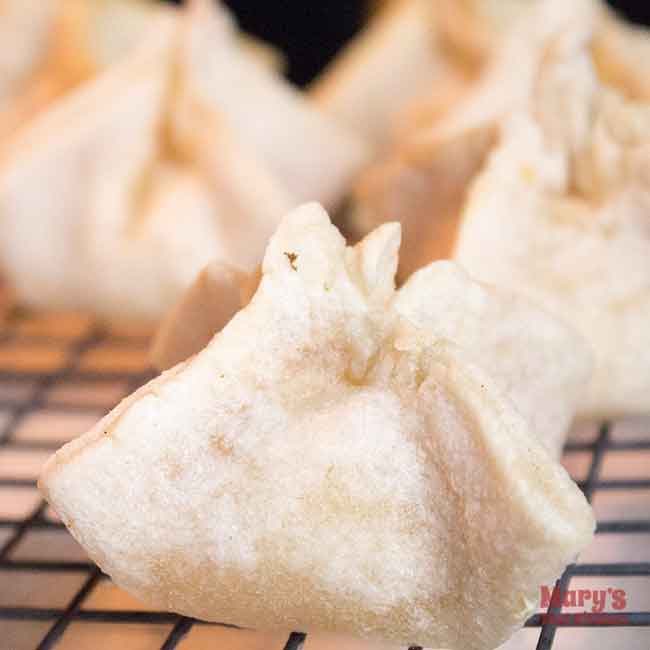 Remove them to a cooling rack and put in the next batch.
When they have all been fried once, let the oil heat up to 425°F. Then fry all the wontons for a minute and they should turn golden brown and get extra crispy!
Finally, transfer them to a cooling rack once more to rest a few minutes.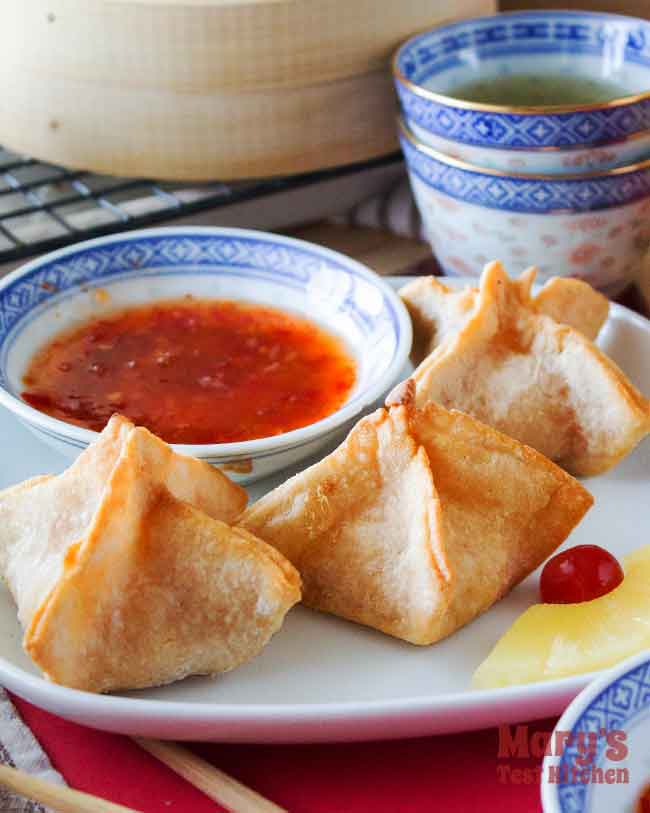 Then serve them with some plum sauce or sweet chilli sauce. But be careful: they are volcanically hot on the inside. I never bite straight into them but crack them open to let the steam escape first. Then dip generously and enjoy!
Want more Vegan Dumplings?
Try my Vegan Mushroom Dumplings that can be cooked three ways: steamed, boiled or pan-fried.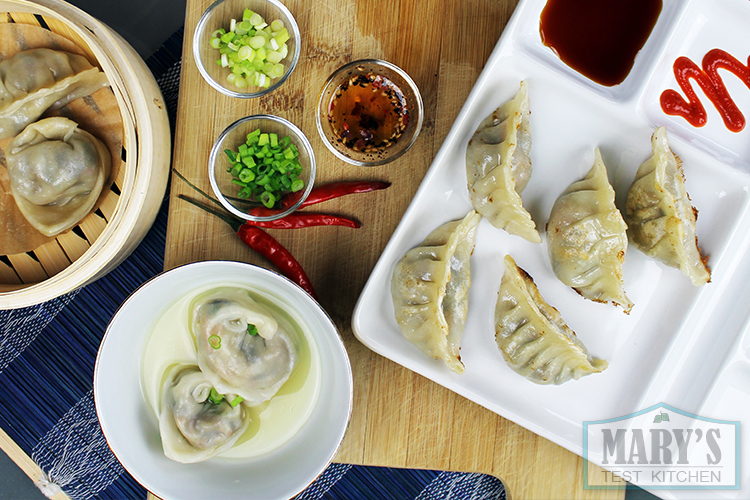 Or Vegan Crystal Tofu Dumplings which are like Har Gow (steamed shrimp dumplings) but made vegan!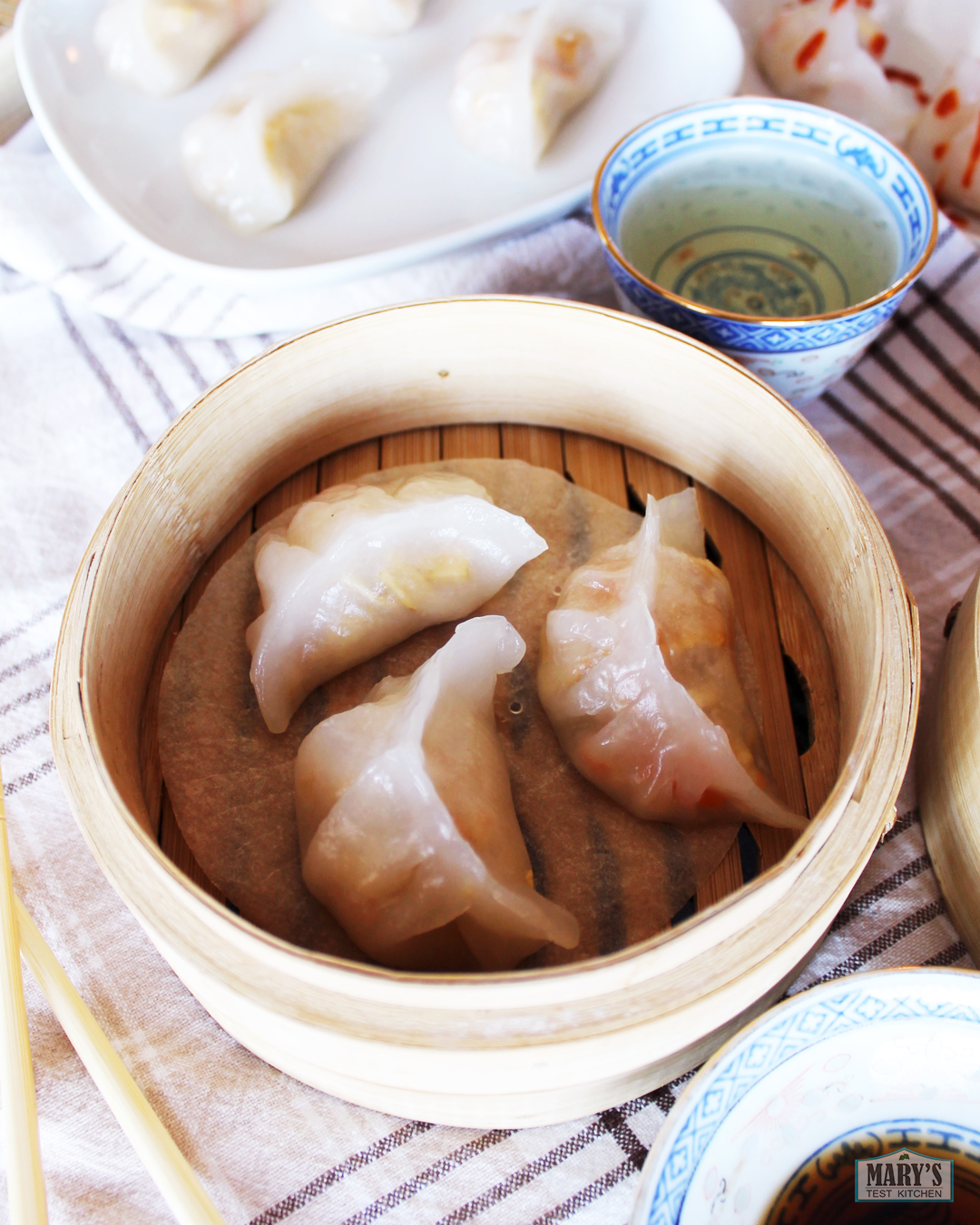 More North American Chinese Restaurant Classics
Complete your Vegan Chinese Restaurant feast at home! Try Vegan Ginger "Beef", Vegan Sesame "Chicken" and more!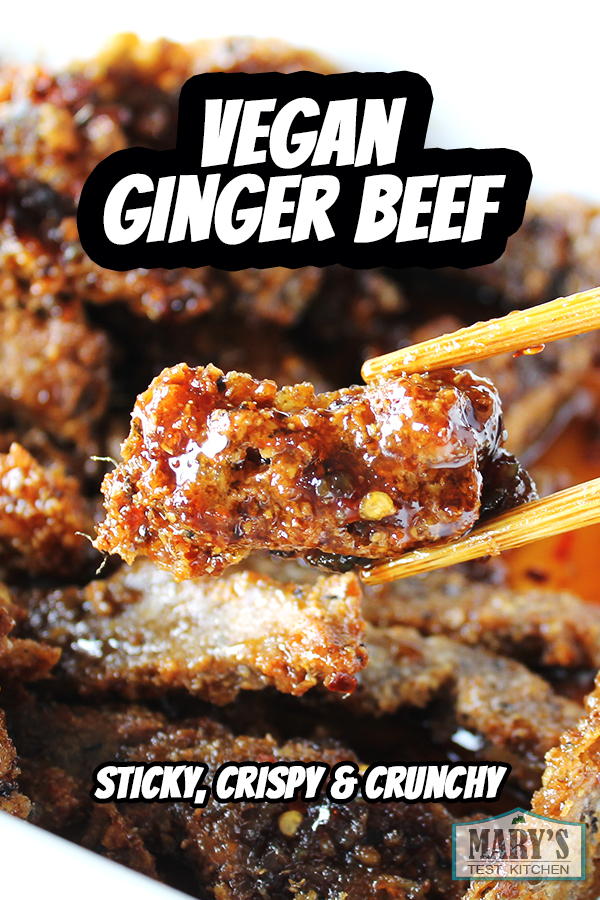 Printable recipe for Vegan Crab Rangoon
Yield: 9 crispy wontons
Gluten-Free Vegan Crab Rangoon
These Vegan Crab Rangoon are crispy on the outside and creamy on the inside. You can make them with store-bought wrappers, traditional homemade wonton wrappers or the gluten-free Cassava Flour Wonton Wrappers included in this recipe.
Ingredients
Vegan Crab Rangoon Filling
80g super firm tofu, grated (2/3 cup)
50g vegan mozzarella shreds (scant 1/2 cup)
3 tablespoons vegan cream cheese
½ teaspoon vegan chicken broth paste
9 wonton wrappers (store-bought, traditional homemade, or use recipe below)
Cassava Flour Wonton Wrappers
95g cassava flour (3/4 cup)
18g tapioca flour (2 tbsp)
1 teaspoon icing sugar
⅛ teaspoon salt
130ml boiling hot water
To serve
2 - 3 tablespoons plum sauce or sweet chilli sauce
Instructions
Combine grated super firm tofu, vegan mozzarella, vegan cream cheese, and broth paste in a bowl. Work with clean hands until ingredients are well distributed throughout. Chill in the fridge at least 10 minutes
In a separate heat-proof bowl, combine cassava flour, tapioca flour, icing sugar and salt. Mix well. Carefully add the boiling hot water and then stir with chopsticks or spoon to form dough. It will be very hot so you can cover it and let it rest for a few minutes until it is cool enough to knead. Knead the sticky dough until smooth. Keep something to keep the dough covered nearby.
Dust a clean work surface with tapioca starch. Roll it out into a square about 11-12" on each edge. Cut 9 squares from the dough, 3.75" each. You may be able to make 1 or 2 more wrappers from the leftover dough.
Working with one wrapper at a time, place 1 tbsp of chilled filling in the middle. Use a little water to lightly moisten the sides; do not over wet. Take all four corners and pinch together. Then working from the base of one corner at a time, seal the sides while eliminating any air pockets. Place on a plate dusted with tapioca starch. Repeat with all the wrappers. Brush off any excess starch from the filled wontons.
Using a large pot, fill with about 3 to 4 inches of frying oil. Heat to 350° to 375°F. Carefully add the wontons one at a time and do not crowd the pot. You may need to work in batches. Cook for 1 minute, then flip to cook the other side for a minute. Remove to a cooling rack. They will probably still be quite pale.
After all the vegan crab rangoon have been fried once, increase the oil temperature to 425°F and fry again for 1 minute. This will give them a golden colour. Remove the to the cooling rack once more and let rest for a few minutes before serving with plum sauce or sweet chilli sauce.
Caution: the vegan crab rangoon filling will be super hot! Be careful when eating.
Notes
Tapioca flour is also known as tapioca starch or arrowroot powder.
Nutrition Information:
Yield:
3
Serving Size:
3 wontons
Amount Per Serving:
Calories:

310
Total Fat:

10g
Saturated Fat:

5g
Trans Fat:

0g
Unsaturated Fat:

5g
Cholesterol:

15mg
Sodium:

453mg
Carbohydrates:

44g
Fiber:

1g
Sugar:

5g
Protein:

10g
Nutritional Information automatically calculated by a plugin and may not be correct.