Chinese dumplings are one of my favourite foods and this simple dough makes the perfect wrapper for wontons, gyozas, potstickers, and other delicious morsels. Store-bought wonton wrappers often contain egg and other additives but they are not at all needed for great dumplings at home. This egg-free dumpling dough recipe keeps things simple. All you need is regular wheat flour and water. Salt, optional.
Video Tutorial on How to Make Dumpling Wrappers for Wontons, Gyozas, Potstickers, and JiaoZi
Start with boiled water. I find that hot water creates a dough that is easier to work with, especially if you're rolling out the dough by hand. Add salt now if you want. I prefer my dumpling wrappers unsalted.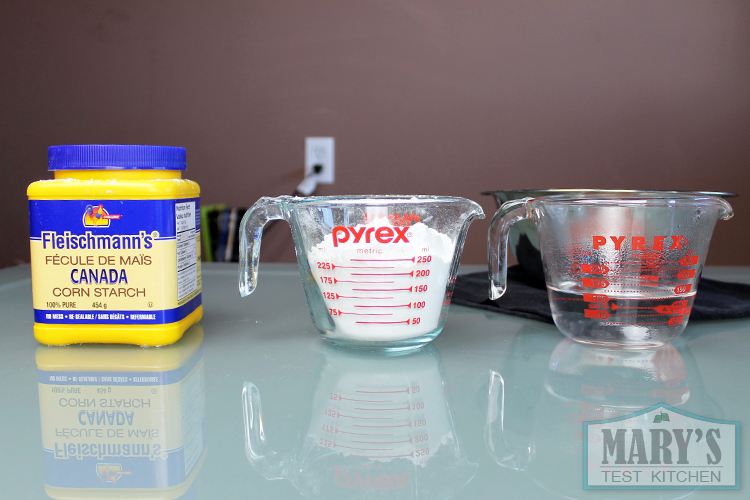 Mix the hot water with all-purpose flour. The ratio I use is one part water and three parts flour (by volume). You may have to make minor adjustments depending on the humidity in your kitchen. Make a well in the center of the flour and pour the water in. Then stir it, incorporating all the flour slowly.
By now, the mixture will not be too hot. Knead it with clean hands for a few minutes; the dough should become fairly smooth.
Next, cover the dough by placing in a small bowl and covering with a plate. Let the dough rest for about a half hour. This lets the gluten in the dough relax so you'll have an easier time rolling the dough out later.
I divide up the dough into a few even pieces so that rolling is easier. Roll out the dough into large rectangles, as thin as you would like. My rolling pin (AKA empty glass bottle) has a ridge at one end so the thinnest I can make mine are about two and a half millimeters thick (1/8th inch). You can make yours a bit thinner if you like (great for wontons) or a bit thicker (good for gyozas or potstickers). When I go to use the wrappers I roll them out a bit more so they are only 1 – 2 millimeters thick.
To make square dumpling wrappers, just cut them out with a knife or pizza cutter. To make round wrappers, use a round cookie cutter or the rim of a cup.
Dust each pieces with cornstarch to keep them from sticking to each other. You can also use other starches like potato or rice flour. I find that regular wheat flour just gets absorbed into the wrapper dough and is not really reliable for keeping the wrappers separated and easy to peel away. The cornstarch has a slip to it which really works better.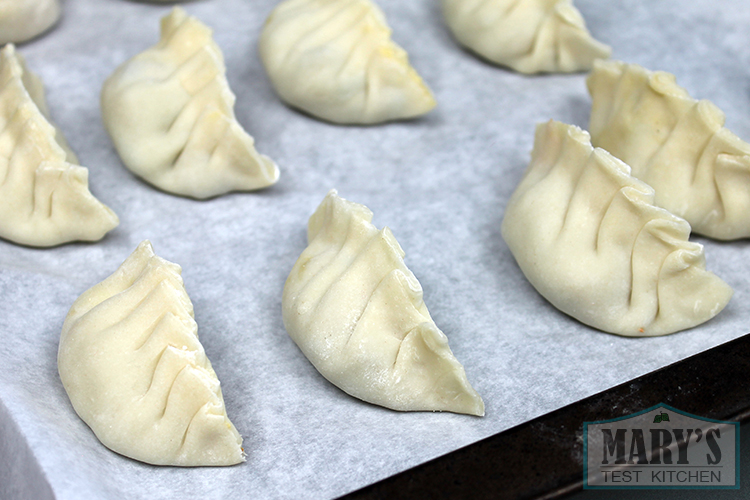 While you're working, keep the finished wrappers under a pieces of plastic wrap or put them directly in a container with a lid. Because they are so thin, they can dry out easily. Also, keep any dough that you're not working with under wraps as well.
When you've used up all the dough, use the wrappers right away or store them in the fridge in an airtight container.
Use these dumpling wrappers for wontons, gyozas, potstickers or even tortellini. You can cook them all types of ways, including boiling the dumplings, pan-frying, or steaming.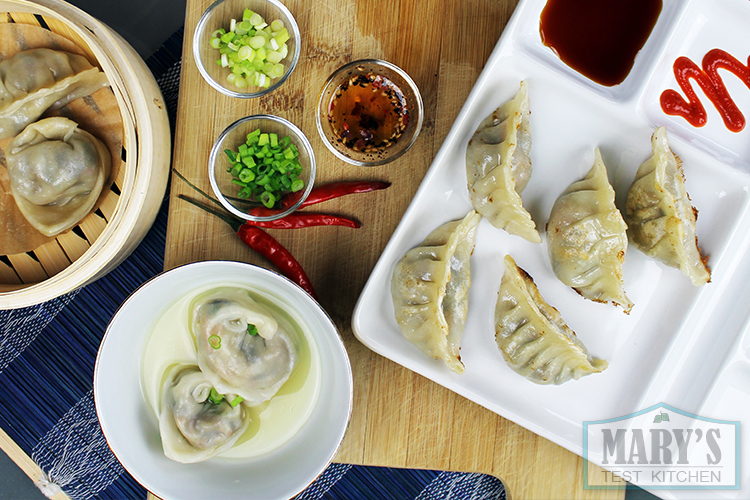 Printable recipe for Dumpling Wrappers
Vegan Dumpling Wrappers for wonton, potstickers, and gyoza
2015-03-24 18:10:00
This simple dumping wrapper dough uses only flour, water, and some cornstarch to separate the wrappers. You can use it for any kind of dumpling, whether you plan to steam, boil, or fry them.
Ingredients
1 1/2 cups all-purpose flour [190g]
1/2 cup hot water, just boiled [118ml]
cornstarch for dusting
Instructions
Place the flour in a mixing bowl and create a well in the center.
Add the water slowly to the well while stirring to combine the flour and water gradually.
Stir together until all the water is absorbed.
With clean hands, gather the dough into a ball. Turn it on to a clean surface and knead for one minute. The dough should not stick; add a small amount of flour if necessary.
Place the dough back into the bowl and cover with a plate or lid.
Let the dough rest for 30 minutes to an hour.
Divide the dough into managable pieces if you like. Dust the work surface with a little cornstarch if the dough sticks.
Roll out the dough into a large flat piece, about 1-3 millimeters thick (1/32" to 1/16").
Cut the dough into squares or use a cookie cutter or cup to cut out circles. The size is up to you but I like to make wrappers 3" to 4" wide.
Remove the trim, knead it into a ball and place in the covered bowl for a few minutes. Then roll it out to create more wrappers.
Dust the wrappers with cornstarch before stacking them up.
Use right away or store in an airtight container in the fridge for up to 5 days.
Notes
For wonton and gyoza, the ideal thickness is between 1 and 2 millimeters.
To freeze the dumpling wrappers, wrap up an entire stack with plastic wrap and place in the freezer. To use, place the frozen wrappers in the refrigerator until completely thawed.
If you can't get the dough thin enough at first, just roll it as thin as possible, then cut out the pieces. Then roll out each piece a bit further. It is easier to roll small pieces of dough thin and evenly than larger pieces.
Mary's Test Kitchen https://www.marystestkitchen.com/