Today, I wanted to make Vegan Har Gow for you because Crystal Shrimp Dumplings was my absolute favourite at dim sum (right after siu mai). Sadly, the local shops were all out of vegan shrimps when I was shopping for the photo/video shoot, so we're making vegan Crystal Tofu Dumplings. Just as good. Almost.
Click here for the printable recipe.
Video Tutorial for Crystal Tofu Dumplings (Vegan Har Gow)
Making Vegan Har Gow Wrappers
The translucent dumpling wrapper used for Crystal Dumplings is often not vegan because it includes lard. Refined coconut oil makes an excellent alternative, so making vegan crystal dumplings wrappers is pretty easy. Combined with hot boiling water, wheat starch and tapioca starch, the dough becomes translucent after cooking.
It'll be too hot to knead at first, so cover it and let it rest while you make the filling.
The Tofu Filling for Vegan Har Gow (Crystal Tofu Dumplings)
I used Tian Bu La which is normally not vegan; it's a fishcake made from fish paste. But this Tian Bu La is made from soy. This fishcake-style tofu isn't widely available though. I got it from T&T Supermarket. Usually, vegan shrimps are easier to find. So use the one you can find. You can use the vegan fishcake or shrimps in combination with grated smoked tofu or just use one type.
I love smoked tofu because it's simply delicious. Then the rest of the filling is very much like the original recipe which includes sesame oil, oyster sauce (we use mushroom sauce instead), salt and sugar. Crystal Shrimp Dumplings also contain bamboo shoots but I hate the canned ones we have locally. So instead I used grated carrots to add texture and colour to our vegan dumplings.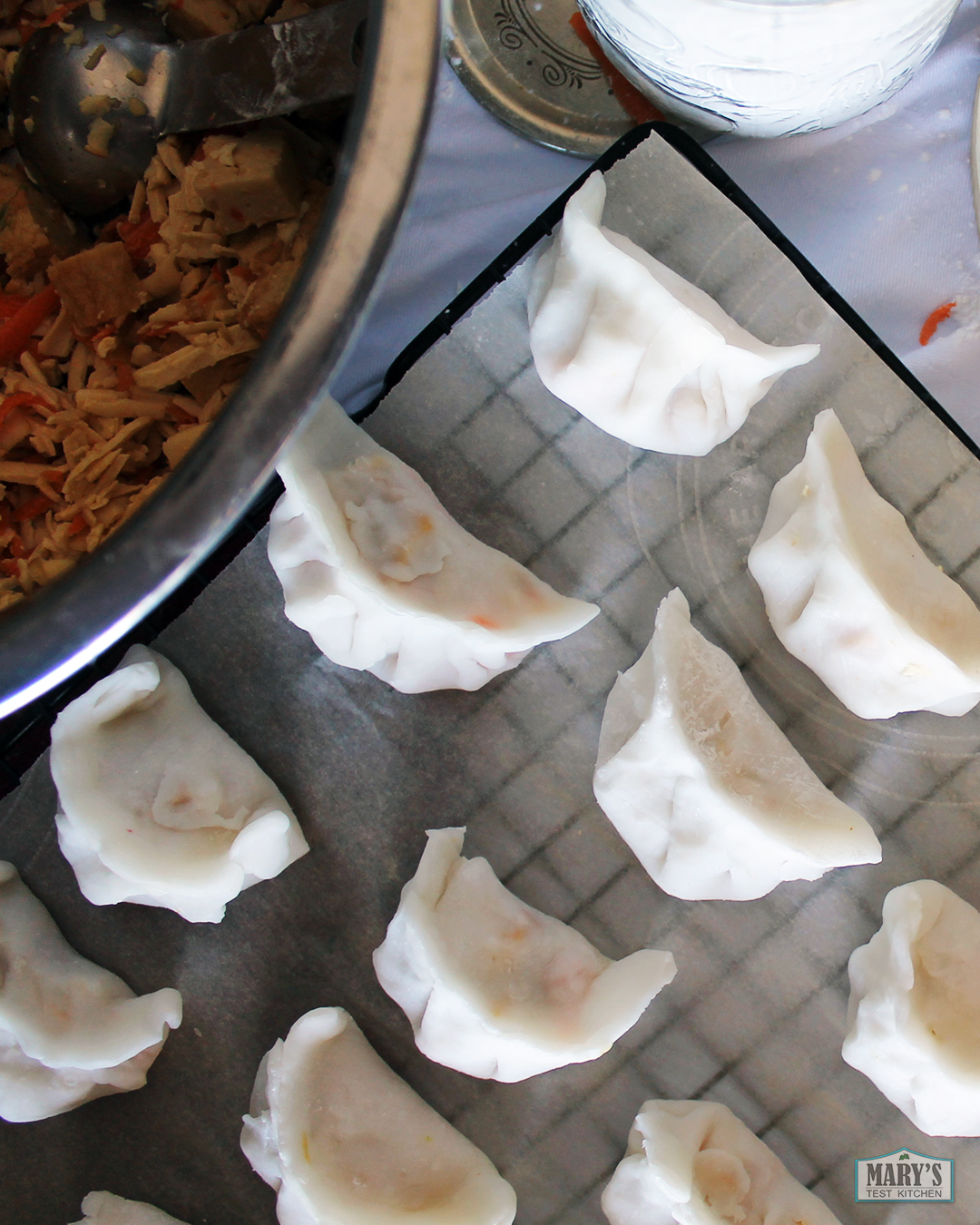 Shaping the Vegan Har Gow Wrapper / Crystal Dumpling Dough
You'll have to knead the dumpling dough for a few minutes. At first, it will seem very sticky or parts might seem dry. However, if you knead it long enough, it should become smooth. Then you can divide the dough up into balls, roll them out into thin discs and fill them up. See the video for a demonstration.
How to Freeze Vegan Har Gow (Crystal Tofu Dumplings)
When you have the dumplings wrapped up, set them on parchment paper and you can freeze them until they are solid. Then transfer them to a freezer bag to store for up to 2 months. Or steam them fresh.
Steaming Crystal Tofu Dumplings
To cook fresh crystal tofu dumplings, steam them in parchment-lined steaming baskets over high heat for 5 to 6 minutes. Allow an extra minute or two to cook from frozen. Let them rest for a few minutes off the heat to let the wrappers set, then enjoy with Chinese black vinegar or your favourite dipping sauces.
I hope you give these a try, especially if you like Har Gow. What other Chinese dim sum dishes would you like to see veganized?
Printable recipe for Crystal Tofu Dumplings (Vegan Har Gow)
Yield: 25 dumplings
Crystal Tofu Dumplings (Vegan Har Gow)
Flavourful tofu is wrapped in the tender translucent wrapper you usually find in Crystal Shrimp Dumplings (AKA Ha Gow) for a familiar dim sum taste made vegan.
Use "Tian Bu La" style tofu from your local specialty tofu source for a bouncy fish ball-like texture and grated smoked tofu for extra flavour. If you can't get fish-ball-style tofu, just use smoked tofu.
Or substitute with vegan shrimp, use bamboo shoots instead of carrot, and add a wee bit more sesame oil to make vegan ha gow!
This recipe makes up to 25 dumplings that can be steamed right away or frozen for later.
Ingredients
Crystal Dumpling Wrapper Dough
1 cup (150g) wheat starch
1/2 cup (75g) tapioca starch (sometimes labelled tapioca flour)
1 1/4 cup (290ml) boiling hot water
1 tablespoon refined coconut oil
Filling
5.25oz chopped 'Tien Bu La' fishcake-style tofu (150g)
3.5oz smoked tofu, grated (100g)
1/4 cup grated carrot
1 teaspoon sesame oil
1/2 teaspoon grated ginger
1/2 teaspoon vegetarian mushroom sauce
1/2 teaspoon sugar
1/4 teaspoon salt, or to taste
Instructions
Make the dumplings
In a mixing bowl, combine wheat starch and tapioca starch. While stirring, slowly add boiling hot water. Add refined coconut oil and continue stirring as the dough comes together and becomes very stiff. Cover and let sit while you prepare the filling.
Chop the fishcake-style tofu into small cubes about 1/4". Combine with grated smoked tofu, carrot, ginger, vegetarian mushroom sauce, sugar, and salt. Mix well and taste to adjust the salt or other seasoning to your preference.
When the dough is just cool enough to handle, dust your hands with either tapioca starch or wheat starch and knead the dough until it is smooth; about 5 to 10 minutes. Wrap well in plastic wrap if not wrapping dumplings immediately. This dough can dry out easily.
Divide the dough up into small balls about 1 1/2" diameter (about 20g). You'll work with one ball at a time; cover the rest with plastic wrap.
Roll a dough ball out on a flat clean surface. I used a silicone mat to make things easier. Roll it out into a very thin disc. The best crystal dumplings will have a very thin skin but still hold together. Also, I used a large mason jar ring to cut the discs into a consistent shape in the video to make them look nicer; this is not 100% necessary.
Fill the wrapper with a heaped teaspoon of filling. With gentle hands, pleat one side of the wrapper and fold the opposite side over the filling and seal against the pleats. See the video for a wrapping demonstration. If the wrapper breaks, you can save it by taking a little bit of dough, flattening it, and pressing it gently against the tear like a dough-bandage.
Place the filled dumplings on a parchment lined baking sheet or plate while you repeat the process with the rest of the dough and filling.
To freeze dumplings
Place the uncooked dumplings on a parchment lined baking sheet, spaced out so they are not touching, and freeze until solid. Once solid, you can transfer to a freezer bag and store for up to 2 months.
To cook fresh or frozen dumplings
Prepare parchment liners for your steamer, cutting them into the shape of your steamer basket and poking holes about 1" apart. Place liners in the steamer baskets, place the dumplings untouching with some room to expand, and steam over high heat for about 6 minutes. Allow one or two extra minutes for frozen dumplings. Let them cool a few minutes before eating. Enjoy!
Notes
About 'Tian Bu La' fishcake-style tofu
This fried tofu has a bouncy texture and is make to taste and look like fish balls or fish cakes. It can be found at some Asian grocery stores and at specialty tofu shops. If you cannot find it, try to find vegan shrimp as a substitute which can be found where vegan specialty products are sold and is more widely available online.
About the oil
I've found refined coconut oil works the best for making crystal dumpling wrapper dough. Other neutral flavoured oils will work too. Avoid oils with a strong aroma such as olive oil or sesame oil.
Online sources of these special Ingredients: