This Vegan Chinese Turnip Cake (aka Lo Bak Go in Cantonese) is just as delicious as the dim sum restaurant dish but made without the common animal ingredients. We'll leave out the Chinese sausage, dried scallops and shrimp; but don't worry! This easy veganized recipe maintains the soul of the dish!
Click here for the printable recipe.
Video Tutorial for Vegan Lo Bak Go or Chinese Steamed Radish Cake
What is Steamed Chinese Turnip Cake
Chinese Turnip Cake, sometimes called Chinese Radish Cake, is called Lo Bak Go in Cantonese. You'll find it on dim sum restaurant menus and on the favourite comfort dish lists of Chinese people everywhere!
And while the English name doesn't sound all that appetizing, Lo Bak Go is wonderfully delicious. They are crispy on the outside and creamy on the inside while being full of flavour.
Also despite the common English name, the main ingredient is daikon; a type of radish. Nothing like the red little round radishes you might be more familiar with, daikon is a large white root vegetable with crisp flesh and very mild flavour. It's not spicy at all but instead, it is very savory when cooked and is wonderful in soups, stews and more. For another example, it's also used in making kimchi.
How to make Steamed Chinese Turnip Cake Vegan
The steamed cake is made with grated daikon that is cooked, then mixed with flavourful ingredients. Typically, it contains Chinese sausage (lap cheong), dried scallop and tiny dried shrimp which gives it a salty, savory flavour. But for the vegan version, we'll leave out these ingredients but include plant-based sources of umami like dried shiitake mushrooms, sauteed scallions, shallots and garlic. The resulting Vegan Lo Bak Go retains the essence of the dish and is every bit as delicious!
Why Make Vegan Chinese Turnip Cake?
Make vegan dim sum at home! Dim sum is a comfort food to me. If you, like me, grew up in a Cantonese household, you probably went to yum cha fairly regularly where the atmosphere was noisy with boisterous conversation and servers navigated crowded dining rooms with carts piled high with fragrant steaming baskets of both sweet and savory dim sum treats. One bite of this Vegan Lo Bak Go and you'll be transported!
If you're trying Lo Bak Go for the first time, you'll love it because it's:
wonderfully savory and delicious,
crispy on the outside and creamy on the inside,
full of nutritious daikon and other plant-based ingredients,
one of easiest dim sum dishes you can make!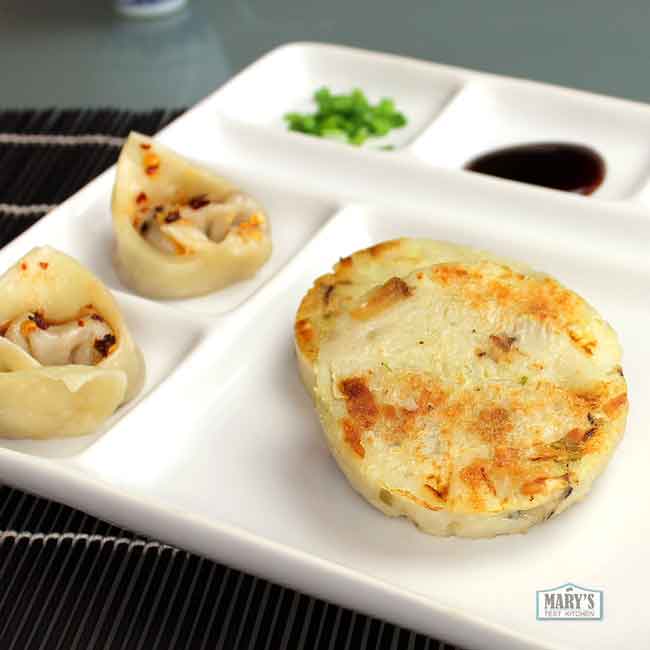 More Vegan Dim Sum Recipes:
How to make Vegan Lo Bak Go
I grate only half the daikon and chop the other half into small pieces. That's just my personal preference as I like the contrasting textures but you can always simply grate the daikon for a smoother texture. Then cover it with water and cook until tender.
In the meantime, get the fillings ready. I'm using fried shiitake mushrooms, garlic, and shallots to impart a mouthwatering flavour. You can also use other savoury ingredients like chopped vegan sausage or mince.
Next, rice flour is mixed with some of the cooking water from the daikon. To make this even more rich tasting, you can use vegetable broth instead of the cooking water. I keep it a bit on the lighter tasting side as I love dipping these cakes into sweet soy sauce and hot chilli oil and I don't like overdoing it on salt.
Drain the daikon well, then put it back on the stove over low heat and add the rice flour solution and fillings. Stir that all together until the mixture becomes thick; it only takes a few minutes.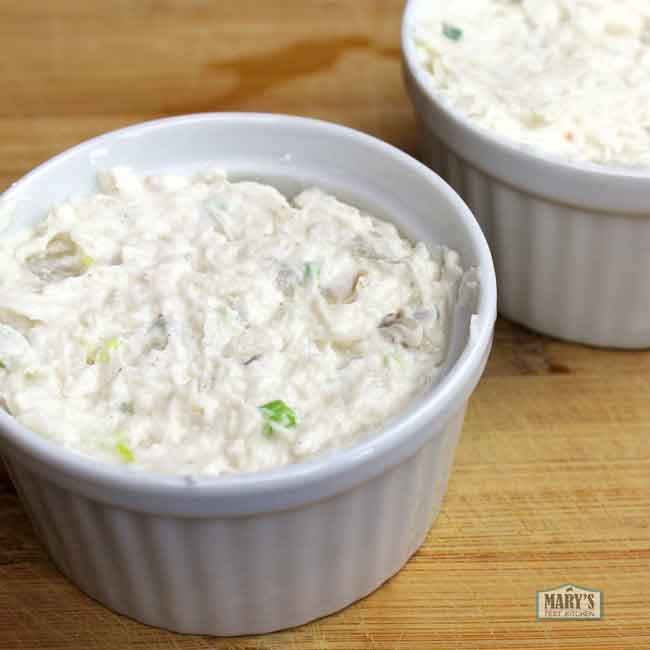 Grease ramekins or bowls before filling with the batter and steam!
After it's steamed the mixture should be nice and firm. At this point, you can slice the steamed turnip cake up and either finish it by pan-frying or storing in the refrigerator for a later date. You can keep the cooled lo bak go in the fridge for up to a week.
When you're ready, pan fry the pieces to crispy perfection. Serve with fresh chopped scallions, chili sauce and soy sauce. And maybe some mushroom dumplings.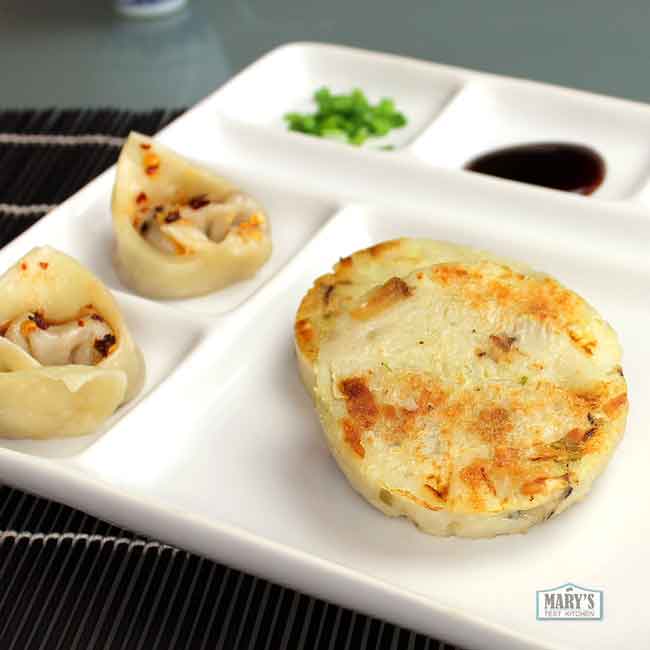 Printable recipe for Chinese Turnip Cake Recipe ( Lo Bak Go )
Yield: 6 cakes
Vegan Chinese Turnip Cake (Lo Bak Go)
Lo Bak Go (Chinese Turnip Cake) is a staple at dim sum restaurants. These little crispy savory cakes of tasty perfection are made with Chinese turnip, also known as daikon. Additions of fried shiitake mushrooms, garlic, and shallots impart a mouthwatering flavour.
Cook Time
1 hour
15 minutes
Total Time
1 hour
35 minutes
Ingredients
1lb grated daikon (or half grated, half chopped) [450g]
1 3/4 cups fine rice flour (see notes) [225g]
water
1 diced shiitake mushroom, rehydrated from dried (about 3" diameter)
2 tablespoons scallions, minced
2 tablespoons shallot, minced
1 clove garlic, minced
1 1/2 teaspoons sea salt or to taste
1/2 teaspoon white pepper
oil for frying
Instructions
Place your grated/chopped daikon in a pot over high heat. Add just enough water to barely cover the daikon.
Bring the water to a boil, then turn the heat to low and continue to simmer until the daikon is tender.
In the meantime, fry up the fillings. Heat about a teaspoon of oil over high heat. Add the mushroom, scallions, shallot, garlic and salt.
Cook while stirring continuously until the shallots are a bit golden then remove from heat and set aside.
When the daikon is tender, drain it but reserve one cup of liquid. Keep the daikon in the cooking pot. If you prefer a saltier, more savory turnip cake, you can add a cube of vegetable broth to the reserved liquid. Or discard all the liquid and replace it with prepared vegetable broth.
Mix the cup of liquid with the rice flour until the flour is dissolved. Add the fillings and white pepper and any additional seasonings you would like such as soy sauce.
Add the rice flour mixture to the drained daikon. Cook over low heat while stirring until the mixture has thickened. Less than 5 minutes.
Prepare your steaming apparatus. Add water to the base of your steamer and bring to a boil. Oil a heat-proof container that will fit into the steamer basket.
Fill your heat-proof container with the daikon mixture, smoothing the top with a spatula or the back of a spoon.
Place the container into the steaming basket and steam over high heat for 45 minutes to one hour. Check for doneness by inserting a toothpick into the center of the cake. If it comes out clean, it is done.
At this point you can serve it or fry it first.
Chill the cake to make slicing and frying easier. I find it is best to cover it and chill it overnight in the refrigerator.
Afterwards, slice into 3/4" thick pieces. Fry in an oiled pan over medium/high heat for a minute on each side or until golden.
Serve with sweet soy sauce, hot chili oil and fresh scallions.
Notes
Too much water can make this cake soggy and too soft. Make sure you drain the daikon very well after cooking.
Steaming for too long can make this cake too stiff. Just keep that in mind and check for doneness sooner rather than later.
This turnip cake isn't as salty as the ones you will find in dimsum restaurants. I prefer to have the salt in the sauces I use for dipping, however, feel free to add more seasoning to the daikon mixture before steaming if you like.
Using FINE rice flour is very important. I use this brand: http://amzn.to/2qbNbnV
Nutrition Information:
Yield:
6
Serving Size:
1
Amount Per Serving:
Calories:

208
Total Fat:

3g
Saturated Fat:

0g
Trans Fat:

0g
Unsaturated Fat:

3g
Cholesterol:

0mg
Sodium:

541mg
Carbohydrates:

41g
Fiber:

3g
Sugar:

2g
Protein:

3g
Nutritional Information automatically calculated by a plugin and may not be correct.