With airfryer crispy tofu puffs and cauliflower fried "rice", this is a complete 20 minute vegan meal that's low carb but high in taste and crispy satisfaction! Feel free to substitute cauliflower rice with regular rice or your favourite "grains."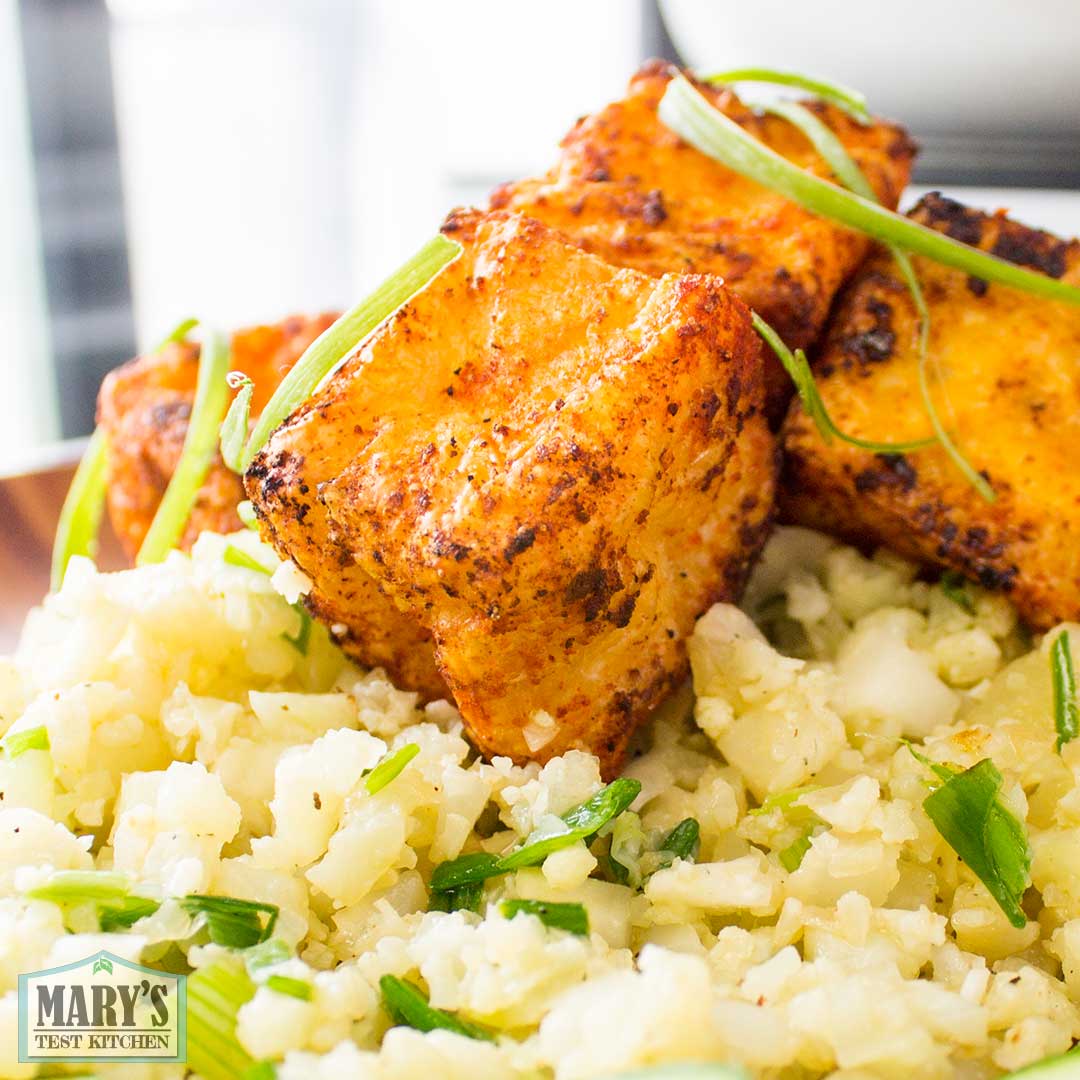 Note: This article contains Amazon affiliate links. When you make a purchase through an affiliate link, I will receive a small commission at no extra cost to you. Please know that I only include affiliate links for products that use, love and highly recommend.
Video for Airfryer Spicy Tofu Puffs on Cauliflower Rice
Tutorial on this recipe starts at 7:58.
About Tofu Puffs
Tofu puffs are made from frying soft tofu until the outside is golden and the inside has released most of its water so that the inside is hollow and airy. When you buy them, they are packed in plastic and are soft and spongy. Then to prepare them traditionally, you can stuff and braise them or cook them in soups where their porous texture will absorb all the flavours. But today, we will enjoy them crispy.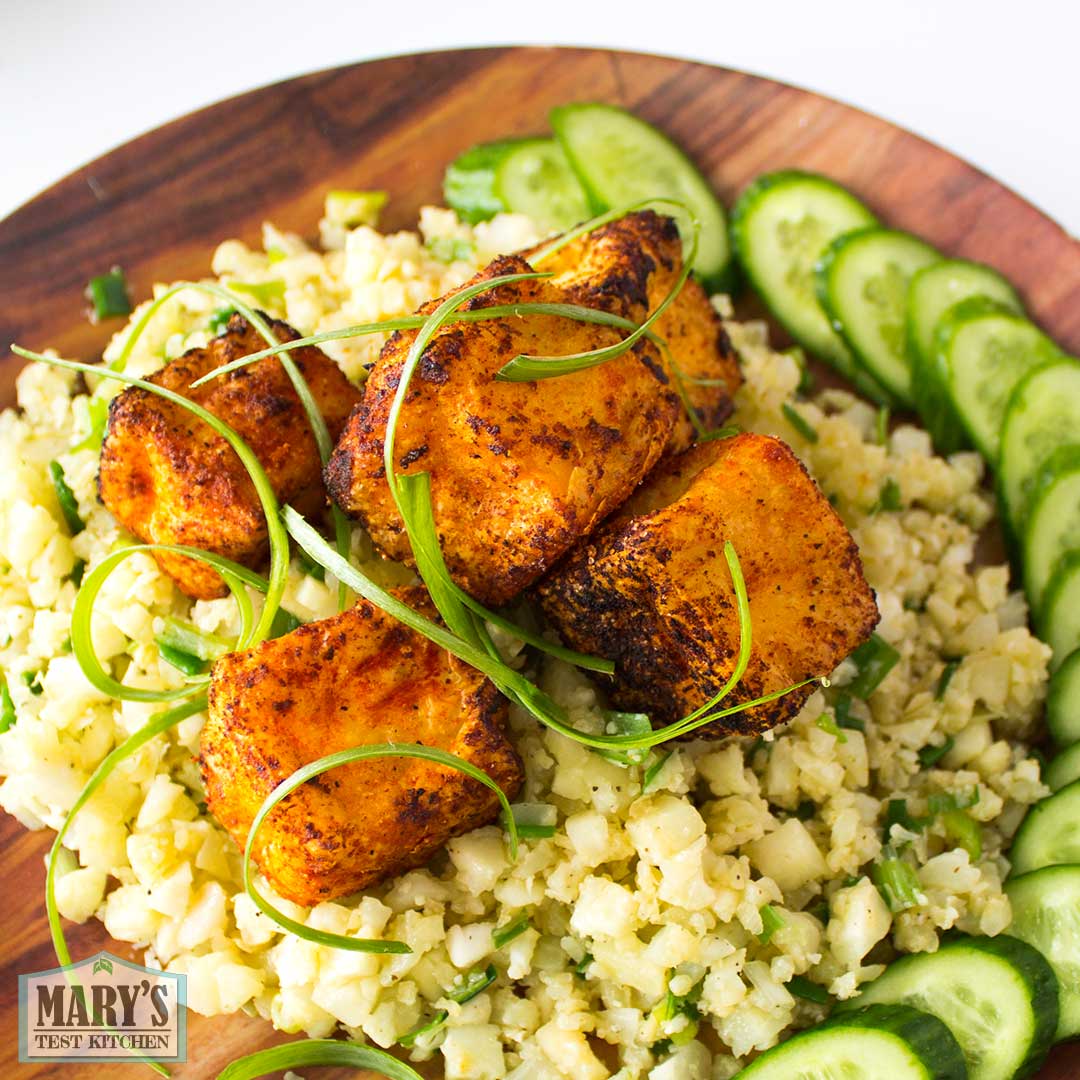 Please keep in mind, there are differences from brand to brand. For example, my go-to tofu puff made by Sunrise is incredibly light. On the other hand, another brand that I enjoy, DSI (a local tofu maker in Calgary, AB) uses a denser tofu so there's less air inside and has a meatier bite. Both types (airy vs denser) are incredibly delicious for this recipe and you can use either one.
However if you are relying on the nutrition facts on this recipe, keep in mind that I am using the lighter airy version of tofu puffs.
How to Make Tofu Puffs Crispy
Making tofu puffs crispy is super easy as they are already pre-fried. You can bake, air fry, or toast them on a pan and they will be crispy and wonderful. However, I find using an air fryer the most hassle-free, easiest way to make crispy tofu puffs.
First, season the tofu puffs by placing them in a large mixing bowl and adding whatever seasonings you like. Then toss to coat; dry seasonings will stick quite well to the outer surface of the tofu puffs right out of the package.
When the seasonings are evenly coating the tofu, transfer the tofu puffs to your airfryer basket. I use the steak pre-set on my (affiliate link) Cosori air fryer (400°F and 6 minutes) and the seasoned tofu puffs come out deeply golden, crispy and delicious with nice dark edges. They still retain some moisture on the inside which makes a lovely texture contrast.
If you want to bake them, set your oven to 400°F. I never wait for it to fully preheat in this case; just spread the tofu puffs on a cookie sheet or baking pan and bake until they are crispy. It takes about 10 minutes to make them crispy.
The last option is to toast your tofu puffs in a pan on the stove. Use a non-stick pan over medium heat and let it pre-heat. When it is hot, add your seasoned tofu puffs. Then, when the bottom becomes browned and crispy, turn them so each side can get cooked evenly as well. I like this option as you can really control how crispy to get the puffs. But it is a bit more hassle to manually flip each tofu puff.
Finally, serve your crispy tofu puffs right away. They don't stay crispy for long so eat them soon! At the same time, their airy interiors will hold scalding hot steam so just be careful.
Printable Recipe for Airfryer Spicy Tofu Puffs on Cauliflower Rice for One
Yield: 1 serving
Airfryer Spicy Tofu Puffs on Cauliflower Rice for One
Simple and delicious, this dish shines with crispy seasoned tofu puffs and cauliflower rice flavoured with green onions and garlic and served with sautéed Chinese greens.
Ingredients
For Tofu Puffs
3oz tofu puffs (80g; 1/2 package Sunrise Original Tofu Puffs)
1/2 tsp gochugaru (Korean Red Pepper Powder)
1/2 tsp erythritol sweetener (I used Lakanto Golden)
1/4 tsp onion powder
1/4 tsp garlic powder
1/8 tsp black pepper
For Cauliflower Rice & Greens
5oz cauliflower (bought riced or pulse in food processor until preferred texture) 150g
1 tbsp olive oil
1 green onion, chopped
2 cloves garlic, minced
1/2 tsp grated ginger
1/8 tsp white pepper
1/2 tsp soy sauce (or to taste)
dash of salt
Other ingredients
1/2 green onion, julienned and soaked in cold water to curl
Instructions
Mix all the tofu puff ingredients together in a large mixing bowl. Toss until all sides of the puffs are well coated. Place the seasoned puffs in your airfryer basket BUT do not start airfrying yet.
Separately, heat cauliflower in a non-stick pan over medium high heat. Cook until almost tender (or to your taste) and remove from heat. Back to your airfryer, set to 400°F for 6 minutes and start.
At this point, return the pan to the heat and make space to add 2 tsp olive oil. When that oil is hot, add green onions, half the garlic and the grated ginger. Sprinkle with salt and black pepper. Without mixing, cook until the aromatics release their fragrance. Then fold.
Add soy sauce to taste then transfer cauliflower to your serving bowl or plate. When the tofu puffs are done, add to your plate. Pat your green onion threads dry before adding them to the dish. Enjoy!
Notes
No air fryer? No problem. Oven bake @ 400°F for 10 minutes or cook on dry pan over medium heat on all sides until browned and crispy.
Nutrition Information:
Yield:
1
Serving Size:
1
Amount Per Serving:
Calories:

311
Total Fat:

21g
Saturated Fat:

3g
Trans Fat:

0g
Unsaturated Fat:

16g
Cholesterol:

0mg
Sodium:

516mg
Carbohydrates:

21g
Net Carbohydrates:

10g
Fiber:

11g
Sugar:

4g
Protein:

17g
Nutritional Information automatically calculated by a plugin and may not be correct.