Garlic Scape Pesto is a special seasonal treat that you will love! Plus, of course making it a home is easy. Garlic scapes add an unusual but delicious twist to traditional pesto! Use this vegan garlic scape pesto on pasta, as a marinade, as a spread in sandwiches or anywhere else you'd like some herby garlicky goodness!
Click here for the printable recipe.
Video Tutorial for Vegan Garlic Scape Pesto
What Are Garlic Scapes & what do they taste like?
Garlic scapes are the flowerstalks of garlic plants. They are available for a short from farmer's markets during the summer so you MUST snatch them up when you see them. The flavour is vegetal and garlicky but mild.
You can use Garlic Scapes anywhere you'd like some garlicky flavour. They are especially good chopped up and thrown into stir-fries and fried rice. Or cooked down with onions and put into a savory summer tart!
How this Garlic Scape Pesto came to be…
Last week, I was saw that my local organic delivery service had a limited supply of garlic scapes available so I snatched some up right away. Not that I knew what they were or what to do with them. It was a veg, it had to do with garlic so I was sold! It tastes like garlic but milder. I chopped some up for stir fries and fried rice but I still had quite a bit left after one week. Not wanting any of this to go to waste, I thought vegan garlic scape pesto sounded like the best idea. So I just used what I had and blended it all together.
I am pretty crazy about garlic so I used quite a bit here. Taste your scapes before you add them so you can adjust the amounts for your taste. Or course, with fresh pesto, the best thing is fresh pasta! Click here for my super easy fresh pasta recipe (no machine required) with tutorial video.
Of course, regular pesto includes cheese. This version is bright and flavourful without cheese, but you can add nutritional yeast or vegan parm such as this Smokey Sunflower Vegan Parmesan that takes only a minute to make.
Also, if you want to avoid using oil or would prefer a pesto cream, use one half to a whole avocado and some water in it's place.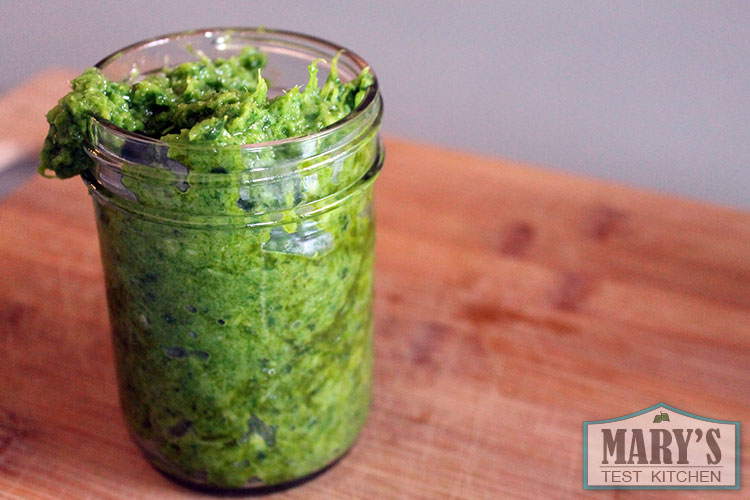 Printable Recipe for Vegan Garlic Scape Pesto
Yield: about 1.5 cups
Easy Vegan Garlic Scape Pesto
This easy pesto recipe makes use of the summer's garlic scapes. Just blend four ingredients along with salt and pepper and you're done!
Ingredients
1 bunch of garlic scapes, cleaned and chopped (175g)
1 large handful of basil, chopped (35g)
2 tablespoons lemon juice (about 1/2 lemon) (30ml)
1 teaspoon sea salt
1/2 teaspoon white or black pepper
1/2 cup olive oil (120ml) **See notes for oil-free version**
Optional: 1 tablespoon of nutritional yeast or 1-2 tablespoons of Vegan Smokey Sunflower Parm
Instructions
Blend all ingredients until desired consistency. Taste and adjust for salt and pepper.
Optionally, add 1 tablespoon of nutritional yeast or 1-2 tablespoons of Sunflower Parm. Enjoy!
Notes
Store in an airtight jar in the fridge for up to 10 days or freeze in an ice cube tray and store in a airtight container/bag.
For an oil-free version that is more like pesto cream, use one half to one whole avocado with a bit of water in place of the olive oil. Try to add just enough water for everything to blend smoothly.