This recipe for Vegan California Rolls is easy to follow, even if you're never made sushi before. Making sushi with rice on the outside of the roll (uramaki) takes a little practice but it's so worth it!
California rolls are one of my favourite kinds of sushi. Luckily, they are a cinch to veganize and the uramaki technique of having the rice on the outside isn't as complicated as it looks. Click here for the printable recipe.
Vegan California Roll Sushi Video Tutorial

When it comes to sushi-making, I am no professional. My methods are probably not the most traditional either, but they are simple, versatile and easy to make your own. The most important part, IMO, is the rice. Sushi rice has a particular taste because it is seasoned with rice vinegar, sugar and salt. If you dont have rice vinegar, you can substitute with regular white vinegar, but be aware that this does change the taste. White vinegar tends to be a bit harsh, so dilute it with water. Finding the balance of sour, sweet and salty might require a bit of experimentation; everyone's taste is different so it's worth it to find the combination that you like.
For other sushi ideas, check out these posts:
Sweet Button Mushroom Maki & Negi-Bean Maki
Vegan Negitoro
Fresh Random Combinations
In this version of a California roll, we leave our crab and fishy friends in the ocean and use Q-Tofu instead. Q-Tofu is made out of soy and wheat gluten and seasoned with spices and bitsies of veggies before being formed into bricks and deep-fried. The result taste a lot like Chinese Fish Balls. Unfortunately, it's not the most easy to find ingredient unless you have an Asian grocery store near you. I buy mine from Heart's Choices and from T&T. If you're in the USA, you can order it from May-Wah Foods.
If you can't find q-tofu (or just want another alternative), you can try:
marinated smoked tofu (store bought or prepared at home)
marinated mushrooms
savory seitan, sliced into lengths and mixed with a bit of vegenaise
Get creative and don't be afraid to improvise with what you have on hand!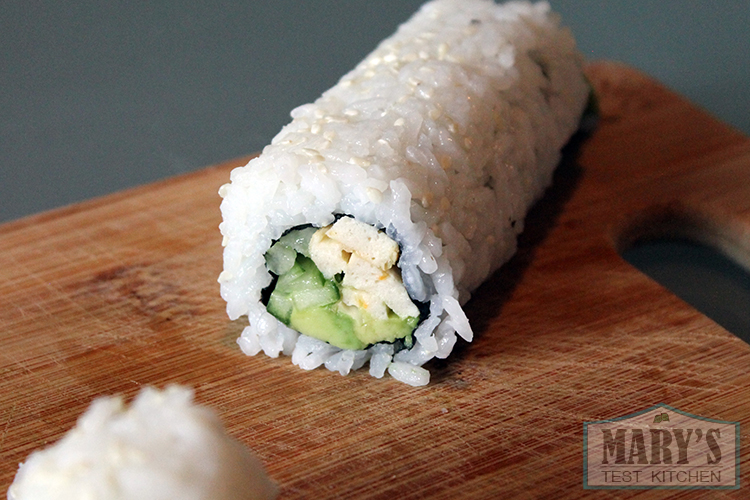 Printable Recipe for Vegan California Rolls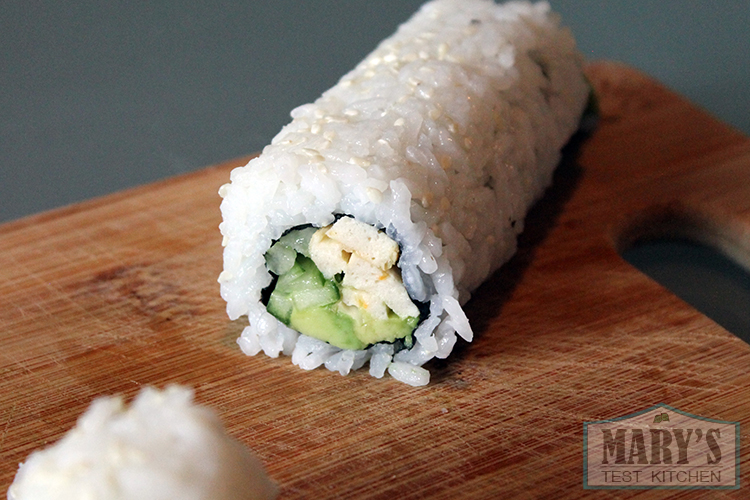 Vegan California Rolls Uramaki Sushi
2014-08-29 15:05:27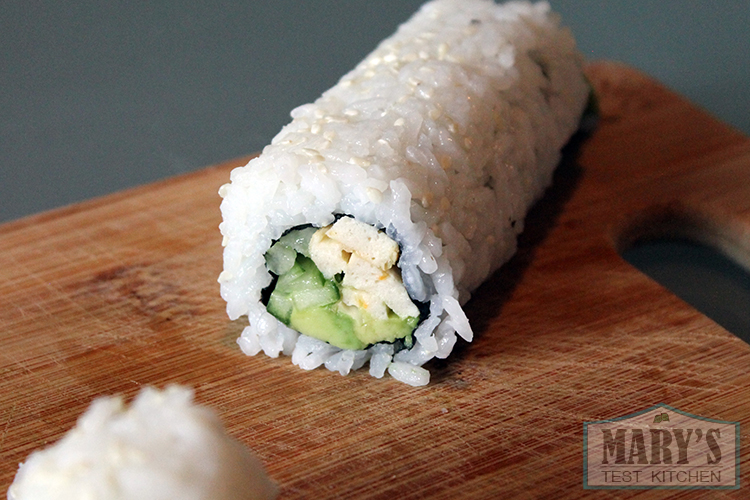 This simple sushi recipe gives you the taste of California Rolls while leaving our crab and fishy friends where they belong: in the ocean!
FOR SUSHI RICE
1 cup rice (short grain is best, but medium grain will do in a pinch) [236ml]
1 cup water [236ml]
2 - 3 tablespoons plain rice vinegar (see notes for substitutions) [30ml - 45ml]
1 1/2 tablespoons sugar or other sweetener [22cc]
1 teaspoon salt [5cc]
FOR CALIFORNIA ROLL FILLINGS (see the notes for more filling suggestions)
4 - 5 pieces Q-Tofu (aka Veggie Tofu), sliced
1/2 avocado, sliced
about 5" length of cucumber, seeds removed, sliced into matchsticks
Optional: 2 tablespoons minced scallion (green part only)
2 pieces of nori
EQUIPMENT
1 bamboo rolling mat
1 bowl of water (for keeping hands damp)
1 damp kitchen towel (for wiping knife blade between cuts)
A sharp knife
Instructions
Measure 1 cup of sushi rice and add it to your cooking pot.
Wash the rice. Fill the pot with water, stir to loosen the starches and drain most of the water out. Squish the rice around for a few seconds, add more water, stir and drain. Repeat until the water runs clear.
Drain the water, then add one cup of water.
Cover the pot and place on the stove. Heat to a boil, then immediately turn down the heat to low. Cook undisturbed for 25 minutes or until the rice is fluffy and fully cooked. Remove from heat.
Combine the vinegar, sugar and salt. Mix until dissolved and add to the rice.
Fold the rice gently until the vinegar mixture is fully incorporated. Set the rice aside to cool. You may spread it out in a large, covered container and put it in the fridge or freezer to bring down the temperature quickly.
Meanwhile, prepare your fillings. When the rice is cooled, you're ready to roll!
To make urasushi, you need to make your bamboo rolling mat non-stick. You can cover it with plastic wrap, or use a piece of parchment paper as a barrier.
Take one piece of nori and fold it across it's longest side. Tear along the fold.
Piace one of the mori halves on the prepared rolling mat with the textured side up.
Moisten hands and place a handful of rice on the nori. Spread it evenly on the sheet, leaving about an inch uncovered along one of the long sides. You want the rice to be only a few grains thick with the mori mostly covered but you should be able to see it through the rice.
Flatten the rice by pressing down with a spatula or your moist hands.
Flip the nori over so that the rice is directly on the mat with the uncovered strip on the side closest to you and lined up with the edge of the mat.
Place the fillings on top of the nori. Place them in a line on the side closest to you but on the part that has rice underneath. Try not to add too much filling; when in doubt, use less.
Pick up the mat on the side closest to you and use it to roll the nori over the fillings and tuck it in underneath the otherside. Give it a squeeze, then continue rolling as tight as you can until the end.
Firmly, but gently, squeeze the roll along the length to even it out.
Set the roll aside and repeat with the rest of the nori.
To cut, moisten your knife a little before cutting the sushi roll into bite sized pieces. The knife will get sticky from the rice so wipe it clean with a damp kitchen towel frequently.
Serve with soy sauce and wasabi (if desired) and enjoy!
Notes
Q-Tofu is usually found in the refridgerated section of Asian grocery stores. If you're in the USA, you can have them shipped from May-Wah Foods. If you can't find q-tofu, some tasty substitutions include
- marinated smoked tofu (store bought or prepared at home)
- marinated mushrooms
- savory seitan, sliced into lengths and mixed with a bit of vegenaise
Instead of rice vinegar, you can also use white vinegar. Just use about half the amount and make up the other half with water.
Mary's Test Kitchen https://www.marystestkitchen.com/