Turmeric is an awesome natural anti-inflammatory spice and lately I've been using a lot of it. As some of you know I've been dealing with repetitive strain injuries in my upper limbs and it's greatly affected my day-to-day. Luckily, turmeric milk helps to relieve the pain, reducing my reliance on NSAIDS. This turmeric milk mix helps me make my "medicine" in a few minutes without much work. And it tastes pretty good too!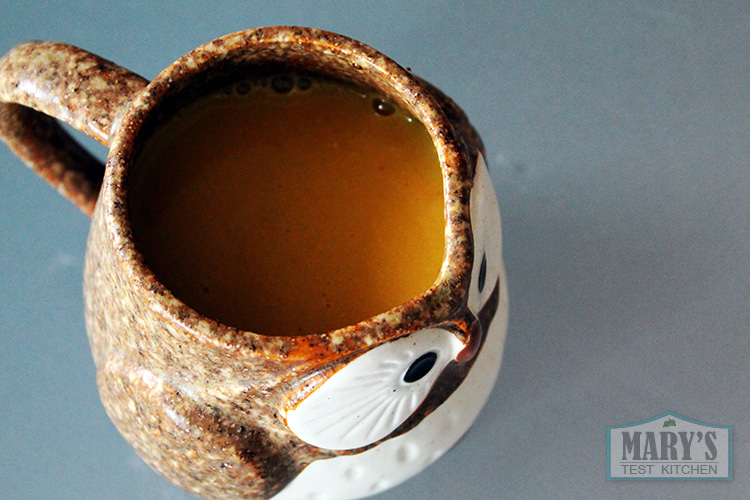 Why make Turmeric Milk Mix (Instant Golden Milk)
In the past, I made turmeric milk tea by boiling together ground spices, fresh ginger and raw cashews then blending them smooth. These days, I try to reduce all types of hand movements so I can save my strength for making videos and doing things that are actually fun for me…which is making videos. ha! So I stopped doing this from-scratch-business and started making my turmeric milk from a mix of ground spices, store-bought plant milk, and simply heating it in the microwave every morning.
If you're thinking of using turmeric for therapeutic reasons, please consider consulting with a health professional. Turmeric is wonderful and natural but even wonderful natural things can be harmful in large enough doses.
Where to get the ingredients for Turmeric Milk Mix (Instant Golden Milk)
These spices are easy to get especially from Indian grocery stores; they have the best prices! Otherwise, a well-stocked mainstream grocery store should have these. If you don't find them in the spice aisle, look for them in the International Foods aisle.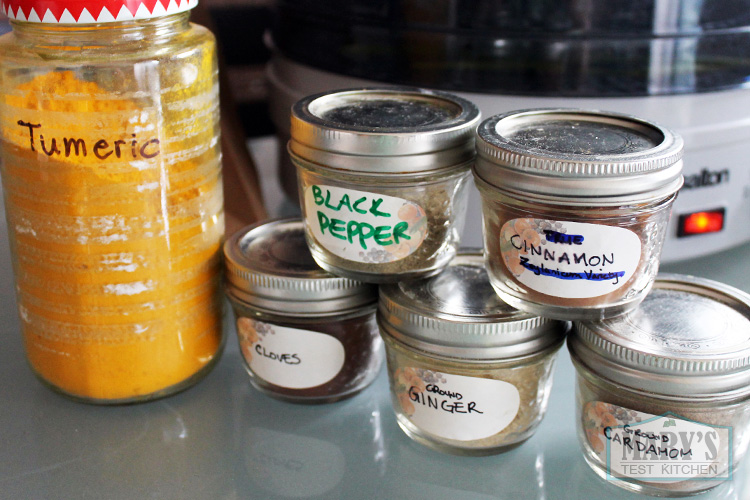 What I Ate In A Day VEGAN #61 // Turmeric Milk
This recipe originally appeared in this video first. Watch from 1:04 to see how I made the mix and prepared my turmeric milk tea.
Printable recipe for My Turmeric Milk Mix
Yield: 1/4 cup of mix; makes 12 to 24 servings
Turmeric Milk Mix (Instant Golden Milk)
Use a teaspoon of this mix with a cup of plant-milk and your favourite sweetener for a golden "chai" like beverage that is full of anti-inflammatory goodness! My favourites for this drink are vanilla soy milk and maple syrup.
Ingredients
3 tablespoons ground turmeric
1/2 teaspoon ground ginger
1/8 teaspoon ground cloves
1/8 teaspoon ground cardamom
1/8 teaspoon ground cinnamon
1 large pinch ground black pepper
Instructions
Mix the spices together thoroughly and store in a tightly sealed jar away from direct sunlight or extreme temperatures.
To make turmeric milk (golden milk)
To use, add 1/2 to 1 teaspoon of turmeric milk mix to 1 cup (8oz/230ml) of plant milk such as soy, cashew or coconut. Add sweetener to taste. Heat for about 1 1/2 minutes in the microwave to heat through.
Notes
These flavours can be strong if you're not familiar or used to them. Start with a 1/2 teaspoon to one 8oz/230ml cup of plant milk for a mild version of this drink.
If you are using turmeric for therapeutic reasons or are on medication (especially blood thinners), consider consulting a health professional. I personally do not exceed 3 teaspoons of this mix per day. I am not a health professional.
Nutrition Information:
Yield:
12
Serving Size:
1
Amount Per Serving:
Calories:

8
Total Fat:

0g
Saturated Fat:

0g
Trans Fat:

0g
Unsaturated Fat:

0g
Cholesterol:

0mg
Sodium:

1mg
Carbohydrates:

2g
Fiber:

1g
Sugar:

0g
Protein:

0g
Nutritional Information automatically calculated by a plugin and may not be correct.