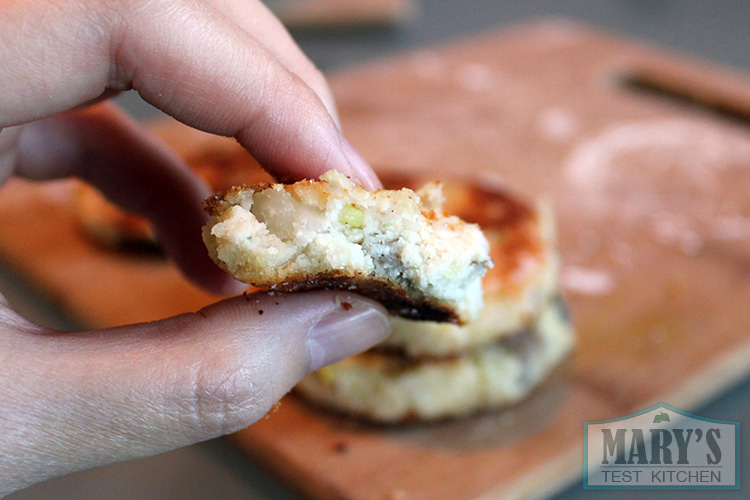 I made this Okara Sea Burger Recipe as a kind of vegan fish burger. But is it more like a fishless burger or more like a no-crab cake? You decide. This savory patty is pan-fried crispy on the outside but tender on the inside. A little bit of nori helps to bring that fishy flavour while leaving our fishy friends in the ocean!
Wondering what the heck Okara is? It's the pulp that's leftover from making soymilk. It's full of protein, fiber, and other nutrients! Waste not, want not! Check out the recipe for making your own soy milk here! It's made from soybeans, water, and optional sweetener.
Video Tutorial for Vegan Okara Sea Cakes

I imagine this is what a crab cake is like as they are kind of delicate, but then, I have only had crab cakes once in my life. The flavour though, is very much like a deep-fried "filet o' fish," but the texture is something else. Not at all in a bad way, I actually love them! Okara is full of fiber though, so just one small sea burger is quite filling.
The process is very simple. Simply mix all the ingredients together. Miso is added for a salty, umami flavour and is enhanced by fresh garlic, onion powder, and minced scallions. Cooked potato is then added as an extra binding ingredient.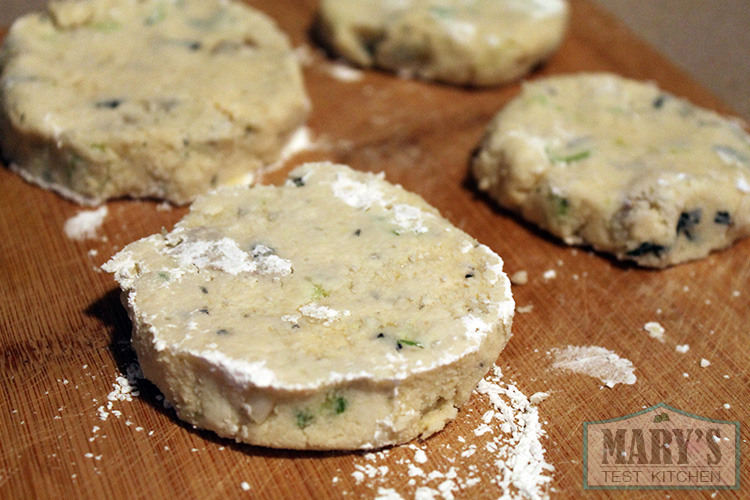 Okara will usually hold everything together quite well. However, if you have drier pulp or if the potato used is quite dry or powdery, you can add a couple tablespoons of strong vegetable broth to make it more sticky. Other liquids can be used, but I prefer the flavour of double strength vegan chicken-style broth. Form them into patties with your hands, then coat them in cornstarch to get a crispy crust when you fry them.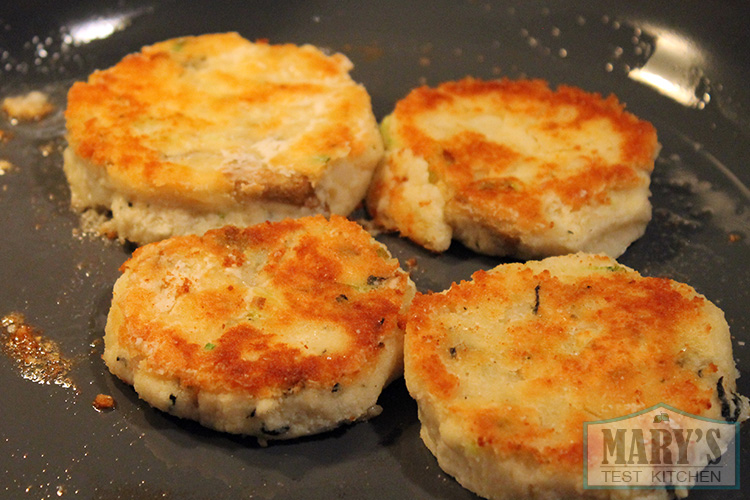 They reminded me so much of fish that I decided to make a fishless burger out of one. I was out of vegenaise so I used an avocado, mashed with onion powder and sweet relish to stand in for tartar sauce. I only wish I had some Daiya cheddar slices to make this complete. But it was tasty anyhow.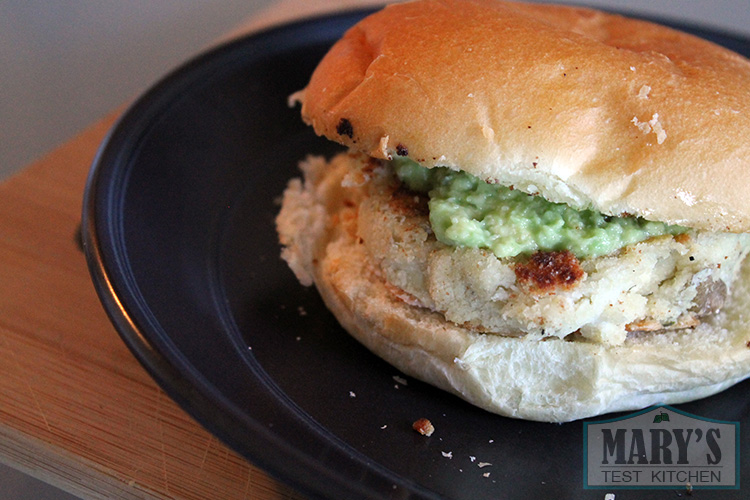 Printable Recipe for Okara Sea Burgers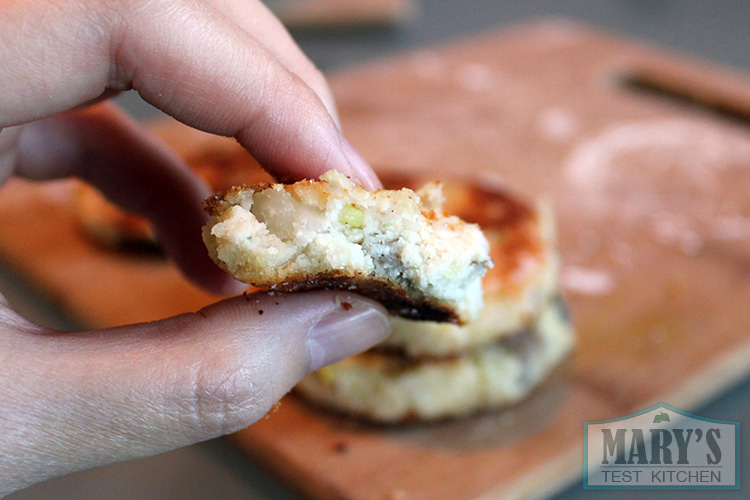 Okara Sea Burgers
2014-10-24 17:09:19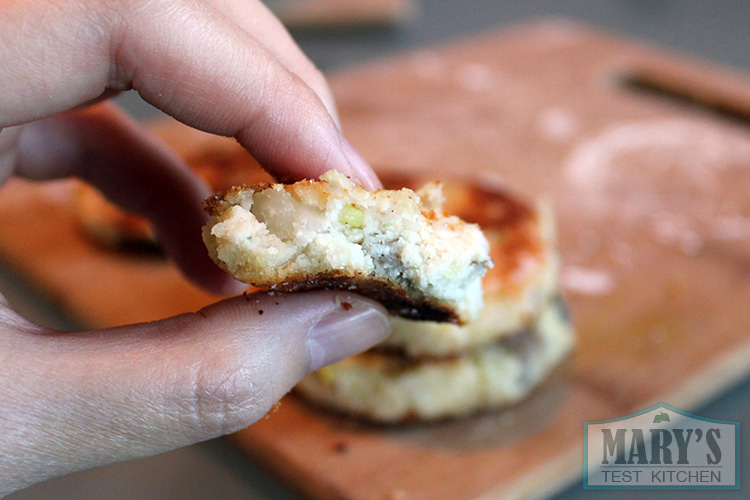 Serves 6
Is it a fishless burger or more of a no-crab cake? You decide! This savory fried patty is made from the pulp leftover from making soymilk, aka Okara. Crispy on the outside, and tender on the inside, it gets a fishy flavour from nori while leaving our fishy friends in the ocean!
Ingredients
1 1/4 cup Okara (leftover pulp from making soymilk) [215g]
1/4 sheet nori, cut into confetti (about 1 tablespoon)
1 tablespoon miso paste
1 small potato, cooked
1-2 stalks green onion, minced (about 1/4 cup)
1 teaspoon onion powder
1 clove garlic, minced
1-3 tablespoons double strength vegetable broth, or as needed [30-90ml]
2-3 tablespoons of cornstarch, or as needed
Cooking oil as needed
Pinch of salt
Instructions
Combine all the ingredients except for the broth and cornstarch.
Mix the ingredients very well.
Test the mixture to see if it will form a patty without breaking apart. If the mixture is too dry, add double strength vegetable broth a tablespoon at a time until the desired consistency is reached.
Take 2 to 3 tablespoons of the mixture and squeeze it into a ball. Pat it down on the top and along the sides to form a burger shape. You may make your patties larger or smaller.
Coat the patties in cornstarch by pressing them gently in a plate with some cornstarch on it.
Heat a non-stick pan on medium high heat, along with one tablespoon of cooking oil.
When the pan is hot, sprinkle a pinch of sea salt all over the surface.
Add the okara patties, leaving at least once inch of room around each patty.
Cook for 2 to 3 minutes per side, until nicely golden brown.
Remove and serve!
Enjoy!
Notes
The ingredient amounts are approximate. Feel free to add or take out any of the spices or flavouring ingredients, however the potato acts as a binder so keep that in there or use another binding ingredient.
If you want to make bigger burgers, it may be difficult to ensure the okara is cooked through. You may opt to steam the okara first to make sure it's fully cooked before starting the recipe.
Mary's Test Kitchen https://www.marystestkitchen.com/