Hello, my friends. Long time no blog! I know I'm behind on bringing you printable versions of my recent vegan croissant recipe and vegan KFC "chicken" sandwich…but I had to tell you about THIS revolutionary seitan first! It's called Chickwheat and it's not my recipe.
Video tutorial for Chickwheat | Shreddable Vegan Chicken-style Seitan
What is Chickwheat?
CHICKWHEAT is the answer for veganizing your old favourite chicken dishes that also need to be high-protein, soy free, mushroom free and delicious. The main ingredients are chickpeas and wheat protein. With its unique texture, this seitan looks like chicken and shreds like chicken. Chickwheat's texture has a meaty bite to it and has a different mouthfeel compared to other kinds of seitan. Does this seitan taste like chicken though? I don't think so — there's no artificial chicken flavour here. You can certainly MAKE it taste like chicken. But even without anything extra, it does taste good! Savory flavours from the chickpeas themselves, miso, onion and garlic, plus vinegar helps cut the natural wheaty flavour of gluten. You can also mix in your own flavourings of choice. For your first time though, I highly recommend sticking to the original recipe.
After waiting LITERAL YEARS to try this amazing vegan 'chicken' seitan recipe, I've kinda gone all in on it. This shreddable vegan 'chicken' makes incredible vegan 'chicken' salad sandwiches, BBQ chicken wraps and vegan KFC fried 'chicken' sandwiches. I've also used it to veganize sticky sesame chicken and chicken ramen. Eaten cold, stir-fried or deep-fried; the possibilities are endless! What would you use chickwheat for? Let me know in the comments!
NOTE: Sorry, my gluten-free friends. This recipe is NOT gluten-free and cannot be made gluten-free.
History of Chickwheat
While "shreddable" faux chicken has been around for a long time (I mean, Chinese & Taiwanese faux meat makers have had it down and have been selling to Asian customers for decades), making it easily at home is NEW (or it was in 2017 when chickwheat was developed). In the western vegan home-cooking world, shredded "chikun" was widely introduced by Chef Skye Michael Conroy in his cookbook, Seitan and Beyond (2015). I attempted the recipe and (probably due to my own hand budget constraints) failed to achieve the texture. When Lacey from AvocadoandAles.com created her own version (2017) with easier to measure ingredients and completely different process, I was STOKED. I didn't have a pressure cooker so I waited a while (BTW, you DON'T actually need to pressure cook). When I finally got one, I set aside a weekend to make the recipe…but before that, decided to make a batch of fresh bread first…and promptly broke my food processor attachment. Hence this two year wait until I finally got a stand mixer to to the work this time around. PLEASE read the whole blog post before getting started and follow the recipe exactly to get the best results.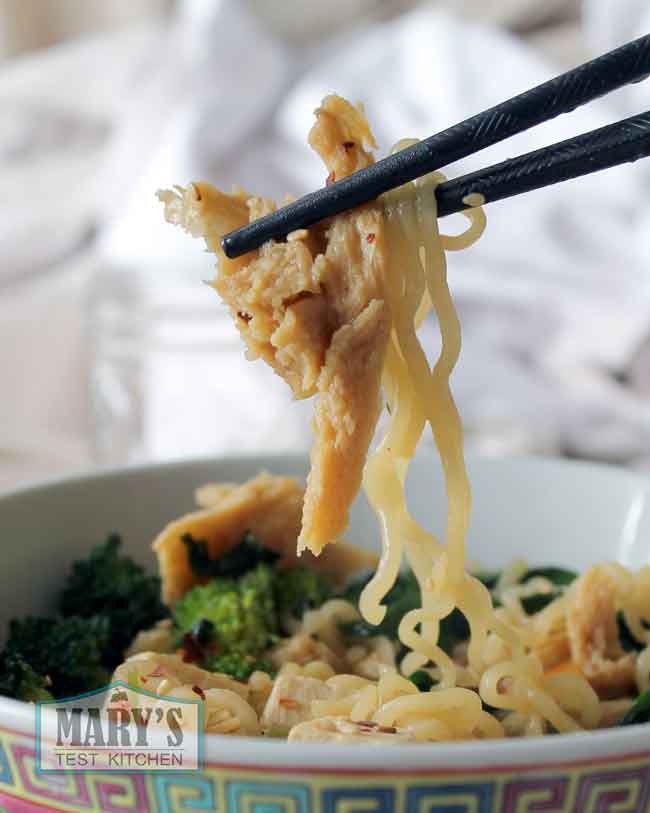 How to Make Chickwheat
The process of making chickwheat is really easy! As long as you have a good food processor, stand mixer, or bread maker that can knead the specially formulated seitan dough for you. Measure your ingredients carefully and follow this recipe exactly. After the first time you make it, you'll understand the recipe more. Then, you can go off with your own variations. Lacey has recommended trying other beans (like white beans) for a different look. She even has a few other riffs on this recipe like Pulled Phauxrk (vegan pulled pork).
So what are you waiting for? Head on over and start making chickwheat today!! If you've already made it, please let me know your favourite dishes to use chickwheat in!