Ever since I heard about Bryant Terry's latest cookbook, Afro-Vegan, I wanted to get it! I was excited for the African, Caribbean, and American Southern flavours as I'm not really that familiar with those styles of cooking. This is fusion cooking; taking some of this and that from tradition and mixing it up; something I love to do myself.
Video Cookbook Review for Afro-Vegan by Bryant Terry

I started with something simple. Basil salt. Only two ingredients; you can guess them. You just blend and bake to dry out the ingredients. This was to be a star ingredient in a very simple tomato salad from the book.
I was lucky that tomatoes were in season and I had just bought some local sweet, tangy, juicy and delicious heirloom tomatoes. The basil salt went with them beautifully. This was probably the simplest dish in the whole book. The rest gets ranges from just a bit more complex to a whole bunch of work.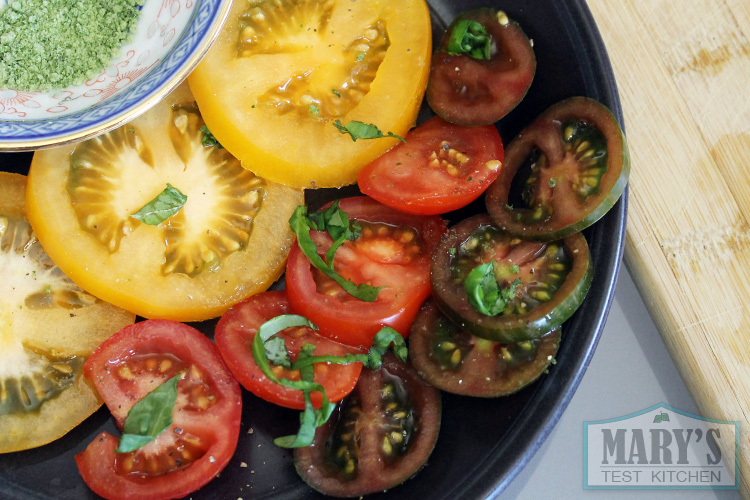 I prefer to do it simple and with what I have already so the next recipe I chose was Creamy Red Bell Pepper Sauce. It did call for vegan mayo and you know how I don't love using store bought vegan alternatives for recipes, especially ones I haven't tried yet since I hate wasting money. But after a few minutes of blending, I tasted it. This sauce reminds me of cheese whiz. Take that in the greatest way possible though. It's creamy but not too heavy, cheesy but the roasted red pepper flavour is the real flavour highlight here. It was well worth the inclusion of vegenaise.
I've already made this sauce three times since I tried it and my boyfriend has asked for repeats. You may have seen me make vegan mushroom based po' boys before in my Everyday Happy Herbivore Cookbook review. These were totally different as the recipe calls for a much more complicated process on the main ingredient.
The tofu was marinated for half the day, then breaded in a three-step process. And they were fried in oil instead of baked.
Then they get some spice seasoning which I just bought but there's a recipe for that as well in the book. In fact, there are a lot of spice blend recipes, sauces, and other jazzed up basics. I had a good feeling about this recipe so I took the time to make fresh french bread for the sandwiches.
So was it worth the effort, the danger of oil-based frying, and the calories from fat? In short, yes. These po'boys were so freaking good. The tofu was juicy on the inside from being marinated and the outside was crispy and seasoned to perfection. The combination of the fresh sweet and savoury vegetables and soft chewy french bread was pure heaven.
I loved everything I made from this book and the other recipes look amazing too. Just judging by the ingredients and the methods in the recipes, I can tell there are some really good ones in here. The only thing is that some of the ingredients may not be easy to find, especially if you don't live in a city with a lot of diverse offerings in your local stores. That said, I still think this book is great for sparking your own creativity. Moreso if you, like me, are not super familiar with African, Carribean, and Southern cooking. I'm so inspired to branch out from my own flavour defaults and try new things.
Have you made anything from Afro Vegan? Let me know your opinion below. Plus let me know if you have any favourite African, Carribean or Southern-style vegan dishes of your own.