This vegan apple mug cake is *the thing* for indulgent mornings. This isn't a low-fat or low sugar diet cake. This is the perfect single-serving fluffy vanilla cake speckled throughout with sweet chopped apple and spiced with cinnamon that's hot and ready in a just few minutes, cooked conveniently in your microwave.
Vegan Apple Cake + Firing Up the BBQ // What I Ate Vegan #96
Measurements are super important when making cake and when making a tiny cake like this one, accuracy is super duper important. Make sure to use measuring spoons instead of eye-balling amounts. Directly in your microwave-safe mug, mix the dry ingredients first: flour, baking powder, salt and cinnamon. Whisk thoroughly until you're convinced everything has been mixed evenly.
Tip the mug to one side and tap it against your hand or counter so that the ingredients fall to one side. In the vacated space, add soy milk (or your favourite plant-based milk), oil (I use canola as it's flavourless), maple syrup and vanilla extract. Mix the wet ingredients together first. A tiny whisk comes in handy here. Othersize, use chopsticks or a fork. When the wet ingredients seem well combined, stir the two mixtures together. Stir just enough so there are no dry spots and stop. The key to fluffy cake is avoiding over-mixing. If you stir too much past this point, your cake will cook up with gummy spots, or worse, it'll be gummy throughout!
By the way, I've tried similar cakes that used applesauce to replace part or all of the oil content. I really don't recommend this option if you're looking for a treat. I find that the texture difference is quite noticeable and I don't enjoy it. When I want a treat only the full experience will do. If I want a low-fat apple thing, I'll have an apple!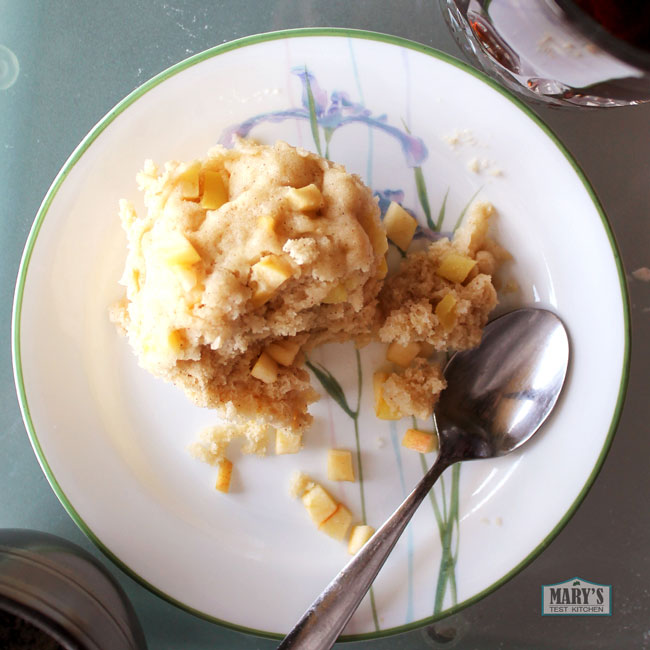 Lastly, add a couple heaping teaspoons of finely chopped apple and fold in; two or three 'folds' should do it. I like Gala apples; sweet and crisp. If you want some tangy bursts, Granny Smith would be a fantastic variation. Personally, I avoid Red Delicious apples; they tend to be mealy and anything but delicious.
I use an earthenware mug and cook for 1 minute and 5 seconds, standing for 1 minute before eating. The top should look dry. If it's wet, you may need a bit more cooking time. This really depends on the type of mug you use and the power of your particular microwave. But with the tiniest bit of effort, you'll have this fantastic vegan apple mug cake to enjoy. I love this for cozy mornings with tea but it's also nice as a dessert. Preferably served with a scoop of vegan ice cream. Please try this recipe and let me know what you thought in the comments below.
P.S. I have not tried this recipe with gluten-free flour yet. Please let me know if you do!
Printable recipe for Vegan Apple Mug Cake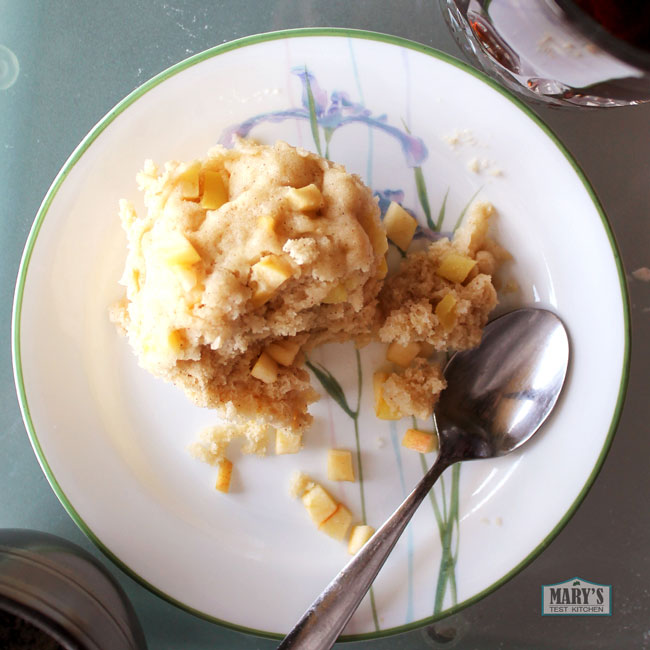 Vegan Apple Mug Cake
2018-06-05 22:24:55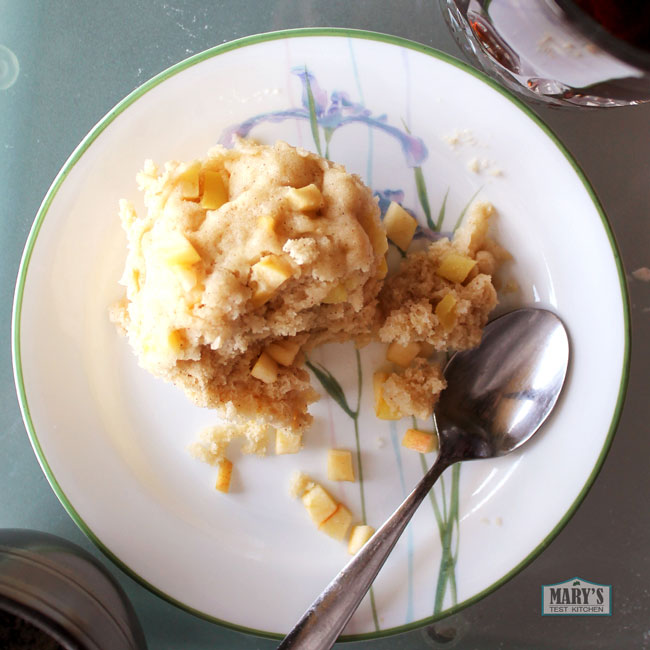 Serves 1
Vegan Apple Mug Cake ready in about 3 minutes. This cake fluffy and soft with lovely bits of chopped apple and a hint of spice. It's perfect for an indulgent breakfast or dessert. It's super easy to make and cooks in about a minute in your microwave.
dry ingredients
4 tablespoons all-purpose flour
1/4 teaspoon baking powder
pinch of salt
pinch of cinnamon
wet ingredients
2 tablespoon soy milk
1 tablespoon oil
1 tablespoon maple syrup
1/4 teaspoon vanilla extract (optional)
2 tablespoons finely chopped apple
Instructions
In a microwave-safe mug or bowl, mix the dry ingredients together until thoroughly combined. Move the dry ingredients to one side.
In the space left behind, add your soy milk (or favourite plant-based milk), oil, maple syrup and vanilla extract. Mix the wet ingredients together, then incorporate the dry ingredients. Stir only until just combined and there are no dry lumps left. Do not overmix. Add chopped apple and fold a few times. Do not over mix.
Cook on high for 1 minute 5 seconds in the microwave. You may need to adjust the cook time depending on the type of mug/bowl you're using and the power of your microwave.
Let the cake stand for 1 minute, then enjoy!
Mary's Test Kitchen https://www.marystestkitchen.com/