This french bread recipe is easy and happens to be vegan too! Many people seem to think that making bread is difficult and tricky, or that they need a bread maker machine. I would say, not so! It's best to just dive right in with this simple recipe. Make enough loaves and before long you won't even need to measure anything.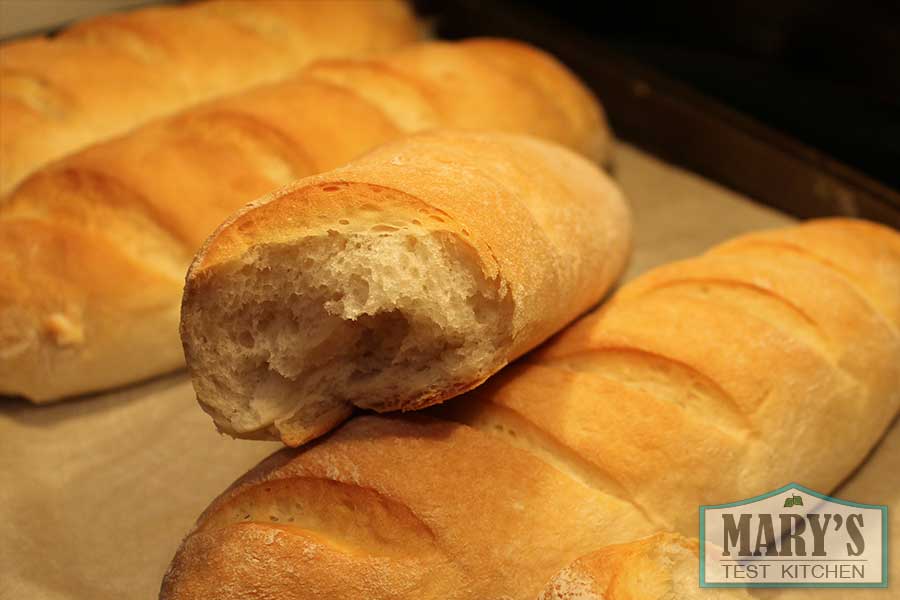 Long time readers may recognize this post as I posted it a year ago. However, I lost it after an unfortunate incident last November. Fortunately, I found it again after organizing my old computer folders!
Recipe Backstory
I first learned how to make bread in Grade 8 Home Economics class. Thank you, Vancouver Public School System! That year, I went through a phase when I would make bread every other night for my sandwich the next day. That made for some pretty late nights and I never let the dough rise quite as long as I should have. Made for some very dense loaves. Over the years, I haven't become more patient. Instead, I come up with other things to do while the bread is rising. In fact, in the first version of this recipe post, the photo I used showed flat loaves that resembled elongated ciabatta buns. That's because I was too distracted with my other activities that I left the loaves to rise TOO long. If they are left too long to rise, they will eventually fall.
Here are some other tips for making fluffy, crusty French Bread Baguettes:
Give yourself enough time. From start to finish, this recipe takes a good 2 hours to make. That's not including cooling time. If you don't give enough time for the dough to rise, you'll end up really dense loaves. Not always a bad thing, but it makes a big difference.
Use a spray bottle with a fine mist. This really helps get that thick crispy crust. Other recipes add steam to the oven by getting you to pour water into a hot oven. That's too dangerous for me. Really. I am the clumsiest.
Don't slice this bread before it's cooled. You can eat the bread after it's cooled down some by pulling it apart, but I'd advise against slicing it until it's completely room temperature. Otherwise the slices may be gummy. Actually, this applies to all types of bread.
For a more traditional French Bread recipe that has fewer ingredients but does require a little more patience, click here. There's also a video tutorial to help!
Vegan French Bread Recipe
Perfect Vegan French Bread
Author:
Prep time: 1 hour 30 mins
Cook time: 20 mins
Total time: 1 hour 50 mins
Crusty french bread with a light airy interior.
Ingredients
1 cup of warm water
2 ¼ teaspoons yeast (traditional or instant)
2 tablespoons sugar
2 tablespoons melted butter alternative (I used Earth Balance)
1 teaspoon salt
3 cups of all-purpose flour
Instructions
In a large mixing bowl, combine the water, yeast, sugar, and a half cup of flour. Mix well and let rest for 10 minutes.
Stir in the melted Earth Balance and salt.
Add 2 cups of flour and mix with a spoon until it all comes together into a dough. You can also use your hands.
Prepare a large surface for kneading the dough by dusting it liberally with flour. Flour your hands too while you're at it.
Turn the dough out on to the floured surface and knead for about 10 minutes. You may need to add a little flour to keep the dough from sticking but try not to add too much. Otherwise, the dough will become too tough.
Place the dough in a large oiled bowl and cover with a wet cloth or partially with a lid. You want to keep the dough from drying out, but still allow for some air circulation.
Let rest in a warm place for an hour or until the dough is doubled in size. I find that the warmer my kitchen is, the faster the dough rises.
Once the dough is doubled in size, turn it out on to a flour surface once more. Divide the dough into 2 or 4 equal portions.
To shape the dough into baguette shapes, roll the dough into a ball first. Then flatten it with the heel of your hands. Roll it up, then tuck in the ends, pinching them to seal. Repeat with the remaining loaf or loaves.
Prepare a baking sheet by lining it with parchment paper.
Lay the loaves onto the parchment paper with pinched ends down. Give enough room between the loaves for them to double in size.
Using a sharp serrated knife, cut diagonal slits across the tops of the loaves, about 1 ½ inches apart.
Spray the tops of the loaves with a fine mist of water. Then let rest for 30 – 45 minutes.
Preheat oven to 400F.
Spray the loaves one more time with water, the bake for a total of 20 minutes (give or take according to your oven temp). After 10 minutes, give it a few more spritzes of water.
When done, the loaves should be nicely golden on top and if you tap the bottom, they should sound hollow.
Let cool before serving.
From left to right
Pic 1: mixing the yeast, sugar, water, and first bit of flour.
Pic 2: Yeast mixture after 10 minutes of rest.
Pic 3: dough coming together.

Make sure you use a large enough bowl to allow the dough to rise completely.
Be sure to use a very sharp knife to cut slits on the tops of the loaves. The slits allow the loaves to rise evenly.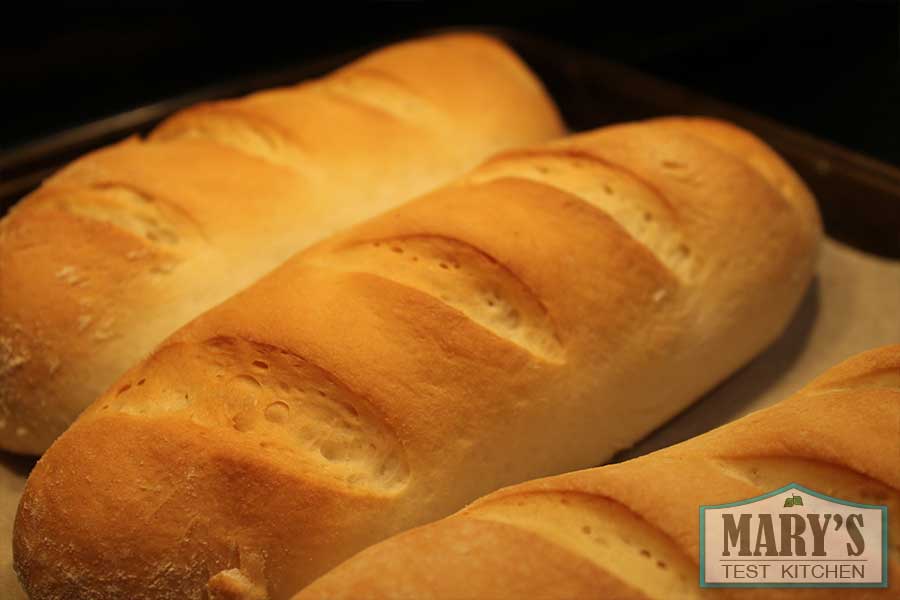 Beautiful finished french bread baguettes!