Use this recipe for easy vegan caramelized onions to transform regular dishes into gourmet masterpieces! The slow cooking process transforms the sharp pungent onion into melt-in-your-mouth savory sweetness. I love that it's kind of a fancy topping but they are actually really easy to make. The hardest part is cutting the onions. Not the actual slicing action but the eyes-burning-omg-why-God-why part. Click here for the printable recipe.
Video Tutorial for Easy Caramelized Onions
Getting that deep, rich brown colour without burning the onions does require some patience though. My trick is to just use a timer. Keep the onions on the stove on low to medium heat (depends on your stove; gas stoves tend to run hotter so keep it on the lower side), let them cook for ten minutes, then come back to them to check on their progress and stir the onions to ensure even cooking. This way, I can do other things while the onions are cooking.
I orginally posted my caramelized onion recipe a few years ago. You can check out that version here. However, this post goes deeper into detail with a video and printable recipe.
I use just a bit of oil here at the start of the cooking process but later use water to prevent the onions from sticking and burning. Use too much oil and you end up frying the onions which is not bad if that's what you're going for. But for this recipe, we want soft, melt-in-your-mouth onions that have a well-developed sweetness without any bitter charring.
Start with a couple pounds of onions. I find that this amount is about as much as my largest pan can handle. Slice or chop into uniform pieces. I like slices because they end up looking more impressive later. Which ever cut you prefer, try to make the pieces as uniform as you can so that they cook evenly. Also, try not to slices or dice the onions too finely; it is harder to keep them from burning if the pieces are super small.
Then break the pieces apart with your fingers and salt the onions. This helps to draw up some of the moisture from the onions which helps the cooking process go just a little bit quicker.
Heat up some oil in a large pan and dump in the onions once the pan is hot. Spread out the onions evenly and set your timer for ten minutes. Let them cook; you don't need to stir them at all.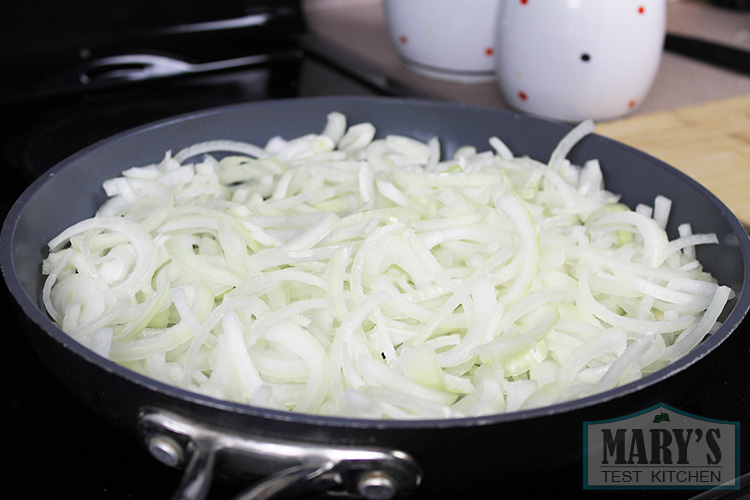 After ten minutes, the onions will have softened somewhat. Stir them so that they cook evenly, then set your timer for ten minutes again. Keep repeating this until the onions start to change color.
Now, you'll want to watch for sticking. The onions will start to get really soft and you'll notice a goopy, sticky substance forming in the pan. When the onions start to stick, add a few tablespoons of water and mix everything around to dissolve the goopiness. Keep on the ten minute/stir cycle but just add water when the onions start to stick or you notice more of that sticky substance on the the bottom of the pan. You want to keep incorporating that back into the onions.
Finally, after about an hour and a half, the color of the onions will deepen and they will have transformed into sweet, soft, caramelized onions. You can use them anywhere you might have used regular sauteed onions to kick up the dish. I love them in sandwiches, on burgers, as a pizza topping and in these caramelized onion tarts.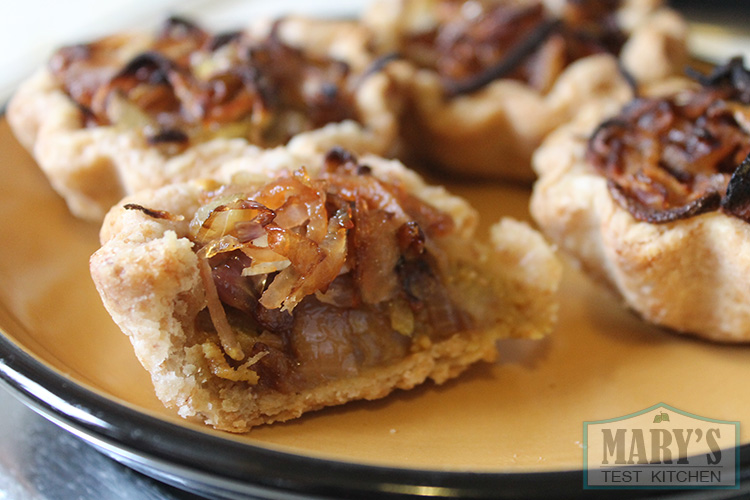 Note that there are other ways to make the process go faster, such as adding sugar or using baking soda, but after lots of experimenting, I always go back to this method. It's simple and produces the best results, in my opinion. Always go with your tastes and what works for you.
I hope you get to try this recipe sometime; please let me know if you do. Enjoy!
Printable Recipe for Easy Vegan Caramelized Onions
Caramelized Onions | Easy Vegan Way
2015-01-09 14:56:37
Caramelized onions are an almost magical food. They will transform any dish from ordinary to gourmet. The trick to perfect, melt-in-your-mouth, sweet and savory caramelized onions is to take things slowly. So save this recipe for some time when you have at least an hour or two. Try them on pizza, crostini, in savory pie, sandwiches, or anything else your heart desires.
Ingredients
2 lbs onions; about 4 large onions (use any kind you like)
1/4 - 1/2 teaspoon salt (optional to help hasten cooking process)
1/2 tablespoon cooking oil (Eg. Canola, refined coconut, or other medium heat appropriate cooking oil)
water
Instructions
Slice the onions up into small uniform pieces. They should all be about the same size so that the onions will cook evenly. Break up the slices with your fingers and work in the salt if using.
Heat the oil in a large pan over medium heat.
Add the onions and spread them out evenly on the pan.
Set a timer for 10 minutes and let cook. When the timer goes off, stir the onions so they will cook evenly. Set the timer and repeat until the onions start to get gummy or start to stick to the pan.
Add a few tablespoons of water to the hot pan when the onions start sticking. Stir the onions and any gooey bits that are stuck to the pan in with the water. Then set your timer and allow the onions to continue cooking. Keep up this cycle of cooking for ten minutes and stirring until the the onions develop a deep brown color. They will become super soft and kind of gooey. This process can take between an hour and a half to two hours.
Once the onions get to the desired color and flavour, add a few tablespoons of water to deglaze the pan one last time and transfer the onions to a heat proof container.
Serve right away or store in an airtight container in the refrigerator for up to a week.
Mary's Test Kitchen https://www.marystestkitchen.com/