This Vegan Keto Pita Bread recipe is made a lot like traditional pita bread and tastes like it too! You'll love the wonderful toasty aroma, thin chewy exterior and pocket-able interior. Unlike other keto bread recipes, there are NO eggs, NO almond flour or cauliflower. While being plant-based, it's also high in protein, fiber, there's just about 3 net carbs per pita.
This amazing keto bread recipe also comes in a Bread Loaf Version, Pizza Version and individual Bread Rolls.
PREFER GLUTEN-FREE? Click here for my VEGAN KETO GLUTEN-FREE SANDWICH ROLLS.
Video tutorial for Vegan Keto Sandwich Bread Loaf
But WHY vegan keto pita bread at all?
Personally, I find pita pocket sandwiches fun! But I have to stay keto in order to keep my chronic tendonitis symptoms away completely. Having a diet rich in vegetables and high-quality plant-based protein is best but sometimes, you just gotta have a pita pocket sandwich!
Plus, the store that carries my favourite vegan keto bread doesn't make a pita 🙁 Which is why this recipe is so useful!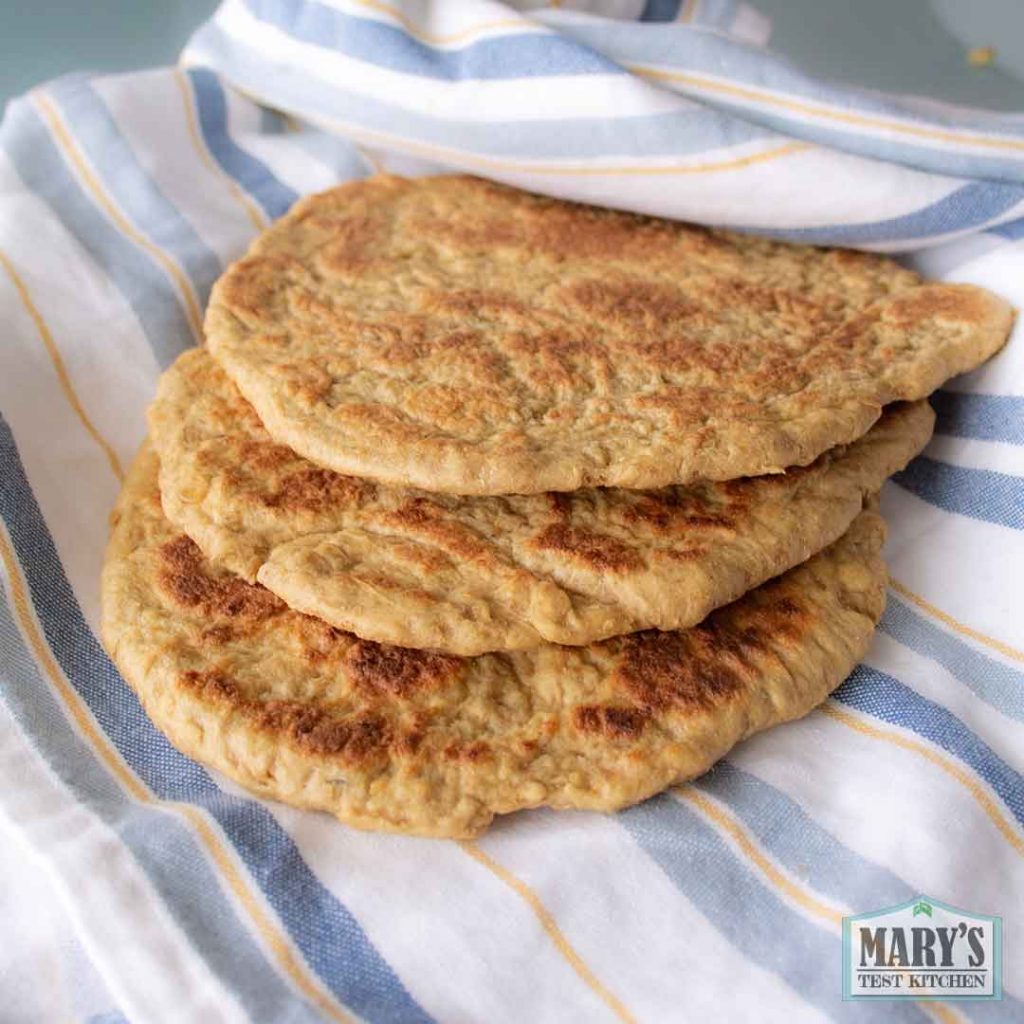 Ingredients for Vegan Keto Pita Bread
This low carb bread dough, which is the same one I use to make individual keto rolls, handles and cooks up very similar to traditional bread because the dry ingredients work together to replace the qualities of whole wheat flour.
The dough should be elastic; able to stretch, rise, and have a yeasty aroma. When baked as a loaf, it rises with a beautiful spring, soft crumb and nice crust.
When flattened and cooked in a pan, it can make a really lovely alternative to traditional pita bread. It's the careful selection of ingredients that allows this pita to feel and taste as expected while still being keto-friendly.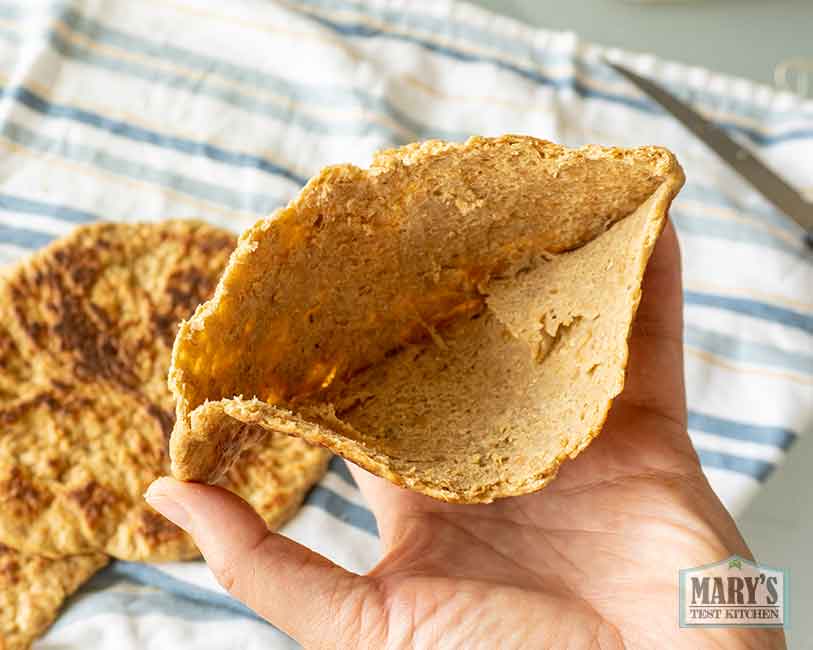 Oat Fiber
With zero net carbs, this Oat Fiber replaces the starch that would be in traditional flour. It adds volume to the dough as well as a wonderful toasty aroma during baking. However, be careful not to confuse it with Oat Flour which is made with whole oats and is very high in carbs.
Oat Fiber is made from the indigestible husks of oats. Another thing to watch out for is the nutrition label. While the Anthony's brand of Organic Oat Fiber I use is completely made of fiber, some that I've seen online are not so please check the label before purchasing.
When measuring the oat fiber, be careful because this ingredient is extremely light. It's easy to kick up a cloud of dusty oat fiber so please be gentle. Also, for accurate measuring, a scale is best. However, if you are just out of options and you absolutely must measure by volume, use PACKED tablespoons instead of the usual sift, scoop, and level method. It's the most consistent method that I've found (though still, not perfect).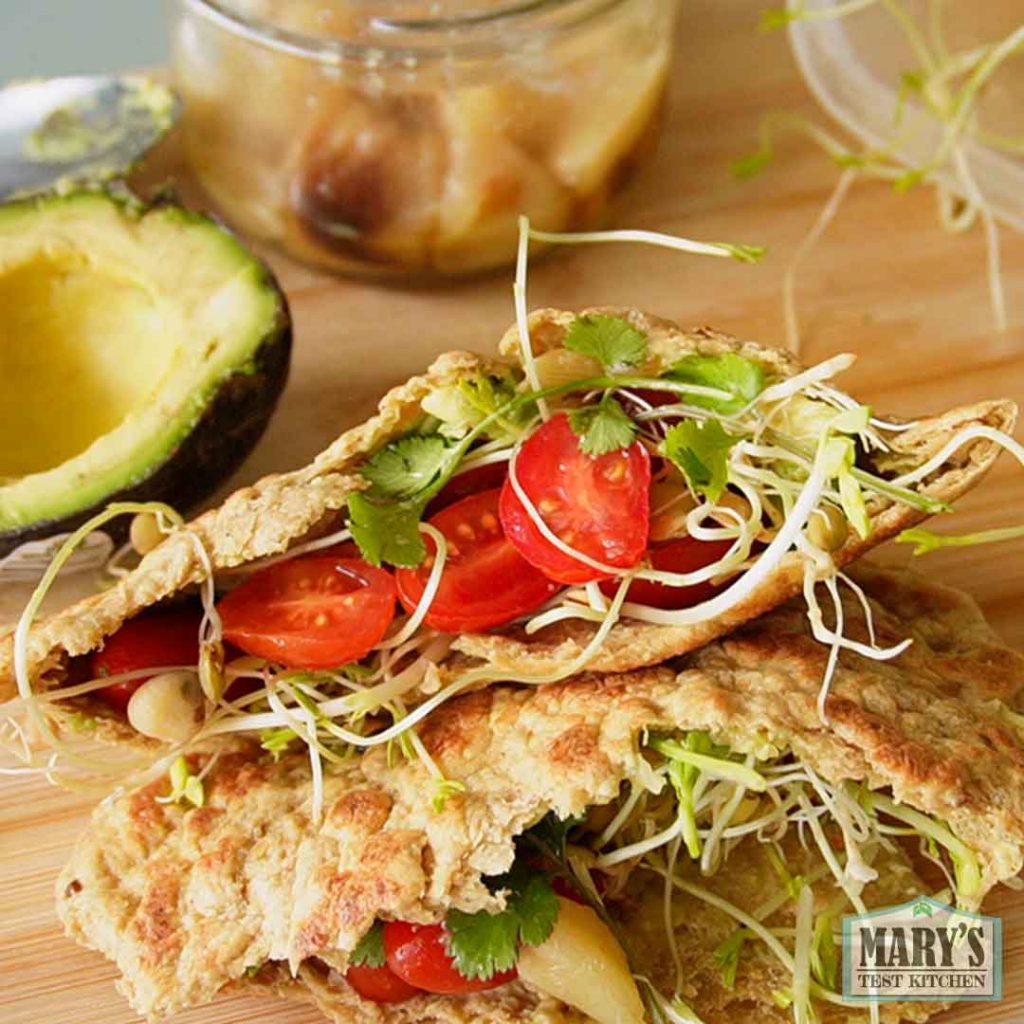 Golden Flax Seeds
Flax seeds help this dough retain moisture and adds bulk to the dough without making the final product overly dense (something too much oat fiber can do). I choose Golden Flax Seeds over regular brown flax seeds because they have a milder flavour and give a lighter, nicer appearance to the pita bread.
You may find ground golden flax for sale. I haven't tried that type myself but it should still work for this recipe. Make sure to smell the opened bag before using it in the recipe. The oil in flax is delicate so you should smell it before using it in a recipe.
Rancid flax oil smells fishy so through it out if you detect that. I avoid this possibility by only buying whole flax seeds. They are less delicate when kept intact and can be stored in the pantry.
Then, simply grind them as you require. Always be careful not to let them overheat, and store in the fridge until you need them. This way, the oil inside stays fresh.
Vital Wheat Gluten
The gluten in wheat flour is what creates structure in bread and allows it to stretch. But instead of using the whole wheat that includes so much starch, we can use only the protein part: Vital Wheat Gluten. However, too much of it will make your dough too tough and chewy plus have an unpleasant doughy flavour.
So it's important to mix in the flax and oat fiber. Also, I like to use Anthony's brand of Vital Wheat Gluten especially because it has less of that distinct "gluten-y" flavour.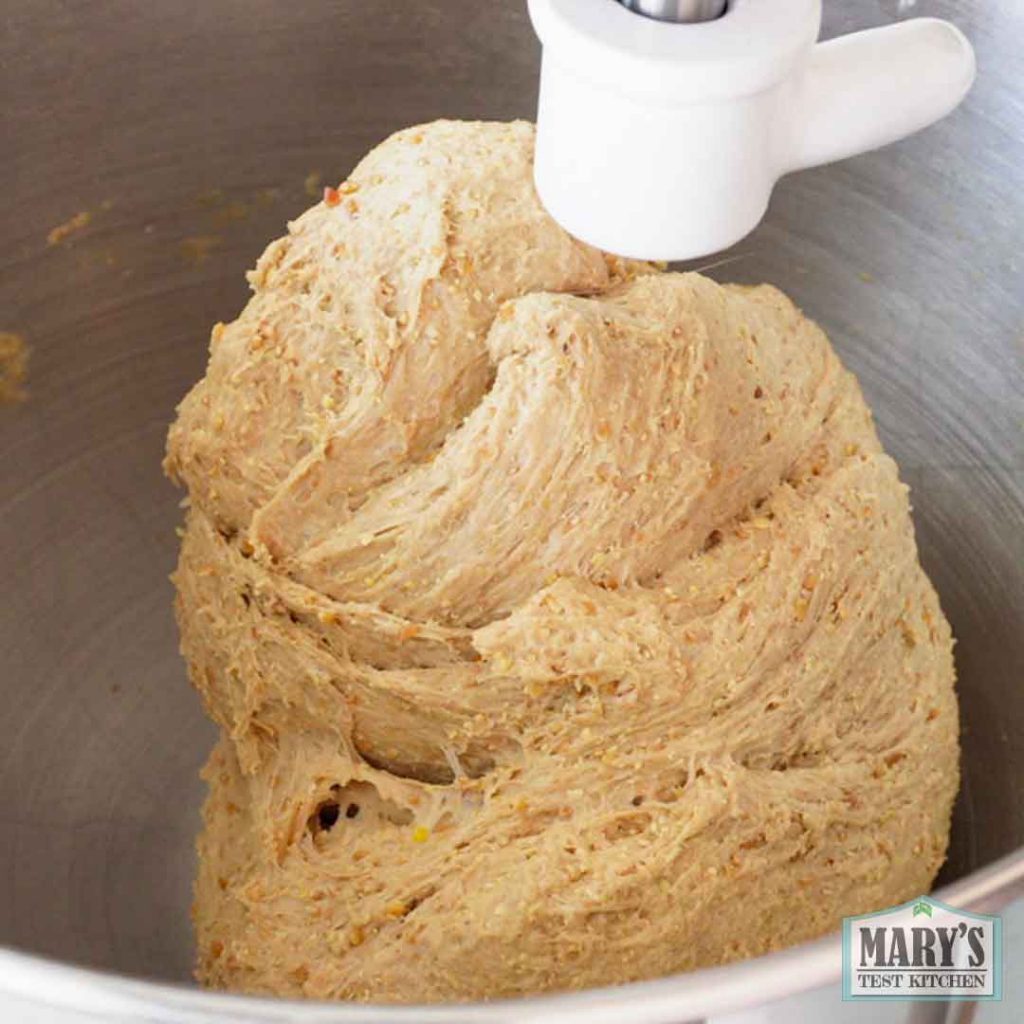 Warm Water
It's really important that the water is not too hot to start. I usually start with some cold tap water and then slowly add just-boiled hot water while keeping track of the temperature with a thermometer; stirring as I go. It should be 110°F which is about 43­°C.
Don't make it too hot or it will kill the yeast. If it is on the cooler side, the yeast will just take longer to do its job.
Yeast
You can use any kind of baker's yeast in this recipe: instant yeast, bread machine yeast, or traditional dry active yeast. They will all work. But I typically use instant yeast as I can get it in a large package and keep it in my fridge so it will stay fresh for a long time.
Sugar
Yes, this KETO recipe contains sugar. But the trick is, you will not be eating the sugar at the end. The yeast will get to it first. Yeast is actually a type of fungi which will consume the sugar and then produce carbon dioxide and ethanol.
The carbon dioxide is what causes the bread to rise; filling up tiny pockets within the dough and expanding as it warms during the proofing stage and even more so during baking.
The ethanol is a by-product that will evaporate in your hot oven.
In this recipe, you'll notice I use maple syrup. I only use it because it's the only sugar I keep at home. But you can use any kind of real sugar, such as white sugar, brown sugar, coconut sugar, and molasses. Don't use low or no calorie sweeteners because they would not be good food for the yeast.
Salt
Without very much fermentation, just enough to make it rise once, this bread is fairly bland. Salt is really important for bringing out what little flavor is available. But feel free to skip it if you need to avoid salt for your own reasons.
On the other hand, feel free to add spices, herbs and other seasonings to make this sandwich loaf your very own! Just add it last, on top of the dry ingredients so that it doesn't burn the yeast directly.
Optional Ingredients for Flavor
I love to add herbs and nutritional yeast to my vegan keto pita bread. Because this bread cannot be fermented for every long (the yeast will exhaust the sugar in about 90 minutes), the traditional flavour is missing. You can have the toastiness from the oat fiber, nuttiness from flax BUT that's about it.
So the addition of nutritional yeast and a bit of thyme makes a wonderful difference.
Cost of Ingredients
There's no getting around the fact that keto bread is more expensive to make than regular wheat bread. Going out to buy a 24 Canadian Dollar bag of Vital Wheat Gluten seems really high! But when I broke down the cost with the amount of ingredients, each batch of 8 pitas comes out to only $5.66. This means each pita costs only $0.71! Note that cost may vary depending on where you live.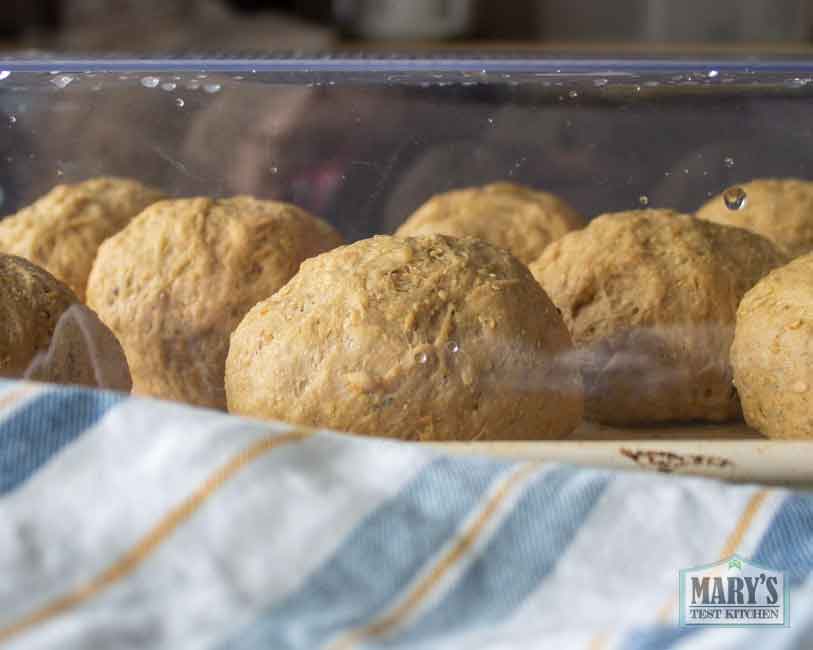 Nutrition Info for Vegan Keto Pita Bread
According to Cronometer, one pita (1/8th of the total vegan keto dough recipe) has:
162.7 calories
7.6g fat
20.2g protein
3.7g net carbs (17.7g total carbohydrates, of which 14g is from fiber, 0.7g from sugar)
1% DV Calcium
12% DV Iron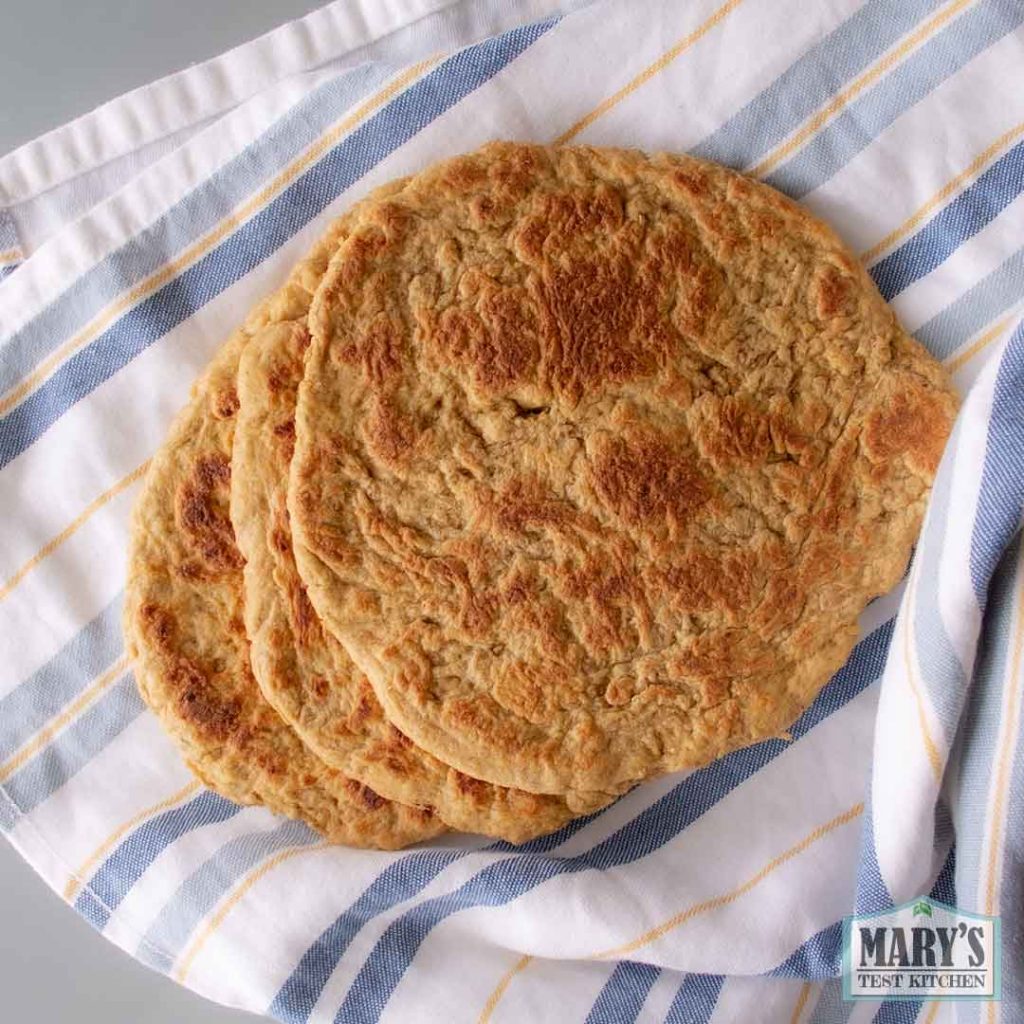 More Keto Bread Things
Vegan Keto Pizza Crust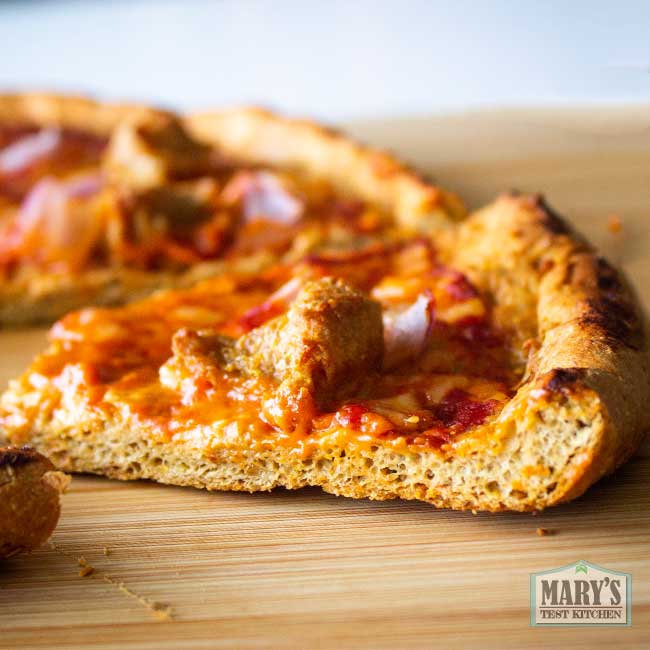 Gluten-Free Vegan Keto Sandwich Rolls

Printable Recipe for Vegan Keto Pita Bread
Yield: 8 pita
Vegan Keto Pita Bread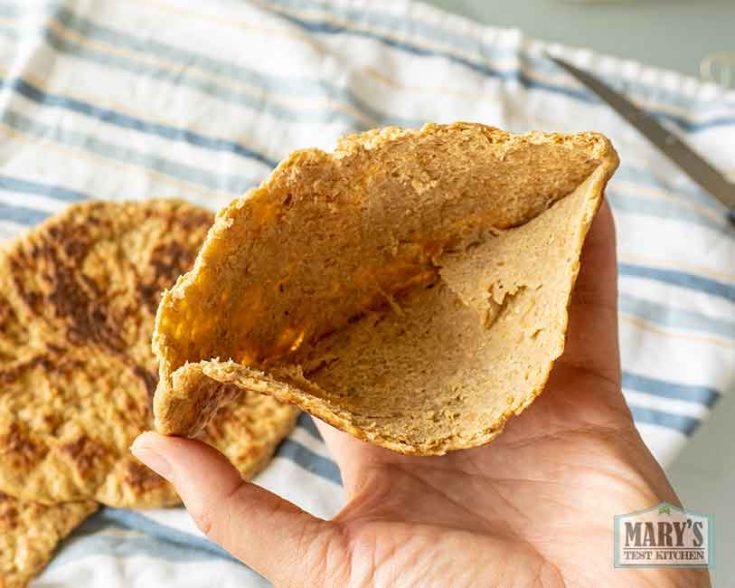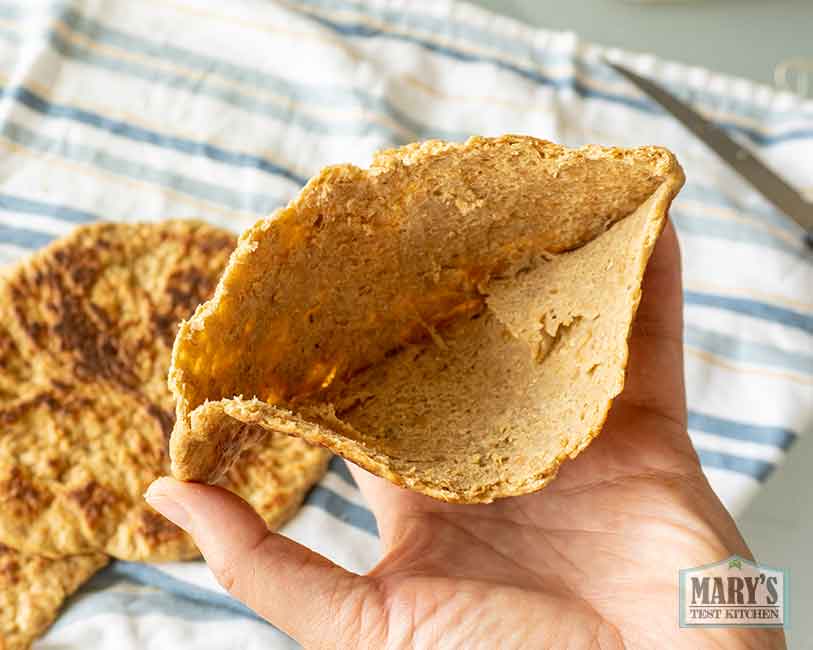 This vegan keto pita bread recipe is easy to put together (especially when measuring by weight for best results) and makes 8 puffy pita flatbreads that are high in protein with less than 4 grams of net carbs each!
Prep Time
1 hour
40 minutes
Total Time
2 hours
12 minutes
Ingredients
WET
7g instant yeast (2 1/4 tsp)
7g maple syrup or sugar (1 tsp)
350ml warm water @ 110°F (1 ½ cup warm, but not hot, water)
DRY
100g Ground Golden flax meal (1 cup)
175g Vital Wheat Gluten (1 cup + 3 tbsp + 1 ½ tsp)
100g Oat Fiber (8 tbsp + 1 ½ tsp PACKED)
7g salt (1 tsp)
1 tbsp nutritional yeast
½ tsp dried thyme
Instructions
Combine wet ingredients and wait 5 minutes for the yeast to bloom.
When you can see gas bubbling up to show the yeast is active, sprinkle over each of the dry ingredients (add the salt last). Stir until dough forms, then knead in your stand mixer on speed 3 for about 5 to 8 minutes.
Cut dough into 8 pieces and form each into a ball. Cover and rest 90 minutes so the gluten relaxes and the yeast can exhaust the sugar. If you are not concerned about keeping the carb count super low, you can rest for just 30 minutes so dough becomes easier to roll out.
Flatten with hands or rolling pin. It should be quite thin. Cover the rounds while you heat a pan over medium heat.
When your pan is hot, cook each pita for about 2 - 3 minutes per side until nicely golden brown (with no translucent looking spots). When cooked, place the pita on a plate, wrapped in a clean kitchen towel to keep the steam in and the pita pliable.
Let cool completely before slicing in half. The interior will not have a natural pocket but should be fairly easy to pull apart or cut. See my video for a demo.
Notes
The dough can be refridgerated for a few days before cooking. To make it more convenient, roll the dough balls flat and keep separated with wax paper.