These fluffy flax vegan pancakes are the lightest, softest pancakes I have ever had the pleasure of devouring. This recipe is super easy and adaptable, and uses basic pantry ingredients while holding up to additions of fruit, substitutions, and my tendency to burn things. The flaxseed meal in this recipe will help vegans and vegetarians get the daily Omega-3's as recommended by Dr. Greger of NutritionFacts.org. So, you could say these pancakes are practically health food. Not really. But sort of. If you squint.
Growing up, the pancakes I usually had were flat and dense; more like British-style pancakes. Sure, they are good and I still make them once in a while, but this version of vegan pancakes are my go-to. We have these in my home at least once every weekend. Sometimes for dinner too.
Video Tutorial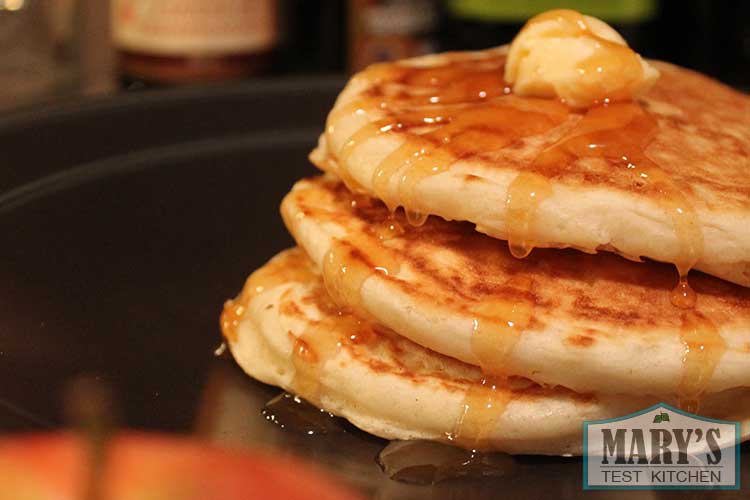 Fluffy Flax Vegan Pancakes
2013-12-18 18:50:00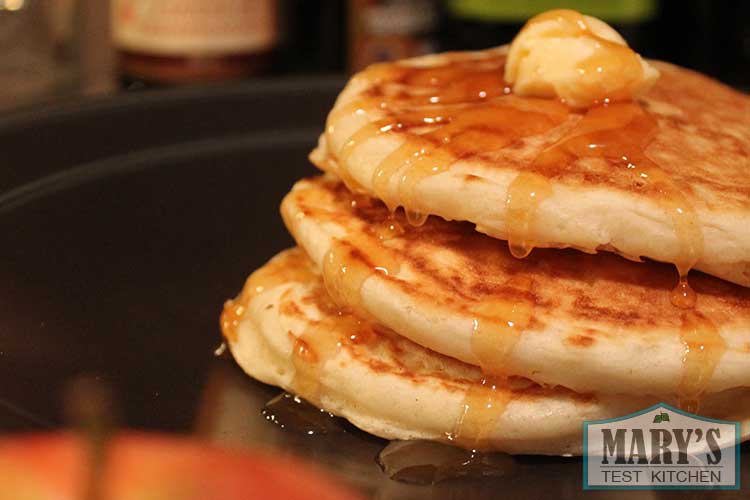 Serves 6
Fluffy vegan pancakes with flax seed meal! Super soft and delectable, they are quick and easy to whip up. Plus, these can be easily frozen for later use.
Ingredients
1 cup white flour (if using whole wheat, use a bit less)
4 tablespoons flax seed meal
2 tablespoons vegetable shortening, chilled ( I like Earth Balance brand shortening or just chilled refined coconut oil)
1 tablespoon sugar
1/2 tablespoon baking powder
pinch of salt
1 1/4 cups soy milk (or your favourite plant-based milk)
1/4 teaspoon of vanilla (optional)
Instructions
In a large mixing bowl combine all the dry ingredients: flour, flax seed meal, sugar, baking powder, and salt.
Using a pastry knife (or two knives held together), cut the shortening into the flour mixture. You want to end up with the largest pieces of shortening being about pea size.
Pour in your plant-based milk (and vanilla extract if using) and mix until totally combined.
Heat a skillet on medium-high heat. You shouldn't need to grease it if it is a non-stick pan. The pan is hot enough when you drop a bit of water on it and it sizzles right off.
Pour about 1/3 cup of batter on to the center of the pan. Let it spread out on it's own.
Cook until the edges of the pancakes start to look dry and a few bubbles form in the middle.
Flip the pancake over with a spatula and let cook for a half minute or until the bottom is golden.
Repeat with the rest of the batter.
Notes
This recipe makes 6 pancakes which is enough to put 2 adults into a food coma.
You can actually use any plant-based milk for this recipe. I've even used beer in the past and it works pretty well. For less thick milks, you may have to add a teaspoon or two more of flour.
To keep all the pancakes hot while you are working, heat your oven with a baking sheet in it as you are making the batter. When you're starting to cook the pancakes, turn your oven off. Then, you can place the finished pancakes in the oven while you make the rest.
If your non-stick skillet is anything like mine (ie. worn out and should really be tossed, but you're using it anyway), grease it with a little Earth Balance before you cook the first pancake. For some reason, I usually need to grease for the first one, but the other ones are fine without.
Mary's Test Kitchen https://www.marystestkitchen.com/
Fluffy Flax Vegan Pancakes Variations
These are some variations for this vegan pancake recipe that I have worked for me:
No milk? Try leftover beer. I've used Oatmeal Stout, Chocolate Stout, and Pumpkin Ale. It tends to make the batter thinner and sticks to the pan more. To prevent that, I add an extra tablespoon of flour and a tablespoon of oil into the batter.
Blueberries are perfect for this pancake batter. I have added up to 1/2 cup of blueberries.
Other than soy milk, my next favourite milk to use for these pancakes is almond milk. But not just any almond milk: I use Earth's Own Almond Fresh in Vanilla. Some other almond milks are just too thin.
No flax seed? Well, just leave it out and add the equivilant measurement in flour. Or you can use coconut shreds, bran, or even oatmeal! Just be sure to get your Omega-3 intake for the day some other way. It's really important for brain health!
Instead of the usual maple syrup, try this with some vegan honey! I'm currently OBSESSED with this combo. Here's the recipe for vegan honey; it only uses apples (or apple juice), lemon juice, sugar and water!
I really hope you try this recipe. It's soooo good and soooo easy. 🙂