This delicious baked vegan cheesecake is creamy and dense like New York style cheesecake, but the recipe is super simple and easy. Just blend, throw in a pan and bake! No coconut cream, no tofu, no freezing and thawing. If you're allergic to nuts, use sunflower seeds instead. But you will need a tub of store-bought vegan cream cheese. I usually use Daiya or Tofutti as they are most widely available. If you're soy-free go for the Daiya; it's free of common allergens. Click here for the printable recipe.
Video tutorial for Baked Vegan Cheesecake with Blueberry

I posted the recipe on YouTube back in 2015 but neglected to post the printable recipe on this blog! My apologies for depriving my video-adverse readers of this scrumptious recipe. *sigh* It was a crime! Though I think you will forgive me when you taste this decadent cheesecake and find out for yourself how easy it is to slap together.
Why You'll Love this Easy Baked Vegan Cheesecake
Fans of this vegan cheesecake love it because it really TASTES like cheesecake! The texture is like New York-style cheesecake (without the overwhelming height) with a good cheesecake filling to graham cracker crust ratio.
However, if you do want the extra height to impress some guests, as a few instagrammers have shared with me, you can double the cheesecake batter. However, will have to adjust the baking time so it can firm up all the way through.
Ingredients for Easy Baked Vegan Cheesecake
This Baked Vegan Cheesecake is designed to be as close to regular cheesecake as possible. It uses:
store-bought vegan cream cheese to make this recipe really easy and for the convincing flavour these commercial brands have,
soaked cashews to lighted the heavy vegan cream cheese while still maintaining the luscious texture
a little lemon juice for added tang, vanilla extract for flavour, and a little salt to enhance the sweetness
vegan graham cracker crumbs which is basically the same as regular graham crackers…just avoid the honey
vegan butter or margarine
and fresh or frozen blueberries cooked simple with sugar for a beautiful topping
Recommended Products and Substitutions
Vegan Cream Cheese
Toffuti and Daiya plain cream cheese have both tested well in this recipe. I know, I know, they have a distinct flavour but TRUST. When combined with the other ingredients, the distinct "vegan cheese taste" disappears and this cheescake actually tastes like the real thing.
Soaked Cashews
Measure the cashews after they have been soaked. You'll want to soak them for at least 4 hours or overnight. OR if you're in a hurry, you can use the quick soak method. That is, boil them for 10 minutes and drain.
While I originally created this recipe with raw cashews, they are kind of expensive these days. For a lower cost (and nut-allergy-friendly) alternative, you can use unroasted, unsalted hulled sunflower seeds. They have worked beautifully for me. However, I've noticed that sunflower seeds can go rancid easily so be sure to taste the seeds before using them in this recipe. You'll know the seeds are rancid if they are bitter or have a very strong oily smell.
Crust Ingredients
The crust is made from graham cracker crumbs and vegan butter mixed together, then pressed into a parchment lined rectangle loaf pan. I bought my graham crumbs from Bulk Barn and they happened to be vegan-friendly (no honey). It is tough to find graham crackers without honey so if you're a non-honey-eating vegan, you'll have to be creative. Maybe find some accidentally-vegan digestive crackers or animal crackers. Or go the extra mile and make your own homemade vegan graham crackers.
Topping Ingredients
I made a blueberry compote to dress up my cheesecake but do what you like with yours. You could skip the blueberry sauce and drizzle over caramel and chocolate ganache and sprinkle with chocolate shavings and oreo crumbs. You could add fresh strawberries and ice cream. You could blend in maple syrup and top with toasted pecans. Like I said: this your vegan cheesecake and there are no rules!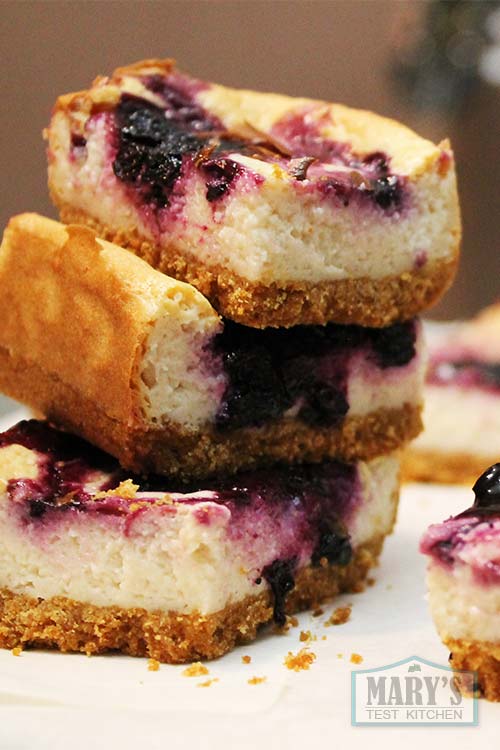 How to make Easy Baked Vegan Cheesecake
This vegan cheesecake is the EASIEST cheesecake to make.
First, blend the vegan cheesecake filling ingredients until they are completely smooth.
Then set that aside with you combine the vegan graham cracker crumbs with butter. Press that mixture into a parchment-lined loaf pan and then pour the vegan cheesecake filling batter inside.
Next, make your topping by heating the blueberries with sugar just until boiling, let it cool down slightly before adding a few spoonfuls to the top of your cheesecake batter. You can draw swirls easily with a fork or chopstick.
Bake at 350°F for 45 to 50 minutes. Afterwards, let it cool before slicing.
Drizzle over some extra sauce it's ready to serve!
Share with friends, family, or no one. This is your vegan cheesecake and I won't force you to share. Store your leftovers in the fridge where they will stay good for up to a week. Or in the freezer where it should stay good for up to two months. Thaw it at room temperature for about 30 minutes (depends on your room temperature) before serving.
Printable recipe for Vegan Cheesecake with Blueberry Compote
Yield: 8 servings
Easy Baked Vegan Cheesecake with Blueberry Compote
This delicious baked vegan cheesecake is creamy and dense like New York style cheesecake, but the recipe is super simple and easy. Just blend, throw in a pan and bake! No coconut cream, no tofu, no freezing and thawing. If you're allergic to nuts, use sunflower seeds instead.
Makes one 5" x 9" rectangle cake.
Ingredients
For filling
8oz plain vegan cream cheese (226g)
1 cup soaked raw cashews (preferred) or sunflower seeds
1/2 cup granulated sugar (100g)
3 tablespoons lemon juice
1/2 tablespoon vanilla extract
1/4 teaspoon salt (optional)
For crust
1 cup vegan graham cracker crumbs
2 tablespoons vegan butter/margarine
For blueberry compote
1/2 cup blueberries, fresh or frozen
2 tablespoons granulated sugar
Instructions
Preheat your oven to 350F (170C). Blend all cashews with lemon juice until completely smooth. You may add up to two tablespoons of water to help you blend it if needed.
Add the plain vegan cream cheese, sugar, vanilla extract and salt, then blend until smooth and set aside.
In a different bowl (or food processor), combine the vegan butter/margarine with the graham crumbs. You can use a fork or food processer to mix completely.
Pour the crumbs into a parchment-lined loaf pan, distribute evenly and press down the surface firmly with the back of a fork or your clean fingers.
Pour the cream cheese mixture over top and smooth out evenly.
For the Blueberry Sauce, mix the blueberries and sugar together and heat just to a boil. You may simply microwave for one to two minutes or heat on the stove. Let cool slightly.
To make blueberry swirls, drop a few spoons of the blueberry sauce on to the cheesecake, then take a spoon and trace lines out of the blueberry spots. Save the leftover blueberry sauce for serving.
Bake the cake in your preheated oven for 45 to 50 minutes or until the top is golden.
Let cool, then chill in the fridge for 2 hours before serving. You may cover it and store for up to 5 days in the fridge.
Serve with reserved blueberry sauce. Enjoy!
Notes
Vegan Graham Crackers
Graham Crackers are usually vegan EXCEPT for honey. Look out for honey in the ingredient list or look for vegan-labelled graham crackers. You could also make homemade vegan graham crackers and crumble them yourself.
Nutrition Information:
Yield:
8
Serving Size:
1 eighth of cake
Amount Per Serving:
Calories:

412
Total Fat:

29g
Saturated Fat:

9g
Trans Fat:

0g
Unsaturated Fat:

19g
Cholesterol:

8mg
Sodium:

1124mg
Carbohydrates:

33g
Fiber:

3g
Sugar:

21g
Protein:

9g
Nutritional Information automatically calculated by a plugin and may not be correct.