This VEGAN fried "egg" sandwich recipe is just as delicious and EASY to make as a regular fried egg sandwich. When a viewer requested vegan "egg banjos," I realized I didn't have a vegan fried egg sandwich on the channel or blog yet. So I thought I'd better give you one.
From Wikipedia, this "popular filling snack with British troops since at least World War I, the "egg banjo" is a sandwich of a runny fried egg between two thick slices of bread[6] (if possible, buttered or with margarine), often accompanied by a mug of "gunfire". A popular account of the term's origins is the act of cleaning spilt egg off one's body, the sandwich held out to the side with one hand whilst the other wipes at the drips, giving the impression of playing an invisible banjo."
Skip to the recipe.
Pin this recipe.
Video tutorial for Vegan Fried "Egg" Sandwiches AKA Vegan Egg Banjos
This version of vegan egg banjos (or fried egg sandwiches) uses medium firm tofu in place of the egg whites, a quick mixture of spices, black salt (kala namak) and vegan mayo in place of the yolk but keeps everything else pretty much the same.
It's such a simple and delicious vegan breakfast sandwich, I hope you'll try it out. Please let me know if you do and what extra things you'd slip into your own vegan egg banjo!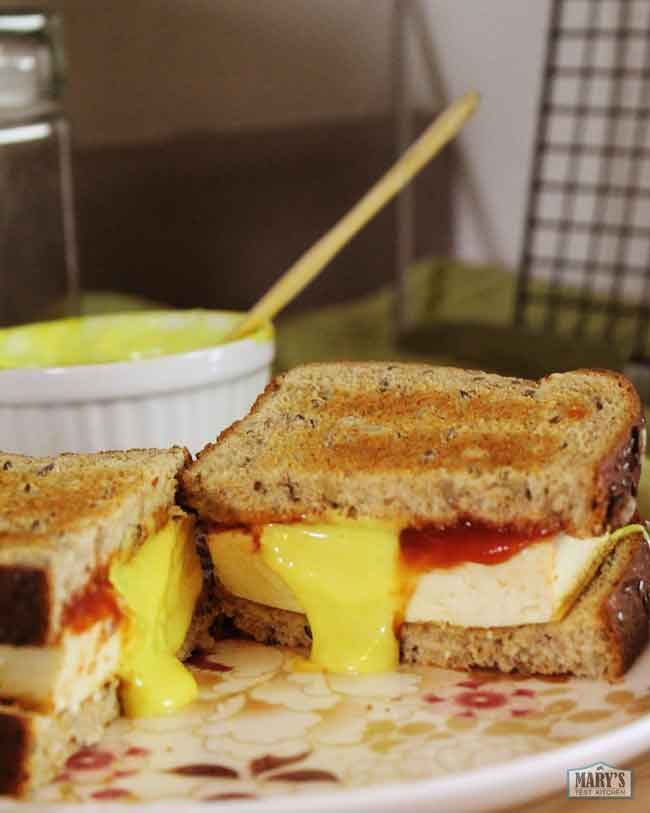 Ingredients for Vegan Fried Egg Sandwiches (AKA Vegan Egg Banjos)
The only non-vegan part of this meal is the egg so let's look at the other parts first: bread and sauce. The bread is easy – any white or brown bread will do. Most are vegan-friendly. Check the ingredients if you're not sure.
The sauce is traditionally ketchup or brown sauce like HP sauce for egg banjos. I'm not a big fan of HP but it is vegan-friendly.
For the egg white I like medium firm tofu. You don't have to do much to it and the flavour is more mild than firmer varieties of tofu.
After you fry it, it finishes kind of soft, like fluffy egg whites. But if you can only get firm or you just like firm, go for that. I personally avoid extra firm for this because I find it's more like when you have overcooked rubbery eggs.
For the yolk sauce, I kept it simple with a simple cornstarch slurry with turmeric for colour, black salt for the eggy flavour, regular salt for more saltiness, and vegenaise for some creamy body. You can also use vegan butter instead of vegan mayo.
Black salt, AKA Kala Namak, is a type of salt that has an egg-y, sulfur-y aroma. And even though it's called black salt, it's actually pinkish grey. It's strong so a little goes a long way. I got a big hand-sized bag for only a few dollars at a local Indian grocery store.
Even though I've lived in Calgary for over 5 years, I still don't know it very well so I just asked Google where the Indian grocery stores were. Happily, we have a number of options. If you can't find an Indian grocery store near you, you can find black salt online.
With these ingredients at the ready, you can have your vegan egg banjo in hand and (hopefully not) dripping down your shirt in about 5 minutes.
Printable recipe for Vegan Fried "Egg" Sandwich

Yield: 1
Vegan Fried Egg Sandwich Recipe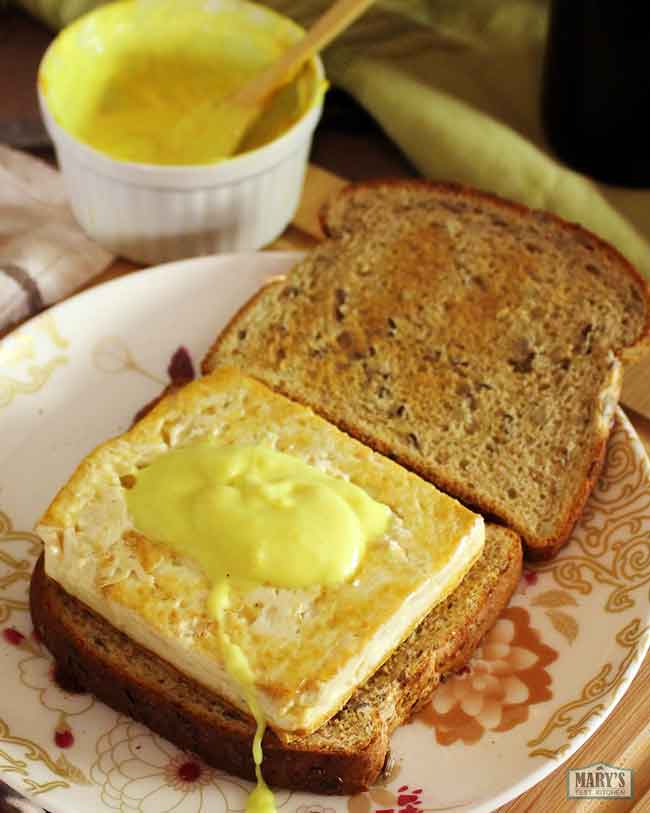 This VEGAN fried "egg" sandwich AKA Vegan "Egg" Banjos, uses jiggly tofu, black salt (kala namak) and easy vegan yolk sauce for a simple and delicious vegan breakfast sandwich you can whip up in about 5 minutes.
Ingredients
2 slices of sandwich bread
1 teaspoon cooking oil
85g medium firm tofu ( 1/2" thick sliced big enough to cover your sandwich bread)
1/4 cup water or broth
1 teaspoon cornstarch
1 teaspoon vegan mayo or vegan butter
1/8 teaspoon turmeric
1/8 - 1/4 teaspoon black salt (kala namak)
1/8 - 1/4 teaspoon regular salt, to taste
Instructions
Pat dry your tofu. Heat a nonstick pan over high heat. When it's hot, add oil. When the oil is shimmering hot, add the tofu. Turn the heat down to medium.Cook until the bottom is golden brown. Flip the tofu to cook the other side. Turn off the heat; the tofu should be able to brown using the residual heat.
Meanwhile, you can start toasting your bread in your toaster. Also, mix the water with turmeric and cornstarch until no lumps remain. Heat in the microwave for 15 seconds. Stir, then heat again for 15 seconds until bubbly. If it is not yet bubbly, continue using 5 - 10 second intervals.
When the yolk mixture is thick, stir it very well. Add vegan mayo or butter and stir well. Add black salt; 1/8 teaspoon to start. Taste and add more if desired. Add regular salt to taste. Set aside.
When your toast is ready, assemble your sandwich. Place the fried tofu on one slice of toast. Sprinkle on a little black salt. Scoop out a little hollow for your yolk sauce. Add the yolk sauce (you will have some leftover; use it for dipping). Add your ketchup or brown sauce and top with the other slice of toast. Enjoy!
Notes
The aroma of black salt (kala namak) is really strong so a little goes a long way. That said, don't add it until the end because signature sulfur-y scent is reduced if you heat it.
Nutrition Information:
Yield:
1
Serving Size:
1
Amount Per Serving:
Calories:

499
Total Fat:

28g
Saturated Fat:

10g
Trans Fat:

1g
Unsaturated Fat:

16g
Cholesterol:

38mg
Sodium:

1819mg
Carbohydrates:

44g
Fiber:

3g
Sugar:

8g
Protein:

20g
Nutritional Information automatically calculated by a plugin and may not be correct.