I first encountered tomatoes in sushi a few years ago when I moved to the Town of Banff. It was one or two days after I had arrived when my roommate took me to Sushi Bistro, which would later become one of my favourite places to eat. I flipped the menu open, expecting to be limited to the usual: avocado rolls, cucumber rolls, inari,…you get the idea. I was positively giddy when I discovered they had quite a number of unique vegetable-based sushi options; many I had not encountered before. From memory, there were tofu and green onion nigiri (which inspired this post), seasoned seaweed nigiri, asparagus sushi, and, finally, tomato and cucumber maki. To be honest, I wasn't a huge fan of the tomato and cucumber combination, but it did give me the idea for this surprisingly delicious roll.
Video Tutorial for Tomato Maki Sushi

Tomato maki is simple. Sliced fresh, juicy ripe tomato and seasoned rice rolled up with nori. I also like to kick it up with finely chopped scallions and make it a bit prettier with some salad greens, but that's totally optional. The texture of the tomato is oddly fish-like in this roll, but the lovely tangy, sweet and savory flavour of tomato stands out. Because of the small number of ingredients it is very important to use great quality produce.
Serve these simply with soy sauce, wasabi and pickled ginger, or get creative with a wasabi cream sauce. I will be posting recipes for that soon.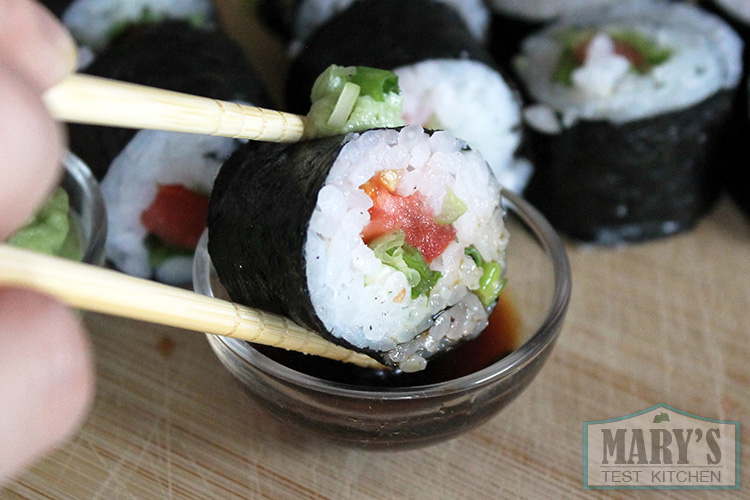 Other vegan sushi ideas:
Printable recipe for Tomato Maki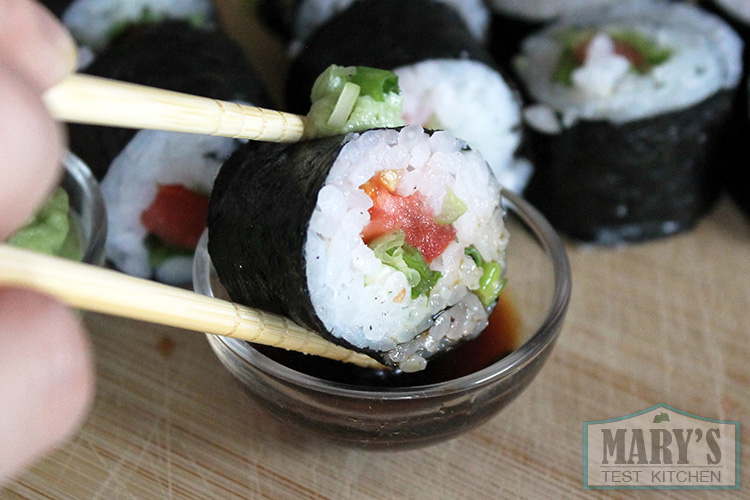 Tomato Maki Sushi
2014-12-01 17:41:06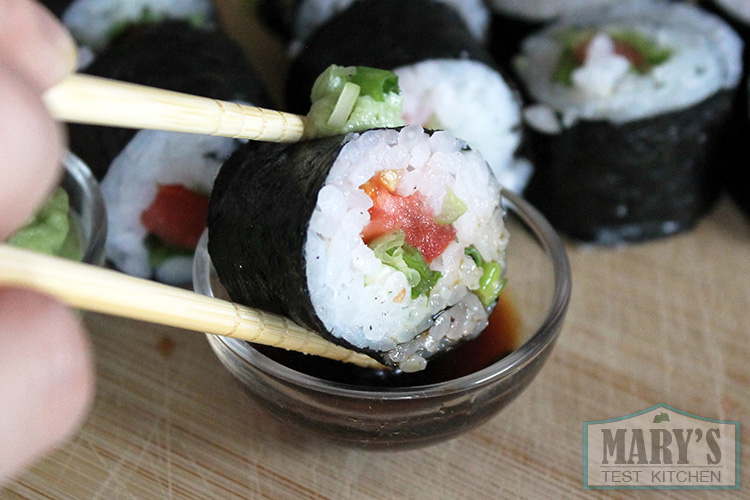 A simple, refreshing sushi roll that features the fresh, tangy, and savory flavour of ripe tomato.
Optional
small handful of salad greens
1 tablespoon finely chopped scallions (green onions)
Instructions
Cut the tomato into thick, french fry-like shapes. You may want to remove the seeds and blot away excess juice to prevent the sushi from getting soggy.
Place nori on a sushi rolling mat (if using).
Moisten your hands to prevent the rice from sticking to them.
Place a handful of rice on to the bottom two thirds of the nori, closest to you. Spread the rice around evenly to distribute, then press the grains down gently without squishing the grains.
Lay the fillings along the bottom, about one inch (2.5cm) away from the edge.
Take the edge of the mat/nori closest to you up and over the fillings, tucking into the other side.
Roll the sushi up, stopping to squeeze the roll lightly along its length every so often to keep the roll from getting loose.
Set the roll aside with the seam down while you prepare your other roll(s).
Cut the rolls into pieces with a very sharp knife. You can moisten it slightly to make cutting easier. Cleaning the knife between cuts will also help.
Serve with soy sauce, wasabi, and pickled ginger if desired.
Enjoy!
Mary's Test Kitchen https://www.marystestkitchen.com/