Someone at McDonald's was sporting some serious dad humour when they came up with this one: the "FAN-tastic" burger (飯tastic burger). They had two kinds: one chicken, one beef; both sandwiched between two rice patties. Rice (飯) is pronounced like "fan" in Chinese and as I'm pretty corny myself, I thought it was pretty clever. Now it's my turn to be clever with this veganized Fàn-tastic burger. Or Very Fàn-tastic Burger. Or Van-tastic Burger? Click here for the printable recipe.
Video tutorial for Vegan FANtastic Burger (Vegan Rice Burger)
The Inspiration was McDonald's FANtastic Burgers
While I had a few of these during my last visit to Hong Kong (10 years ago!!), the part I remember the most is the chewier yet crispy texture of the savoury rice "buns." Since I had way too much glutinous rice (as you may have seen in my What's In My Pantry video from a few weeks back) and I wanted to use what I had, I thought this would be the perfect thing to share with you!
Ingredients for Vegan Rice Burgers (飯tastic burger)
The first ingredient you'll need is glutinous rice. It's also sold as Thai sweet rice or just sweet rice. Raw glutinous rice is more opaque than regular white rice, meaning it looks whiter and not as translucent. The opposite is true when the rice is cooked. The taste is also different, while being chewier and stickier than regular white rice. Also, in case you were wondering, glutinous rice does NOT contain gluten.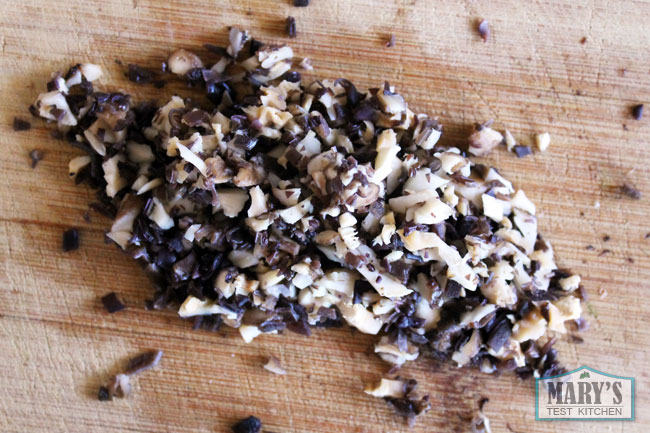 You'll also need a couple of dried shiitake mushrooms; or just one if it's on the large side. Make sure to use the dried version, not fresh, because dried shiitake mushrooms have a stronger, more fragrant flavour. I also used wood ear fungus just because I had some on hand and I thought it would all go well together. The original Fàn-tastic burger doesn't have wood ear fungus. Wood ear fungus is also known as black fungus. It might sound strange but it's just a mushroom!
You may want to soak the mushrooms and wood ear fungus in cold water to re-hydrate them the night before you prepare this recipe. I usually forget and quickly re-hydrate them by soaking them in hot, just boiled water for 20 minutes or so. After they have plumped up, mince into small pieces.
For the rest of the rice "bun" ingredients, you'll need 1 minced scallion (green onion), Chinese cooking liquor (just leave it out if you can't find it), dark soy sauce (it's thicker and less salty than regular soy sauce), garlic powder, white pepper and salt. If you want to make this gluten-free, make sure to use a gluten-free soy sauce. In a pinch, you could substitute with a bit of gluten-free miso paste.
How to Make Vegan Rice Burgers (飯tastic burger)
When you have all your ingredients ready, heat up a little oil in a pan over high heat. Once hot, add the minced shiitake mushrooms, wood ear fungus and scallions. Stir-fry for about a minute, then stir in the garlic powder, white pepper and salt. Lastly, turn off the heat and stir in the soy sauce. The moisture will evaporate fairly quickly and the whole mixture will become a bit sticky. You might add a few drops of water to deglaze the pan but don't add so much that that a sauce forms. You want this to stay fairly dry.
Fold the scallion mushroom mixture into your cooked glutinous rice and set aside. At this point, you can prepare your burger fillings. Alternatively, you can cool the rice and store it in the fridge until you want to make your burgers; up to three days in advance.
If you're making the burgers on the same day, you'll still want to let the rice cool so that you can shape the "buns" with your hands. Get a bowl with water so you can wet your hands periodically. Wet your hands lightly before measuring out about 1/3 cup of rice for each side of the bun. Pat the rice into patty-like shapes, the same diameter as your burgers. Place them on parchment or wax paper. If your hands get gummy from the rice, just rinse with water.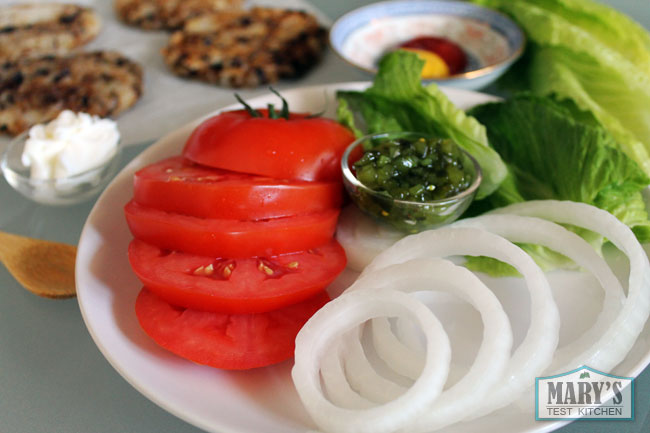 For the video, I used Yves Veggie Burgers. They are a decently meaty vegan-friendly burger and available in lots of major grocery stores. I also love Gardien Beefless Burgers for this type of recipe. Feel free to use whatever burger-type fillings you like. I used ketchup, mustard, vegan mayonaise, sweet pickle relish, white onion, vegan cheese, tomato and romaine lettuce. Get your fillings ready before cooking your burgers and rice "buns."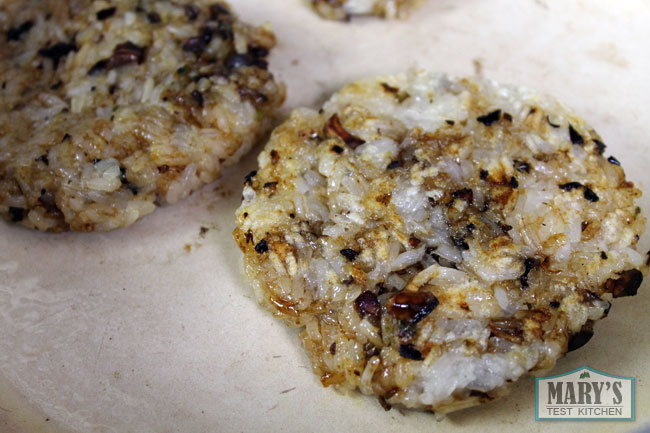 I like to make the burgers at the same time as I crisp the "buns." I usually just brush on some BBQ sauce and set the burgers under the broiler for a couple minutes per side. While they are cooking, I'll crisp up the rice buns.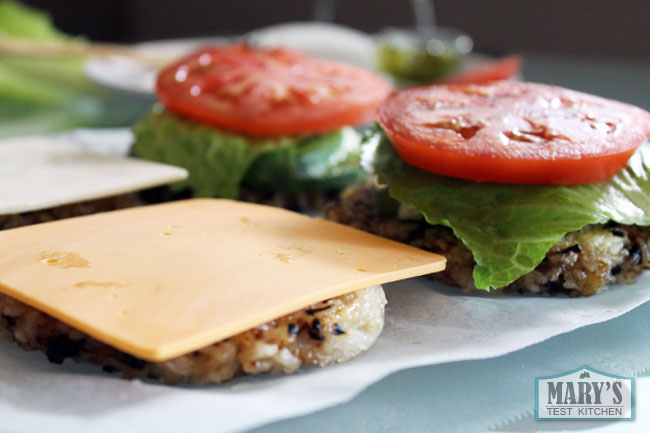 Heat a large non-stick pan over medium high heat. Add some oil; enough to coat the bottom of the pan. When hot, add the rice buns. They take a couple minutes to crisp up on each side. When the buns are done, the burgers should be done. Put everything together like a normal burger and to make them easier to eat, wrap in some wax or parchment paper like the do at the fast food chains. Voila! FAN-TASTIC!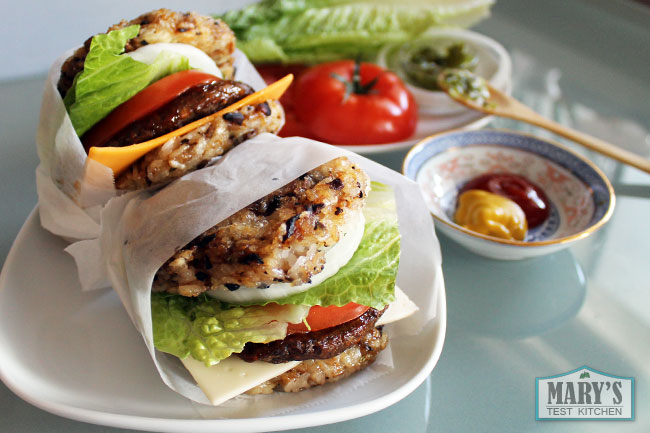 These burgers are super filling because rice is much denser than bread. And glutinous rice is the most filling rice, in my opinion. Have these when you are really hungry! Or just make the rice part. Because crispy shiitake scallion rice balls are pretty awesome on their own too.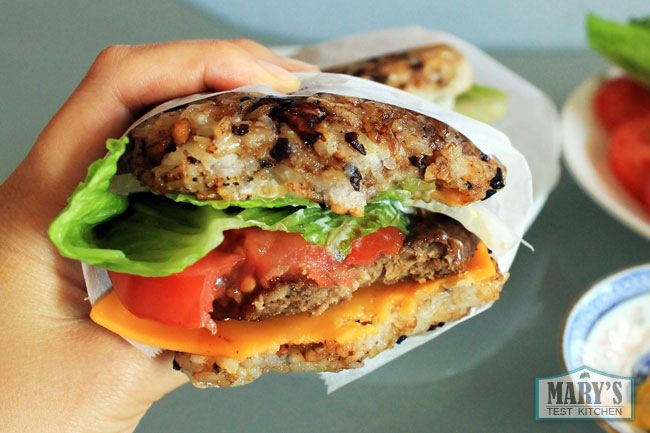 Printable recipe for Vegan 飯tastic burger (Rice Burgers)
Yield: 2 burgers
Vegan Rice Burger (飯tastic Burger)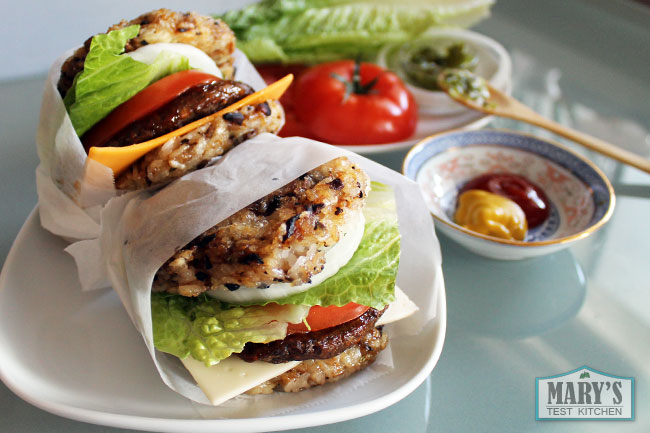 An epic burger made with flavourful sticky rice "buns" that are soft on the inside but crispy on the outside. Inspired by the 2006 McDonald's Hong Kong Fàn-tastic Burger.
This recipe makes enough for about 2 large burgers. Feel free to double or triple this recipe to make more servings.
Prep Rice Time
20 minutes
Additional Time
10 minutes
Ingredients
For rice "buns"
1 cup uncooked glutinous rice
1 cup water
2 shiitake mushrooms, re-hydrated from dried and minced
1 tablespoon wood ear fungus, re-hydrated from dried and minced
1 tablespoon Chinese cooking liquor
1 teaspoon dark soy sauce
1/4 teaspoon garlic powder
1/4 teaspoon white pepper
1/4 teaspoon salt, or to taste
cooking oil
Fillings (use what you like)
2 veggie burgers (eg. mushroom lentil burgers)
2 vegan cheese slices
2 lettuce leaves
2 tomato slices
2 teaspoons sweet relish
2 tablespoons vegan mayonnaise
2 teaspoons ketchup
1 teaspoon mustard
2 slices white onion
Instructions
Cook the rice. First wash the rice by rinsing, agitating, and draining the water. Repeat until the water drains clear. Cook the rice in a pot with one cup of cold water. Bring it to a boil over high heat, then immediately turn the heat to the lowest setting, cover and cook for 15 minutes or until the water is completely absorbed and the grains are fully cooked. Turn off the heat and let the rice stand for 10 minutes.
While the rice is cooking, you may fry up the mushrooms and scallions. Heat a pan over high/medium high heat. When hot, add a few drops of cooking oil. Add the mushrooms, wood ear fungus, and scallions. Stir fry until the scallions turn bright and some of the moisture has evaporated; about 1 - 2 minutes. Turn off the heat and add the dark soy sauce and cooking liquor. Stir together quickly. The liquids will evaporate almost immediately. Take the pan off the stove.
When the rice is ready, fold in the mushroom mixture. Gently incorporate the ingredients without squishing the rice.
Form the rice "buns." Get a small bowl of water ready, some parchment or wax paper to place the rice patties on, and a scoop for the rice. With clean hands measure enough rice to form the buns. Use your chose vegan burgers as a size guide. The rice is sticky so moisten your hands periodically to prevent sticking. Place shaped rice patties on to the parchment or wax paper while you prepare your other burger ingredients.
Get your lettuce, tomato, onions, vegan cheese, and other condiments ready. Cook your vegan burgers just before or at the same time as you crisp the buns. Ideally, they will be hot and ready at the same time.
Heat a pan over medium high heat with a bit of oil. Cook the rice patties on each side for about 2 minutes or until a crispy crust forms. Immediately assemble your burgers. Wrap each burger in parchment or wax paper to serve. Enjoy!
Notes
Tips
The rice can be prepared ahead of time. You can store it in the fridge after folding in the mushroom mixture in an airtight container for up to three days. Make sure the rice isn't exposed to very much air because it can dry out.
Dark soy sauce is thicker, more flavourful and less salty than regular or light soy sauce.
Chinese cooking liquor can be found as Asian markets. Usually for a few dollars for a large bottle. It really brings out the flavours so try not to omit this. For those concerned, no alcohol remains in the finished dish since it gets completely cooked off.