I watch The Edgy Veg's recipe videos for vegan junk food every week but don't often take time to make them. In this review, I try her Popeye's Bonafide Chicken, an adaptation of her Buttermilk Biscuits, and Pulled Pork Tacos; all VEGAN of course! Confused? Keep reading!
As with all my reviews, this video reflects my personal opinion. If you have a different opinion, that's totally cool! We all have different tastes and that's OK. 🙂
The Edgy Veg's Chick'n and Biscuits & Jackfruit Tacos Video Review
Vegan Buttermilk Biscuits
For the buttermilk biscuits, I followed her recipe up until it was time to put in the Earth Balance. I was out of EB so I used some chilled coconut oil. Also, because of some of the feedback in the comments, I decided to cut the fat into the flour mixture instead of melting and mixing it in.
You see, I have never had a real Southern-style biscuit before and didn't really know what it was supposed to be like. But these turned out to look a lot like the ones I've seen on Pinterest, so I'll call it a success.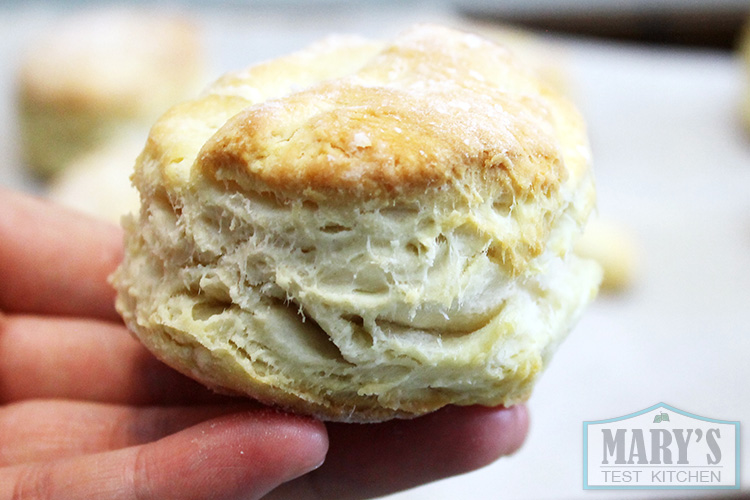 They tasted good; flaky, soft and the top was just a little crusty. Because I used regular coconut oil, they did have a coconut-y flavour. I'm sure you could do the same thing with refined coconut oil to eliminate that flavour if unwanted. If you want to make the biscuits like I did here, I have the adapted recipe below.
Click here for the original recipe video for Buttery Buttermilk Biscuits by The Edgy Veg.
These went with the Popeyes Bonafide vegan chicken.
Popeyes Bonafide Vegan Chicken
Again, I didnt know what they were supposed to taste like. And since I didn't know if I was going to like it, I decided to make a half batch.
This started with the liquid part for the seitan. Which was all Frank's Hot Sauce. As I was measuring the Frank's, I lost my nerve and replaced a quarter of the amount with chicken-style vegetable broth. When I had the liquid part all smooth, I threw together the dry ingredients. And then the wet and the dry together to make a bright orange seitan dough. These little nuggets were gently boiled for an hour, drained and cooled. Dredge in a flour mixture, dunk in egg replacer, and back in the seasoned flour.
I didn't film the frying part as last time, when I reviewed Mayim's Vegan Table and made vegan donuts, I burned myself good. Trying to wrangle a tripod and camera while deep frying is not a very safe thing.
These turned out turned out nice and crispy on the outside. And inside, they were super juicy.
Does it taste like chicken. No, according to my omni boyfriend. And it's a no from me as well. But they did taste delicious. Just like buffalo chicken sauce, spicy, and vinegary, and delicious. If you like seitan, you'll enjoy this. Super yummy especially sandwiched in a split biscuit.
This was quite a bit of work and a lot of fat and salt so I'd save this one for the rare occasion but I will definitely make it again. I REGRET making only a half batch. I should have DOUBLED it because you can freeze these too. Just let them cool after frying, put on a single layer baking sheet and freeze. Once solid, transfer to a freezer bag or container. Bake them like regular nuggets when you're ready to have them again!
Click here for The Edgy Veg's Popeye's Bonafide Chick'n Video Recipe.
Jackfruit Tacos
Now I need to preface this part by saying that I don't love the flavour of green jackfruit. Ripe jackfruit tastes like Juicy Fruit chewing gum. Green, unripe jackfruit has the hint of that Juicy Fruit flavour mixed with the slightly swampy flavour of water chestnuts (nothing like regular chestnuts). I also hate the flavour of water chestnuts. Many people say both green jackfruit and water chestnuts don't have any flavour of their own; my taste buds disagree. I think that's the reason why so many people love the vegan jackfruit "pulled pork" thing. Unfortunately, I have tried many of these recipes and can still taste the jackfruit underneath it all. A taste that I don't like. This review was going to be my last ditch effort to like green jackfruit.
I drained the jackfruit and marinated the pieces. They sat overnight in the fridge, then I sauteed them with onions and other stuff as in the recipe. It certainly has the look of pulled pork.
For this recipe, there was also a mango salsa recipe and lime crema which is like the sour cream topping for our tacos.
Taking a bite all together, this tastes really nice. The mango salsa with cilantro tastes nice and fresh and I would probably make it again for other dishes too.
The lime creama was a wee bit too apple cider vinegary for me. Next time I'll use half the amount for my tastes. But other than that, the texture was really good for a vegan sour cream.
For the jackfruit pulled pork, does it taste like pulled pork? I would have to say no. Not at all. And my omni boyfriend agreed.
I really think the spices and onions would be really good with lentils or mushrooms or something else but they aren't strong enough to cover the taste of the jackfruit. To me, even green jackfruit has a distinct fruity aroma that is obvious and just doesn't seem suited to this dish.
So overall, I loved all the recipes except for now I know I just don't like jackfruit in savory dishes. It's good thing to know these things about yourself. If you enjoy other savory jackfruit recipes, you'll probably enjoy this one too. Click here for The Edgy Veg's video recipe for Jackfruit Carnitas Tacos.
If you've tried any recipes from The Edgy Veg, please let me know which ones were your favourites so I can try them too. There are lots that I still want to try from her channel. Please go over and subscribe to her channel if for some reason, you're not already subscribed and please tell her I sent you!
Printable Recipe for Vegan Buttermilk Biscuits
Yield: 10 flaky southern-style biscuits
Southern-style Vegan Buttermilk Biscuits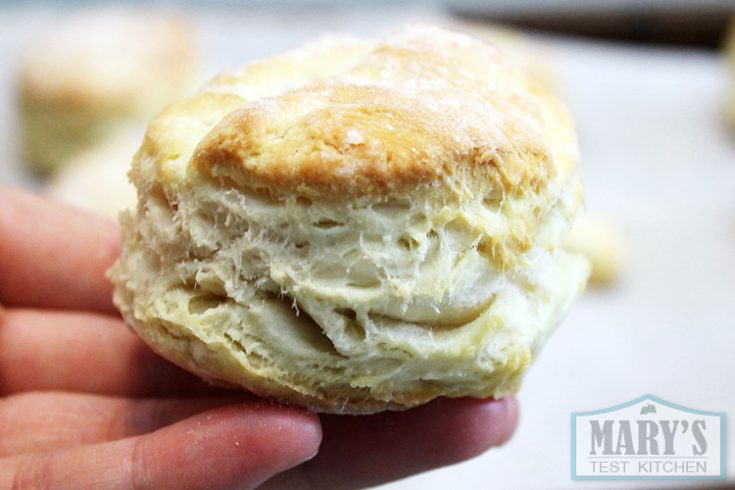 Vegan buttermilk biscuits? Yup. These soft, flaky biscuits are easy to make with just a few basic ingredients and look just like the original. This recipe was adapted from The Edgy Veg; cutting in the solid fat instead of melting it in for a more height and layers that can be easily pulled apart.
Ingredients
Dry Ingredients
2 cups all-purpose flour
2 1/2 teaspoons baking powder
1 teaspoon baking soda
1/4 teaspoon salt
1/4 teaspoon sugar
Solid Fat
1/4 cup coconut oil, chilled well
Vegan "Buttermilk"
3/4 cup unsweetened almond milk
1 teaspoon apple cider vinegar
Instructions
Mix plant milk and vinegar together. It will curdle and get thicker. Set it aside, preferably in the fridge to keep cold.
Mix dry ingedients together.
Using a pastry knife, two knives held together, or a food processor, cut the solid coconut oil into the flour. See video for demonstration. You want the mixture to resemble coarse crumbs with the largest pieces of solid fat being the size of a pea.
Add about half of the milk-vinegar mixture to the dry ingredients and stir it in gently; avoid over working the dough.
Continue adding the liquid in small amounts at a time, just to the dry parts of the mixture. We want to add just enough liquid to allow the dough to form. See video for demonstration.
When the dough will form a clump when you squeeze gently, turn it out on to a lightly floured surface.Firmly pat the dough into a solid form. If some of the bits are loose, don't worry about it.
Sprinkle extra flour over the top of the dough and roll out. Sprinkle extra flour if it starts to stick but use as little as possible.
Fold the sides of the dough in to form a rectangle, pressing down after each fold. If you had some drier loose bits of dough, add them in between the folds.
Cover the dough and chill for 20 minutes in the fridge.
Preheat your oven to 450 F or 230 C.
Roll out the chilled dough into a long rectangle, about a 1/2 inch thick (1.25cm). Fold the rectangle in half and roll flat again to about 1/2 inch thick (1.25cm).
Use a clean cup with a thin rim (or biscuit cutter) to cut circles from the dough. It may help to dust the rim in flour to prevent sticking. Try to cut straight down rather than pushing down and twisting the glass/cutter.
With the leftover dough, gather it into a dough ball and roll out again to 1/2 inch thick and continue cutting out rounds until the dough is used up.
Place the pieces on to a parchment-lined baking sheet.
Bake in your preheated oven at 450 F or 230 C for 10 minutes or until the biscuits have doubled in height and are lightly brown on top.
Try to not burn yourself as you devour them.
Notes
Changes from The Edgy Veg version
I changed up this recipe from The Edgy Veg because I was out of Earth Balance. Also, based on some comments on her video page, I decided to go with the chilled fat cut into flour method. I went with a gentle mixing method as that's how I make scones; a bread product that seems to be the Canadian version of Southern-style biscuits. I have never made or tried genuine Southern Biscuits before so I can't say if they taste authentic, but I can say that they taste great and are really flakey and soft on the inside. They're a bit crispy and crunchy on the edges. I also cut the sugar and salt from her original recipe in half as I tend to find certain American foods too sweet or salty. Please feel free to increase these amounts if you prefer sweeter or saltier.
Coconut oil tips
If you use virgin coconut oil like I did, they will taste coconut-y. Use refined coconut oil if you want a neutral flavour. I haven't tried other solid fats but generally, you should be able to use vegetable shortening as well.
Vegan Buttermilk tips
I haven't tried it with this recipe, but generally, you can use any plant-based milk like soy, hemp or cashew milk to make "vegan buttermilk."
Nutrition Information:
Yield:
10
Serving Size:
1
Amount Per Serving:
Calories:

143
Total Fat:

6g
Saturated Fat:

5g
Trans Fat:

0g
Unsaturated Fat:

1g
Cholesterol:

0mg
Sodium:

301mg
Carbohydrates:

20g
Fiber:

1g
Sugar:

0g
Protein:

3g
Nutritional Information automatically calculated by a plugin and may not be correct.